Manic:  Cords, cords everywhere making an otherwise neat room look messy!
Managed:  Managedmoms.com home decor and get organized expert, Bridget shares what she did to hide her home office cords and it looks great!  Take a look…
Bridget says:
One thing that has always bothered me is the look of cords hanging on the floor, behind furniture or just all bunched up near the outlet.  So, I ordered a Wiremold C110 White Cordmade Kit from Amazon for $11 with free shipping.  I am happy to report that it was the easiest thing I have ever installed!
See my before picture with the cords hanging…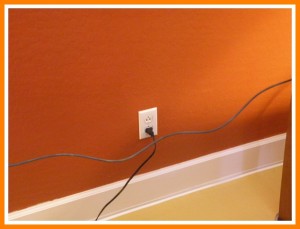 Here is what the Cord Hider looks like in the package…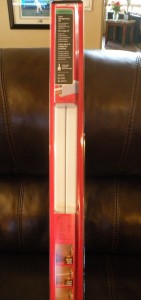 And here is what it looks like after I installed it.  No more visible cords….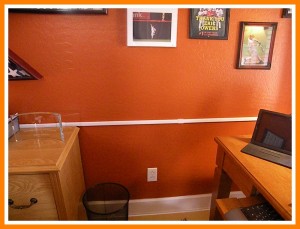 I love this item!
And keep in mind that you can run this Cord Hider above or below your baseboard, along the floor and you can even paint it to blend in with the room.  I ran mine high because this is going into a Internet outlet that is in the middle of our wall.  I'm thinking I may paint it my Rustic Orange to match the walls.  I just love looking at this before and after….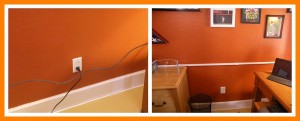 Much better!  Happy Organizing everyone!