Manic:  Everyday life for so many of those in need of the basic things that so many of us take for granted like food, clothing, shampoo and more!
Managed:  Since managedmoms.com is headquartered in the Phoenix/Ahwatukee/Chandler/Kyrene schools area, we are proud to partner with the Kyrene Resource Center (KRC) to provide those in need with the resources that will help them to live a healthy life.
Our managedmoms.com writer, home & garden/organization expert, Bridget has set up a terrific partnership between our website and the KRC.
We are happy to announce that The Kyrene Resource Center will soon have space on managedmoms.com.  Since we will be supporting the KRC efforts, we would like to introduce you to the organization and explain what the center provides to our neighbors in need.  Take a look and see if there is a way that you can help us to help those families that have so little and come up short when they need to clothe and feed their kids.
The resource center is a place for families in need or homeless to come and obtain supplies and support. The Resource Center works with the Kyrene Foundation families to gain access to resources that meet their basic needs….things that so many of us take for granted like….food, clothing, hygiene items, school supplies and resource referral.
The mission and vision from the website say: The Kyrene Schools Community Foundation advances the mission and vision of the Kyrene School District and is committed to excellence. The Foundation supports three initiatives that otherwise would be unfunded or partially funded:
1.    To support Prevention Services which include the Kyrene Family Resource Center, character education, and the Kyrene Alternative to Suspension Program (KASP).
2.    To provide scholarships to students in need and mini-grants for teacher.
3.  To underwrite employee and student recognition programs
The Kyrene Resource Center has worked on some terrific programs that include…
Backpacks & Supplies for Students
The community partnered together to provide new backpacks and school supplies for over 950 students this July.
The Kyrene Foundation worked during the hot month of July to partner with local organizations and businesses on the  "Stuff the Kyrene Bus" event.  The Stuff the Bus initiative was successful in collecting and assembling over 950 elementary and middle school backpacks with age-appropriate school supplies. We had fantastic community support from places like the Ahwatukee Foothills YMCA, Tempe YMCA, Peter Piper Pizza, The Little Gym, Foothills ACE Hardware and many more!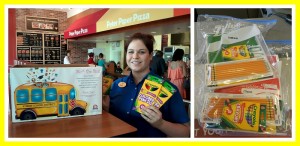 Then community volunteers, families, students, local organizations and businesses came to a local school for one productive morning to assemble over 900 backpacks!
The Resource Center opened at the end of July to welcome families back to school and help them prepare for the school year ahead. The Resource Center sees approximately 100 families each day during the first few weeks of school and one of the initiatives is to assist families in being prepared to send their student back to school. The backpacks are distributed with school supplies to Kyrene students that need the support. Thank you to our wonderful community and partners for the ongoing support!
Student Scholarships
The Kyrene Foundation works to provide scholarships to support students who would otherwise be unable to participate in various Kyrene programs, such as athletics and after-school enrichment programs.
Dressed for School
Those in need receive new and gently used outfits for their children once a month.
The Kyrene Foundation in partnership with The GAP at Casa Paloma, hosted an after hours shopping event on Sunday, September 9, 2012.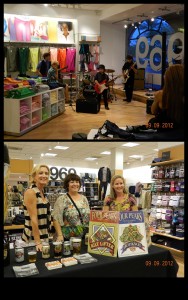 By pre-purchasing a 25% off shopping voucher for a $5 donation, or $10 at the door, shoppers were invited  into the store for an intimate shopping experience with great food from Grimaldi's pizza and beer from Four Peaks and wonderful blues entertainment from the V Knights!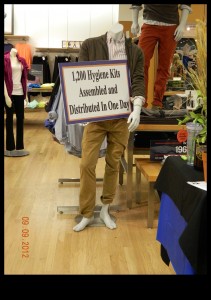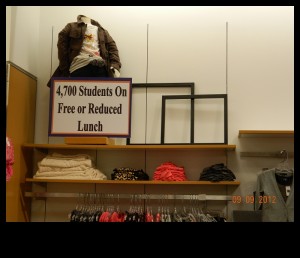 The donations from the shopping vouchers were donated to the Kyrene Foundation. The GAP also had many sale items for as little as $1 and many shoppers purchased items to be directly donated to the Kyrene Resource Center. The clothing donation will allow Kyrene students to have brand new GAP clothing. The Kyrene Resource Center serves homeless and families in need throughout the Kyrene School District. For additional information on the Kyrene Foundation please visit www.kyrenefoundation.org
Food:
The Kyrene Foundation was searching for a partner to help to expand the canned food options for families. We all know how vital fresh food is to a healthy diet, and the Kyrene Resource Center and Kyrene Foundation wanted to follow that practice for our families in need. The Kyrene Foundation had to look no further than the food vendor to our Kyrene Schools, Sodexo. Sodexo graciously donated two new refrigerators to the Family Resource Center, so now the KRO can offer fresh food to needy families.  During the first week, approximately 15 gallons of milk and 10 loaves of bread were donated to families in need. Thank you to Sodexo, our volunteers, and donors!  Drop off a gallon of milk or loaf of bread anytime!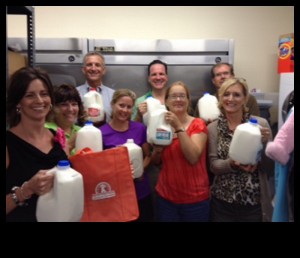 Hygiene Basics
You may not be aware, but hygiene items are not covered with food stamps. This means that many families that are getting support through food stamps are not able to purchase items such as shampoo, soap, feminine products, toilet paper and deodorant. The Kyrene Foundation continually organizes drives to collect hygiene items. One unique time is Thanksgiving when the Foundation provides turkey meals to families in need.  Plus each family also receives a complimentary hygiene kit.
Better Health
In conjunction with Chandler Regional Medical Center and the First Things First Group, families in Kyrene are offered free immunization and dental clinics.
Easy Ways to Help:
The Kyrene Resource Center has some great events coming up  that will help those folks in need.  Check out the calendar and see if there is something that interests you.  If you are looking to give back and help others and if you want to get your kids involved so that they learn to give back…check out this list of upcoming events:
Kyrene de la Sierra Elementary School – Sierra is having a Food Drive the week of September 17th through September 21st.   Sierra will be donating peanut butter, jelly, bread and milk.
The Gap Fashion Show – Breakfast and Children's Fashion Show on Saturday September22, from 9:00 – 11:00am at the Castle at Ashley Manor, Chandler Arizona. There will be family entertainment, games, and bounce houses. The GAP at Casa Paloma is sponsoring the children's fashion show and children from all 25 Kyrene schools will be showing their style on the runway, while guests enjoy breakfast. It's a great time for all. For additional information and to purchase tickets go to www.childrenhelping.org  The ticket prices are $20 for adults, $10 for children (4 and under are free).
Kyrene Resource Center – The KRC is always in need of food and hygiene items and gently used clothing.
Kyrene Resource Center –  The KRC is always in need of diapers and underwear for boys and girls. (New items only please)
The Giving Circle – This is a bulletin board where families post needed items, such as furniture needs, pots and pans, and community members can assist by meeting these needs. Please contact Bridget Owens at

[email protected]

  if you can donate any of the following items….
King Size Bed
Book Shelf
TV
Vacuum Cleaner
Pots and Pans
Silverware
Dishes
Any size of beds and bedroom sets
Table (for Kitchen)
Couch
Baby stuff for girl
Queen size mattress
Baby stuff for newborn (boy) clothes and furniture
So if you are cleaning out any areas, remodeling or just have too much, please think of the KRC first before you discard your items.   If you have any of these items, please contact Bridget Owens at [email protected] Thank you for your support of the Kyrene Foundation. Please visit us at www.kyrenefoundation.org for all current updates and events and like us on Facebook, Kyrene Schools Community Foundation. We are proud to give back and we invite our readers to donate in any of the areas mentioned above.