Manic:  My funny cat, Tucker and his crazy poses!
Managed:  Me grabbing the camera in time to snap this silly shot….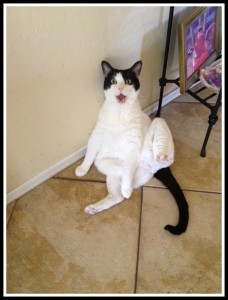 Name that caption!  How would you font this picture??
We just love our funny cat, Tucker!  We adopted him from the Arizona Humane Society 7 years ago.  He is the nicest and most mellow guy, even though he looks a bit hyper here!  Tell me how to caption it.
And send us your fun pet pictures.  We love to get them and we love to post them every weekend to remind ourselves to take a break from our busy lives and just be….just like our pets do!  Email your pet pics to [email protected].
Have a great weekend everyone 🙂