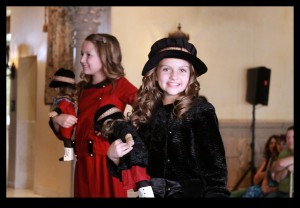 Looking for a fun and educational event to take your daughter, granddaughter or niece to?  Check out the 2nd annual American Girl Fashion Show presented by the Ahwatukee Children's Theatre happening on Saturday, November 3rd at the Chandler Center for the Arts!
***And email us your name if you want to be in the drawing to win tickets to the big event!  Email your entry to [email protected]  All names will be put in a drawing through random.org!
Here is more about this great event…
Over 75 young girls from across the state of Arizona will take center stage in front of their family and friends modeling clothing from the beloved characters of the American Girl book and doll series.
Fun fashions will be presented, while lively commentary, music and decorations create a memorable experience for girls and their families.  Audiences will delight in historical clothing, from daywear to sleepwear to special occasion clothing that resembles what the popular American Girl characters Kaya, Caroline, Josefina, Marie-Grace and Cecile, Addy, Rebecca, Kit, Molly and Julie might have worn. Contemporary, Girl of the Year and My American Girl outfits for girls ages 8 and up and sweet Bitty Baby fashions for little girls complete the program.
The event also includes a doll hair salon, tea party treats, party favors, and raffle prizes.  It is a great day out for girls and their families!
Tickets are $30.00 per person and can be ordered by calling Chandler Center for the Arts at 480-782-2680 or visiting www.ticketmaster.com.  There will be three shows at 10:00 am, 2:00 pm and 6:00 pm on Saturday, November 3rd at Chandler Center for the Arts.
Plus, I am extremely honored to announce that I was asked to be the show emcee, so come and join me on Saturday, November 3rd for a day of fun, for both your young girl and for the adults that accompany her, to this special event that celebrates American girls through the years!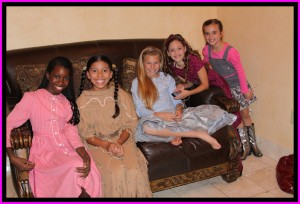 The American Girl dolls are diverse, so girls of all cultures and races are represented in the fun fashion show.  And the fashions are fabulous too, from the pajama sets to the fancy dresses, this is a fun fashion show for all ages!
Plus, it all goes to a good cause.  Funds received from the American Girl Fashion Show event will benefit the Ahwatukee Children's Theatre (ACT), enhancing A.C.T.'s outreach to disadvantaged and special needs children in Arizona.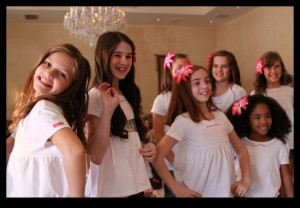 So join me as we sit back, relax and enjoy a fun filled fashion show!  Don't miss it!  My daughter was in the show last year and her friends that attended the event told us that they had a blast!
American Girl has sold 139 million books and 21 million dolls through the company's catalogue, retail stores, and web site since 1986. The American Girl magazine has a circulation of over 450,000, ranking it among the top 10 children's magazine in the nation. The American Girl Web Site, www.americangirl.com, receives 43 million visits per year.
Ahwatukee Children's Theatre (ACT) was established in 1997 and provides local families participation, education, and appreciation in all aspects of the performing arts. ACT believes that involvement by children in safe, productive, healthy activities helps to foster more constructive citizens for their communities.
**About the ticket giveaway….2 tickets will be given away to the winning name drawn through random.org.  To be entered into the drawing, simply email your name to [email protected] by 9am this Friday morning, November 26th  The winner's name will be posted on managedmoms.com this Friday, November 26th by 12 noon, Arizona time.  You must be 18 years old or older to enter your name in the drawing.  Tickets cannot be sold, but can be given as a gift.***