Manic:  The cafeteria at the schools can get manic at times!  And I'm sure there are a lot of kids who feel anxious about meeting new friends at school.
Managed:  Kids participating in the annual Mix It Up Day at schools that recognize and honor this day that is all about kids meeting new kids and leaving their comfort zones to do so.  So when our managedmoms.com writer and teacher Lisa Walton wanted to write about the importance of Mix It Up Day, I was all for it.  Read on to see what this is all about and if your school district isn't doing it, suggest it!
Lisa says:
Mix it Up Day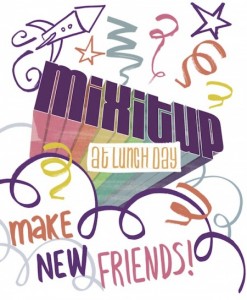 Teaching National Tolerance
October 30, 2012
Just what is Mix It Up at Lunch Day?
Ten years ago, this national campaign was launched by Teaching Tolerance.  Mix It Up at Lunch Day encourages students to identify, question and cross social boundaries.
Studies have shown that students identified the cafeteria as the place where divisions are most clearly drawn. So this school year, on October 30, we ask students to move out of their comfort zones and connect with someone new over lunch. Some schools choose to host unique activities to get the students more involved.
"When students experience diversity in their schools and classrooms, everyone benefits," Teaching Tolerance Director Maureen Costello said. "If we do not instill in today's students an appreciation for diversity, it will be difficult for our country to succeed in the 21st century economy where perhaps the most important job skill is the ability to collaborate with others."
It's a simple act with profound implications. Studies have shown that interactions across group lines can help reduce prejudice. When students interact with those who are different from them, biases and misperceptions can fall away.  For more information on this, vist www.tolerance.org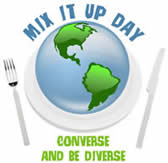 What can we do as adults?
Find out if your kids' schools are participating.  100% of the Kyrene schools and District Office will be a part of this day.  Discuss tolerance and empathy with your kids.  Help them understand the significance of this day and what it means.  Model tolerance for your children both at home and in the community.  Take this day and move it into your workplace.  Try sitting with a new co-worker, or get to know someone new in your neighborhood or community.  At the next soccer game, PTO meeting, or Sunday at church, sit next to someone new.  We all tend to stay within our comfort zones.  This is a great opportunity for all of us to help break-down social boundaries.
HAVE FUN & MIX IT UP!!