Manic:  The weekends, just like the weeks, are manic this time of year!
Managed:  Finding a few minutes to take a quick nap and nothing is better than snuggling up with your pet….that is if you can make room next to your furry friend!  To see what I mean, take a look at this week's pet pic sent in to us by her human mama, Madison….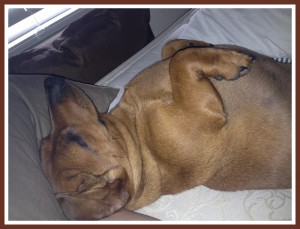 Madison tells us that when she went to take a little nap with her beloved dog, Rosy laid right down on her Mom's pillow and started snoring in seconds!  And she says that Rosy snores louder than several of her human members combined!  I love this dog and we love getting your pet pictures!  Thank you!  Madison says that they love love their "adopted daughter" Rosy!  We love Rosy, too!
Send us your pet pics!  We love to get them and post them every weekend to remind us to relax…and take that much deserved nap with our pets, too!  Send your picture to [email protected]  Have a great Sunday!