Today's post comes from guest writer, Diane Santana who works with an anti-bullying organization called Playworks.  She asked if she could share a little bit about this group that works to replace bullying with programs that work.  I was interested in this, so today we hear from Diane as she works with Playworks to make a difference out there when it comes to our youth and tackling the very ugly bullying issue that plagues so many schools.
Diane says:
Do you remember what recess was like when you were a child? What was your favorite playground game; 4-square, wall ball, kickball, jump rope?  Recess today is very different than what it was when I was in elementary school. It is full of fighting, bullying, kids unengaged, and many times, complete chaos.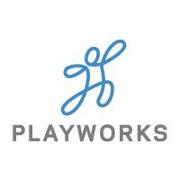 For the last 4 years, Playworks SoCal has been positively impacting children's health and well-being by harnessing the power of play during recess and throughout the school day and creating valuable opportunities for children to grow physically, emotionally, and socially. Researchers found that investing in recess and organized play can prevent bullying, improve students' behavior at recess and readiness for class, and provide more time for teaching and learning.
Playworks significantly reduces bullying and exclusionary behavior at our schools, which allows educators to reclaim valuable teaching time. Our programming places one full-time adult program coordinator, called a "coach" at each of our partner elementary schools. Coaches organize fun, play-based physical activities before, during and after school providing as much as 30-45 minutes of daily physical activity to children throughout the school day.
Ana is a shy 4th grade student. At recess she would sit on the side lines, reading or daydreaming. She had no friends and was picked on by other students. This year Ana is a Jr. Coach, helping Coach Tasha run games and has become a role model to the other kids. She not only participates more in class but she is also playing at recess even when she's not a Jr. Coach. This is all possible because of Playworks and Coach Tasha giving her a chance to be a leader. She is now a confident, outgoing little girl.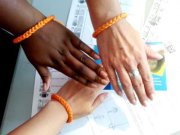 Support Play- Unite against Bullying
Our End of the Year Fundraising Campaign has begun! Join me in supporting play and reducing bullying by making your tax deductible contribution. Your donation will enable kids like Ana to live up to their leadership potential. To celebrate your gift we will send you an orange bracelet for you to wear to show your support against bullying! Donate
About Our Guest Writer, Diane Santana:

Development Manager, Playworks Southern California
Diane works with foundations, corporations and individuals in order to raise funds, write grants, board development, and build a network for the Playworks program. Prior to working full time with Playworks, Diane volunteered with the organization for one full year because she truly believes in the impact that it has on the children and the community. Diane has worked with nonprofits for that last 10 years and in her prior position as a senior program director of membership and healthy lifestyles at two local YMCAs, she was able to become very involved with her community, built many relationships, and fundraise for an annual campaign. What inspires Diane the most about working for Playworks is going into the schools that we serve and watching the coaches implement the Playworks program and the effect that it has on so many children. Her favorite game on the playground is hula hoop tag. She truly believes in Playworks mission and is passionate about raising funds to support it.