Manic:  Last week with our big Halloween party, then Halloween, the American Girl event and tons more!
Managed: Ahhh….getting to sit down to post our weekly pet pic and this one made me laugh and relax at the same time, kind of like this Halloween hound is doing in this picture, sent in to us by Mary Hyde in Maryland…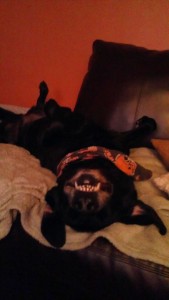 Mary calls this picture 'Scary Lab" and that works, too!  Here she is posing for the camera in her Halloween scarf sporting her upside down smile for the camera!  Love it and love her!  Her name is Luna and she is 8 years old.  Thanks for sending in this pet pic of the lovely Luna!
Send us your pet pic!  Email to [email protected]  We love to get your pics and post them every weekend to remind us to chill out like this hound did!  Have a great Sunday everyone!