Manic:  Our holiday weekend (in a good way) with Turkey Day, visiting family (yey), my son's hockey tourney with 4 to 5 games over the 3-day weekend and my daughter's two different community theatre performances in our community!  Whew!  We are running!
Managed:  Taking a few moments to post a pet pic sent to us by managedmoms.com subscriber, Mary of her beautiful cat, Napoleon posing for a festive Thanksgiving picture….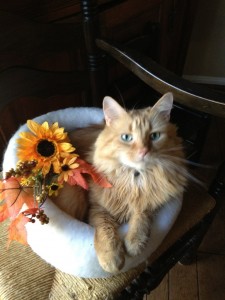 We love this cat and we love his festive bed!  We also love that he reminds us to remember to find time to relax this holiday season with a nap and down time with loved ones!
Send us your pet pics!  We love to get them and post them every weekend!  Email your pet pic to [email protected]  Have a great weekend and safe travels for those of you heading home!