I love today's pet pic, not only because this beautiful dog, Violet belongs to my Dad, but also because I am so proud of the cool pooch patio that he built for his beloved dogs several years ago.  Check this out…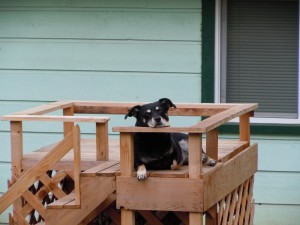 What a sweet dog and she clearly loves her custom-made pooch porch as she relaxes and poses for her human Dad, Dennis!  I'm glad that he is my human Dad, too!
Send us your pet pics!  We love to get them and post them every weekend to remind us to relax with our beloved best furry friends.  Email your pet pics to [email protected]  Have a great weekend!