Remember the old game show Supermarket Sweep? The format combined an ordinary team-based quiz show with the novel concept of a live, timed race through a supermarket.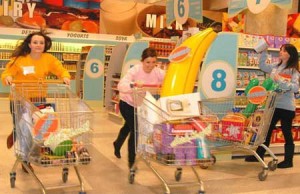 Sprouts Farmers Market has a great opportunity to participate in "Sprouts Sprint" and win a cart full of groceries! In the timed race, the contestants can dash through the store and fill their cart with Sprouts goodness – the value of the items tossed into the cart determines the winner and you get to keep the bounty! This is definitely a competition that is perfect for us manic but managed moms!  I love this!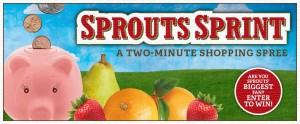 It's easy to enter – go to sprouts.com/spree and tell them in 100 words or less why you are Sprouts' biggest fan for a chance to win an all-you-can-snag two-minute shopping spree at their brand new location at 16th Street and Glendale Avenue in Phoenix, AZ. Spree winners must be available for the Sprouts Sprint on Tuesday, Feb. 11 from 9-11 am. Click here for Sprouts Sprint rules. Contest closes Sunday, Feb. 10 at 11:59:59 am.