Manic:  The number of beauty stores that I live by….Sally's, Ulta, Sephora, Beauty Brands and more.  Which one is the right one for me because I want to find one go-to store for my beauty needs.
Managed:  Visited Beauty Brands to help me decide and I was very impressed with what I discovered there.  This includes the selection, the customer service, the extra free services and the return policy.  Take a look at what's new and what is smart shopping at Beauty Brands….
*The Studio —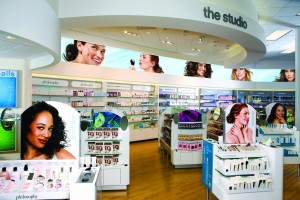 New to Beauty Brands is the customer-friendly section called The Studio.  This new store within a store offers some very popular and nice brands like Smashbox, philosophy, Stila, Too Faced and many more!  The Beauty Specialist Consultant who showed me around really knew her stuff, too.  I appreciated that because figuring out which brand is right for my personal needs can be overwhelming with the numerous products that do all sorts of things these days.
Plus, The Studio experts offer free consultations and I love how they teach you about makeup application, skincare and more  The specialist I met with told me about the half face lesson/application and she let me know that customers should check with their local Beauty Brands store to see if that service is offered.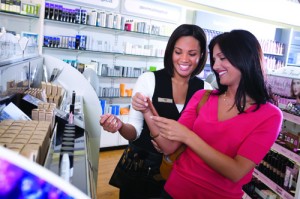 I was comfortable at the welcoming beauty station and the expert told me that they can apply makeup to half of my face, while I do the other half, enabling me to truly learn hands-on how to do it the way they taught me during the lesson.  For me, that is priceless because I'm not good at remembering every detail that I'm taught because I'm a hands-on type of student.  Plus if I like any of the products that they applied in my lesson, I can purchase it right then and there.
There are also testing stations throughout The Studio, complete with an abundance of sponges and other application tools, so you can test on your own in a sanitary and inviting environment.  My gal pal, Julie and I really enjoyed ourselves as we ventured through The Studio at Beauty Brands and we both made purchases that we love!  I selected the Murad Overnight Soothing Gel that calms red and irritated skin while sleeping.  It works great.  There is truly so much to choose from with the abundance of well-known, top performing brands.  Julie and I both agreed that we will make The Studio at Beauty Brands our regular beauty shopping stop.
*Take 10 Savings Rewards Program —

The Take 10 Savings Rewards Program is a free money-savings program and it couldn't be easier when it comes to saving cash on your favorite products and spa services at Beauty Brands.  Simply sign up in store or online at www.beautybrands.com and your points are stored online for you with no need for an annoying card that you have to keep track off.  I love that part and I love that for every $100 you spend, you get a 10% discount off of your next purchase. Plus spa services are part of the program, too.  After every 5th salon or spa service that you receive, you get 10% off a future visit.  Love this program!  And I like that Beauty Brands stores have a very nice salon and spa right there in the store.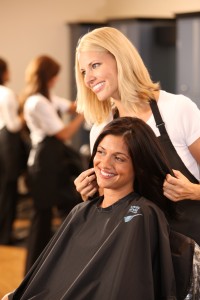 Shop, get your hair done and have a pedicure, all in one location.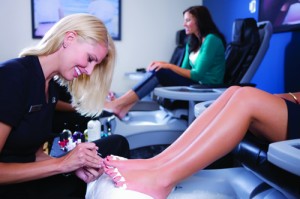 That saves time, too.
*100% Guarantee on purchases — Beauty Brands believes in excellent customer service, so they have a 100% guarantee policy that states you may return any item you purchase from Beauty Brands or beautybrands.com if you are not completely satisfied.  I like knowing that I have that option, but I won't be returning my Murad Overnight Soothing Gel because I loved how my skin felt and looked this morning when I woke up.
So, there you have it.  Beauty Brands gets a thumbs up from the managedmoms.com team.  With 54 Beauty Brands stores in 11 states, there is bound to be one close to you.  Or you can simply order your favorite brands at Beauty Brands online.  Check that same website to find your nearest Beauty Brands store.  Happy beauty shopping.
No compensation was provided.  Several product samples were provided (not the Murad, I purchased that) and managedmoms.com will be reviewing those products in an upcoming post.  All opinions are 100% mine.