Manic:  My kids wardrobe because they outgrow their clothes faster than I can buy them new pieces and I need to stay on a budget!
Managed:  Welcoming our new managedmoms.com team writer, Julie Ellis who wrote an article for us about the new Phoenix Premium Outlet shops that just opened up in Chandler.  She took on the opening day crowds and scoped the shops for us, so we get a sneak preview of the new outlet center before making the short trip to clothe our families on a budget.  Thanks Julie!  Here is her review of the brand new Phoenix Premium Outlets…and we welcome Julie to our writers team!
Julie says:
Phoenix Premium Outlets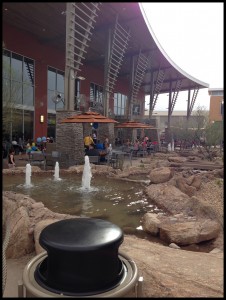 I love shopping, probably a little too much. When I heard that Phoenix Premium Outlets was opening just down the street not much could keep me from going on the first day to the Grand Opening Celebration, which is being held through tomorrow, Sunday, April 7th.
The Phoenix Premium Outlet shops are located at 4976 Premium Outlets Way in Chandler, Arizona, which is just off of the Wild Horse Pass exit of the I-10 freeway. They definitely live up to their name with a number of high end stores including: Banana Republic, BCBG Max Azria, Calvin Kline, Coach, DKNY, Lucky Brand, Michael Kors, Nike, Off Saks Fifth Avenue, Tommy Bahama, Under Armor and more. For a complete list of stores, visit the Premium Outlets website. 

Here is what to know before you go:
Great deals.
I was excited to find really comfy workout capris at Under Armor for $35. Lucky Brand Outlet had some great shorts to get ready for summer. Tommy Bahama had 50% off of the entire store.
Read the fine print.
Many of the stores are offering fabulous sales as part of the Grand Opening but some of them have stringent return policies. So beware before you buy. Tommy Bahama is offering 50% off of all merchandise, but they only allow seven days to return merchandise and in exchange for store credit only. So if you're going to buy a shirt for your husband, have him try it on right away.
Go with a friend or family member.
The checkout lines at some of the stores can be long. It helps to have a friend hold your place in line if you decide that you just can't live without that dress after all. Plus it's always fun to shop with a buddy.
If you want to go to Coach, be prepared to stand in line. 
The picture says it all.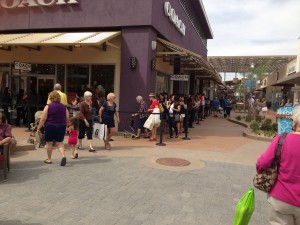 Coach was a popular place. My friend and I decided to skip it and come back in another time after the newness has worn off.  (Plus neither of us needed new purses so it's probably best we didn't go in).
The same but different.
Some of the stores carry merchandise that is similar to the styles in their main stores but slightly different. In some cases, this is because the outlets carry last year's merchandise, in others the brand creates a separate, lower quality line for the outlet stores. Don't let this dissuade you though. I had recently purchased a couple pairs of shorts at the main store and picked up the outlet version for comparison. (Okay, I won't lie. I thought I could save some money by returning the others.) As it turns out, of the two styles I preferred the outlet version in one style and the regular store's version in the other. If I hadn't compared them side-by-side though I wouldn't have known the difference.
Not much for kids.
We found quite a few options for babies and younger children but not much for older kids. Old Navy and Children's place have options but I'll confess, we weren't really shopping for our kiddos.
Eat before you go.
While there is a food court, currently options are limited and the lines can be long. More restaurants are expected to open throughout the summer though.
Make a day of it.
This is the perfect time of the year for outdoor shopping. The outdoor seating area is beautiful and today they had live music in front of the Polo Ralph Lauren Factory Store. Wear comfortable shoes and Happy Shopping!
No compensation was provided by the Phoenix Premium Outlets.  All opinions are 100% Julie's own. 
About our writer, Julie: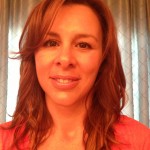 Julie Ellis, Managedmoms.com Fashion & Fitness Expert
Julie has worked for years in Finance only to realize that it is not her true calling. A fashionista and borderline shopaholic, Julie is on top of the latest fashion and beauty trends.
Fitness is also a big part of Julie's life. She's a runner who also enjoys yoga, Pilates and anything that sounds fun and challenging. Julie is always up-to-date on the latest fitness trends.
In addition, Julie is currently working on her first novel, a romance that takes place in the music industry. She is a member of the local chapter of Romance Writers of America and has served as their newsletter editor for several years.  
Julie and her husband are also the proud parents of a 9-year-old son and a 97 lb. Goldendoodle named Teddy.
Read more about Julie on our team bio page