Managedmoms.com team member and writer Karen Hall has a terrific post for us today about skincare. She shares with us a homemade skincare regimen that you can easily make yourself and it is healthy and natural for your skin.  Take a look and try this on your skin.  Professional/Celebrity makeup artist Karen Hall knows her stuff and always impresses our readers with beauty ideas that are affordable and healthy.  Read on and try this on your skin…oh and next week's Freebie Friday will return next Friday, so good luck.
Karen says:
Using everything under the sun and still not getting the flawless skin you dream about?  The Oil Cleansing Method could be the answer!  This simple yet very effective way of cleansing the skin, removes all traces of makeup, yet leaves the skin moisturized and glowing.  You can use this method first thing in the morning or before bed.  It will remove every trace of makeup on your face, even your mascara.  I was amazed the first time I tried it….I even took a cotton ball with alcohol on it, and went over my face to test it…and there was nothing on the cotton ball!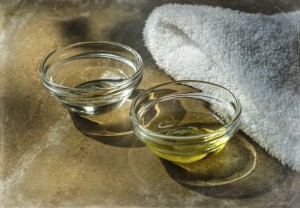 The ingredients you need are:
1.  Castor oil
2.  Jojoba oil or almond oil (pick one) cold pressed, unprocessed
3.  Wash cloth
If your skin is dry, use less castor…if oily, use more castor.  But do use some as it helps to pull debris from the skin.  I do about half and half and it works beautifully.
Here is how you do it:
1.  Put the oils in your hand and mix them (you can also blend them ahead of time in a bottle, and can even add a few essential oils).
2.  Apply the oil mix with the pads of your fingers and massage onto your face and neck.
3.  Wet your washcloth with warm to hot water and place it over your face.  Let it cool…it is very relaxing!
4.  Gently wipe away all the oil, makeup and debris.
5.  Repeat this step up to three times.  I did it twice with a hot cloth and it was very effective.
6.  Splash with cool water.
If you  have rosacea or active acne, just use tepid water to begin, and be extra gentle with the wiping away process.
Remember like cures like, so even though it may seem odd to put oil on your skin, it effectively dissolves dirt, grime and makeup leaving a slight nourishing film of oil.  It feels wonderful.
I finish with a light spray of  rose water and usually feel no need for any extra moisturizer, but you can add a few drops of  jojoba or any moisturizer that you like, if you feel the need.
Give it a try and if you get any slight breakouts, your skin may just be ridding itself of what has been underneath….which can be a good thing.
About our writer & expert Karen Hall: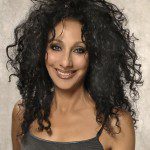 Karen Hall, Celebrity Makeup Artist
Karen Hall has dolled up the likes of Paula Abdul, Faith Hill, Conan and many more world-wide celebs that come to Phoenix to perform or make personal appearances.  Karen is called in to make the stars look amazing and many of these celebs end up asking Karen what her own personal secret is because she looks 30 years younger than her age…which she will tell you is over 60!  Hard to believe, isn't it?!   Stay tuned for another healthy and easy beauty tip from Karen next week.
Read more about Karen on our team bio page