Manic:  My mind as I prepared to host 40 middle school kids for my daughter's show choir retreat!  What had I signed up for?!
Managed:  I was so happy to do it for this amazing group, the award-winning Treble Makers from the Ahwatukee Children's Theatre.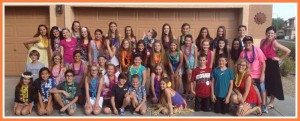 So once I had a few top notch party organizations in place, I felt calm….and all four companies that I used exceeded my expectations and gave us a party to remember.

Read on to hear about my all time favorite caterer, Robert's Catering, a cool photo booth rental that the kids loved called MrFun Booth and some awesome decorations that we found at Party City (we used a good coupon there, too).  Plus I'll tell you about the right place to rent tables and equipment to make room for your party peeps.
The Fab & Festive Food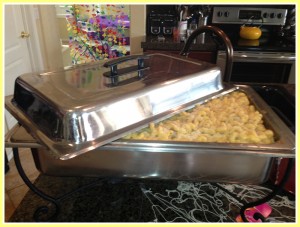 First of all, I have to tell you about Robert's Catering.  I have known Robert for 20 years.  When I was a marketing manager for Southwest Airlines in the early 90s (loved that job), he would cater all of our events. He always went above and beyond and the food was always scrumptious.  Once he even served shrimp cocktail to all of our customers as we flew to New Orleans to celebrate new nonstop service (told you I loved that job).  So I was excited to enlist his yummy services to cater our show choir event.  This could have been a challenge because with tweens and teens, you are dealing with some picky taste buds.  To my surprise, the kids voted for Hawaiian-themed food over subs or pizza.  So Robert went to work creating a menu with a theme that would be altered to please the taste buds of 40 hungry and picky kiddos.  It was a success!  Check out these photos of the scrumptious menu.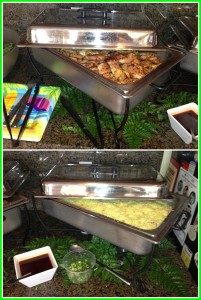 The crowd-pleasing menu consisted of tasty pulled pork on Hawaiian buns, a delicious saffron rice, the most tender and flavorful chicken teriyaki ever, kid-pleasing macaroni & cheese and a huge Caesar salad.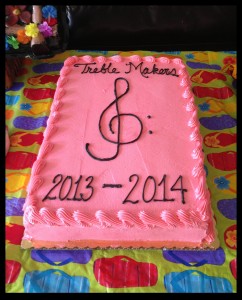 And check out his colorful cake….whoa….gorgeous and this dessert satisfied all of our sweet toothed guests!  Robert also created nonalcoholic Mai Tais for the thirsty guests and the beautiful beverage was a hit.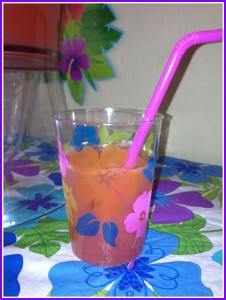 My daughter greeted each guest with a lei to wear and Robert's yummy mocktail to sip on.  This was perfect for our Hawaiian theme.  Robert's Catering went above and beyond for our party and that morning he even called to see if there were any last minute items I was in need of like ice.  I highly recommend Robert's Catering for your event and in the 20 years that I  have worked with him he always enhances the occasion with his creative flair and good grub.
The Entertaining Entertainment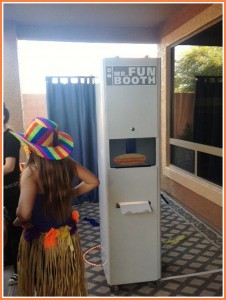 Guests of all ages love a fun photo booth and MrFun Booth was a ton of fun for our party goers.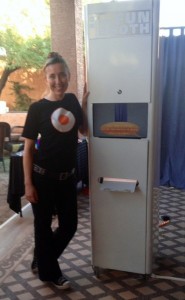 The booth operator, Cassie arrived early and found the perfect place to set the booth up, so when the kids arrived they had a blast posing for pics that they received just seconds later.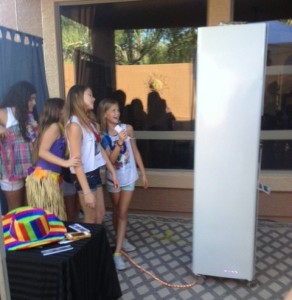 The company also brings fun props to enhance the photo taking fun.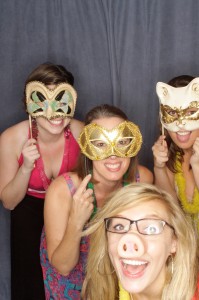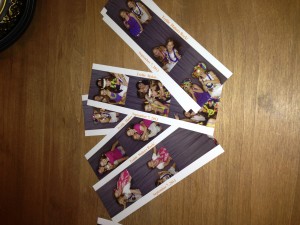 Plus the very next day, they were able to download as many pictures from the party that they wanted from the MrFun Booth website.  I highly recommend this for endless party entertainment.  I made my girl pose with me before the celebration ended and you can see that she did as a favor for her Mama.


The show choir directors also had team activities in place that involved a hula hoop contest and more.  Fun was had by all, I'm happy to report.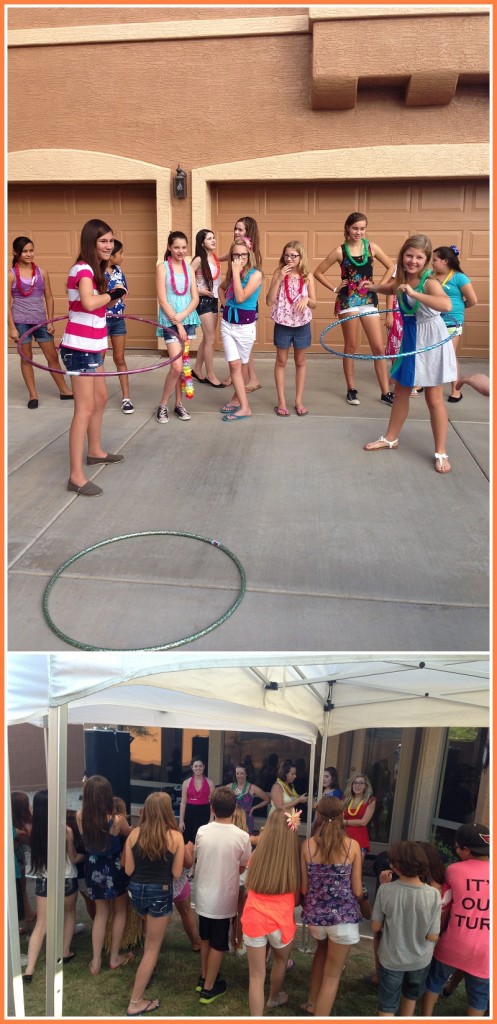 Darling Decorations 
We found the perfect party decorations for our Hawaiian theme at Party City.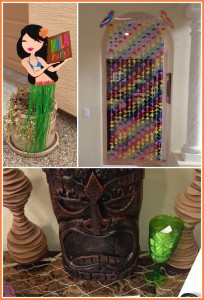 I was happy to have a $30 off coupon that I used there, too.  Be sure to register at Party City's website to get money saving coupons emailed to you.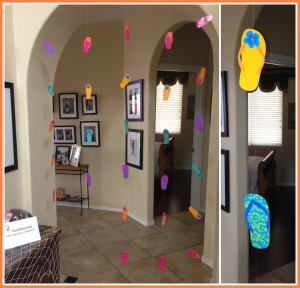 Perfect Party Rental Stuff
To accommodate 40 plus people, I knew I would need more seating, but I didn't need to do formal seating, either.  A to Z Equipment Rental & Sales was terrific to work with because they were professional and flexible.  They enabled me to decide on the items that I wanted once they arrived.  This way I got to take a look at how the tables and canopy fit into my small backyard.  It was nice not having to give them a firm answer before the set-up as many companies require.  I really appreciated that and as you can see, the party peeps were able to do their team building show choir exercises in the A to Z Equipment Rental set up. It worked well.
Having the right party resources made this Hawaiian Luau one to remember!