Managedmoms.com team member and writer, Bridget, owner of D.O.A. Interiors who is our resident design on a dime expert, recently turned a good garage sale find into the perfect cool home decor item.  This is such a clever idea and it would be super fun to give as a gift to a wine loving gal pal (I am blessed to have a few of those in my life) so check this out…
Bridget says:
I recently went to a local garage sale and found this unique looking bin.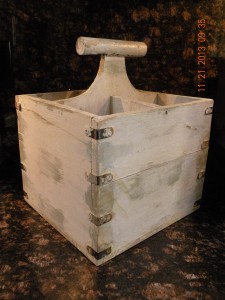 It is made of solid wood and I loved it, but the lady wanted $20 for it, which was more than I wanted to pay.  Since it was the end of the day and she was getting ready to shut down, I was able to talk her down to $8, and considering that it is from Pottery Barn (my favorite place to shop to look for decorating decor), I was very pleased with my bargain purchase!
When I got home, I cleaned it off and considered painting it, but then I decided that I kind of liked the old rustic look of it.
So, I added four of my favorite wines (it can even hold bigger bottles) and I put two hooks in the wood to hang my wine opener and wine bottle stopper.
I set it on a wicker mat and put it in the center of my table.  I love how it came out and having Vino with my gal pals is lots of fun with this cool contraption as our lovely centerpiece.   Cheers to good garage sale finds!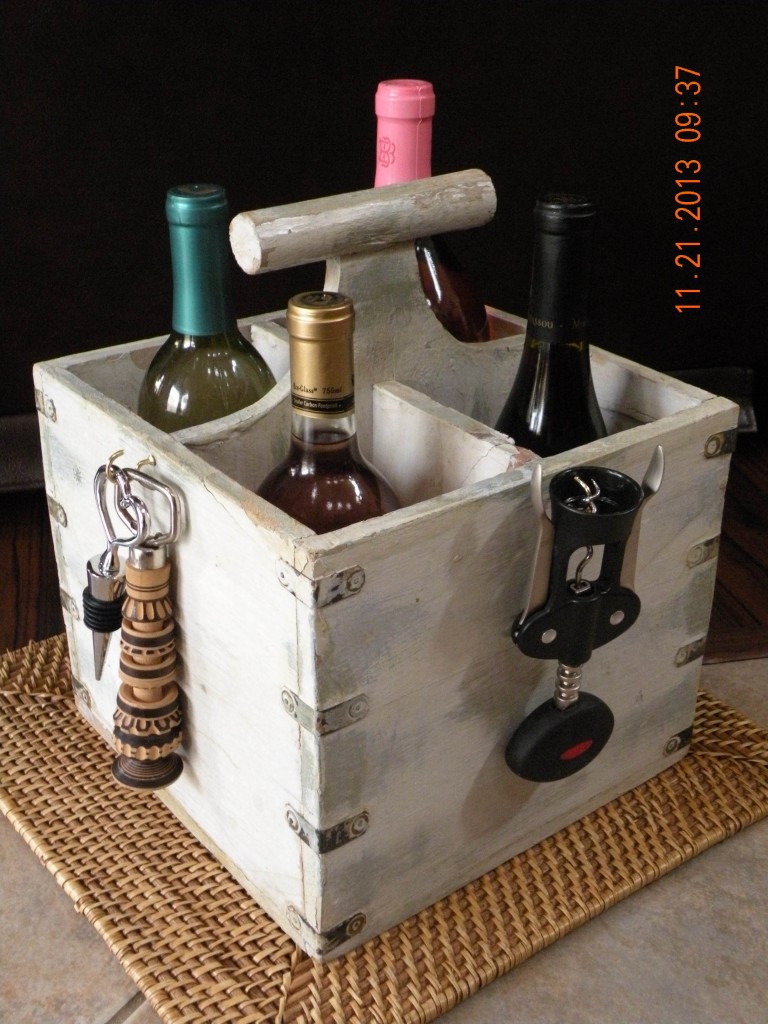 Bridget Owens, owner of 
D.O.A. (Designing, Organizing & Arranging) Interiors
 is a talented home decor expert and a professional organizer.  In addition to finding money-saving deals on home decor products, she also teaches her clients how to incorporate their current items that they have on hand to stretch the budget.  Her get organized ideas are structured to work well for the entire family, too.  For more about Bridget, see our 
managedmoms.com team page.