Do your Mondays feel like this fun t-shirt that I got from The Purple Skirt Boutique….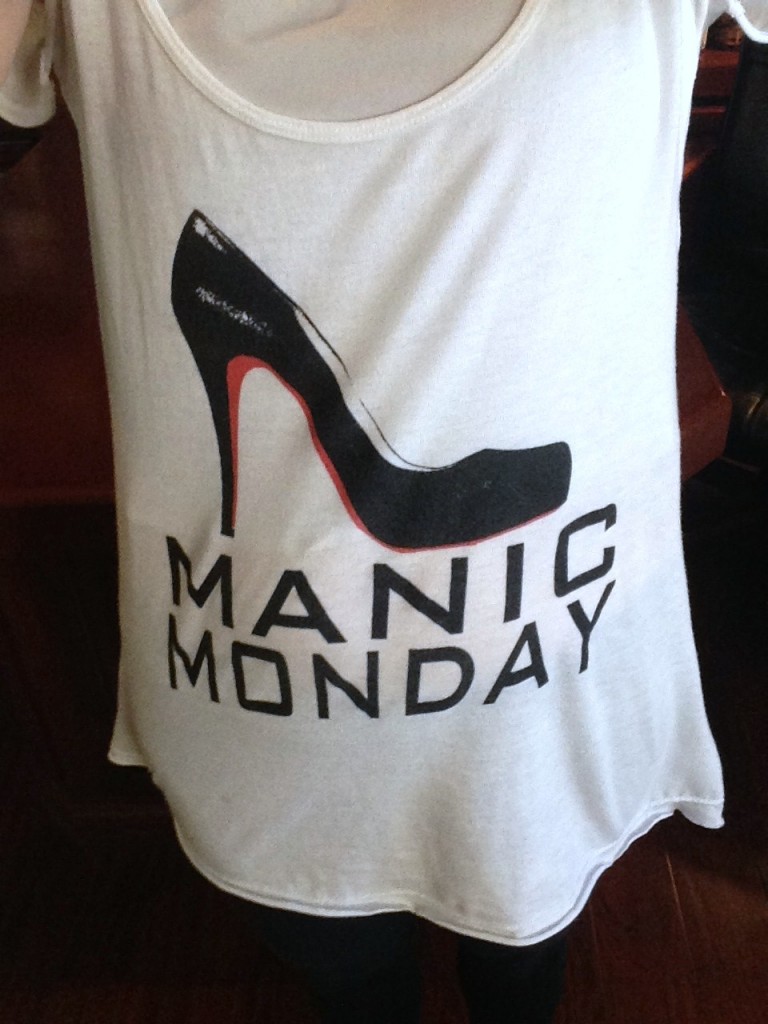 Maybe your Monday has you running in your work heels or your Mom tennis shoes getting the kids from point A to point B on time, fed with their completed homework (that sent you to several different stores for craft supplies for project pieces that were due).  Or maybe you are sporting both shoes today, heels in the AM and sneakers for the after school rush!  In any case, we women are busy these days and feel just as overloaded as our busy kids do with school projects, AIMS test prep, after school extracurriular activities that are balanced with a brace tighetning appointment at the orthodonisit, vet visits, car repairs and more.  It doesn't end and the laundry and dishes still need washing after the sun has set and you are finally home from the crazy busy day.  Whew!  It is enough to side line the most energetic of us!  But many of us busy gals don't find the time to take the much needed break that we need to stay healthy.
So tonight after all is done, pour yourself a glass of wine and pencil in a rest day (or even a couple of down hours if that is all you have) to do just that.  Schedule some down time to recharge your Superwoman battery.  I did just that yesterday and it did me a world of good.
I still taught Sunday School, did five loads of laundry and made my family dinner.  But when my hubs and kids went off to golf, I stayed home and watched a couple of taped new Tonight Shows that I couldn't find the time or energy to watch live and I bought myself an On Demand movie.  Just me, myself and I.
I can't tell you how much better I feel today.  So to my great gal pals who put everyone else first, I urge you to schedule a down time date with yourself in the next seven days.  Just do it and say no to scheduling every second of every day to keep up with it all.  You deserve some down time, so schedule it and take it.
No back to my crazy schedule and manic Monday.  Off I go!