If you are looking for a family friendly super fun place to get away from the heat, check out the  Arizona Grand Resort & Spa in Phoenix.  This review was written two years ago when I took my girl and her friend to check it out.  It remains one of our favorite staycation getaways.  I am running this review again since we are now on summer break and I will run some of my other resort/hotel reviews this month, too.  So before you book, read on to learn all about what to do, what to eat and how to fully enjoy The Arizona Grand!  And do keep in mind that this review is two years old, so some things like the televisions I mention have since been updated. Happy Summer!
The resort's website describes the property like this…
AAA Four Diamond Arizona Grand Resort is the leading Arizona family vacation getaway and Southwest meetings destination. The 740 suite hotel and conference center offers an 18-hole golf course, athletic club, spa, salon, a 7-acre water park, seven unique dining venues and 117,000 sq. ft. of indoor and outdoor meeting space.
That is all right on and the 7-acre water park will have your kids entertained all day long, but do beware of our powerful sun rays here in the Valley of the Sun.  I recommend not letting your kids play all day at the water park because even with sunscreen, they can finish the day sporting a bad sunburn.  So come and play at the resort's Oasis Water Park, but do proceed with caution and with a healthy dose of sunscreen that needs to be reapplied throughout the day.
Our personal experience with the resort was very good.  I did have a few complaints that included outdated and small TVs in the room and an $8.50 room charge fee for a hot cocoa order that turned out to be a pot of hot water and several Swiss Miss packets.  However, upon calling a very nice manager named Darrell, he let me know that updated flat screen TVs were on order and he refunded my hot chocolate charge.  He told me that he appreciated my feedback and would share my request for real hot cocoa, complete with whipped cream on the side and minus the lumpy powdered packets, as a potential future menu change.  I greatly appreciated his ear and quick response, so kudos to the resort's management!
To share the rest of our experience, take a look at our pictures…
I love the resort grounds layout of the rooms.  Most areas have ample parking right outside your room, so valet parking is not needed, which saves money.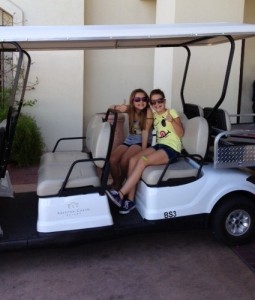 Here the bellman takes the girls to our room.  I followed in my car and found a nice spot close to our room entrance.  We never needed my car again since the property is nicely laid out with attractions in walking distance.
Guests can also be shuttled over to the property's restaurants, spa, golf course and more.  So getting around, while not needing our car, was nice and easy.  The resort offers so many activities and delicious dining that there is no need to leave the Arizona Grand which really means that you truly get away from it all.  I like that!
The Arizona Grand website describes the rooms like this…
At Arizona Grand Resort, luxurious over-sized, two-room suites provide intimate, residential-style comfort. Each of the 740 suites at our Phoenix hotel has been designed to reflect the natural comfort of the warm Arizona desert.
I found that to be true and I love how every room includes two rooms.  Many resorts require an upgraded room rate for a spacious 2-room suite, but this is standard at the Grand, which is nice for families who need a little space.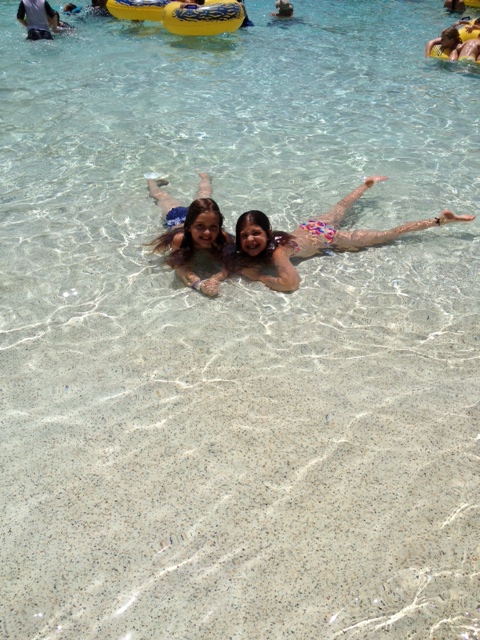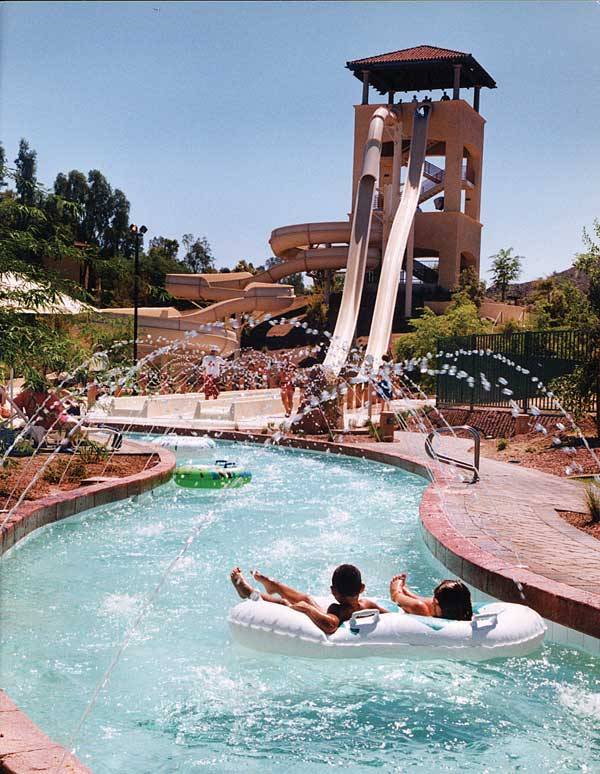 The resort has plenty of kid friendly menu items and yummy fish tacos for me.  We enjoyed our poolside lunch.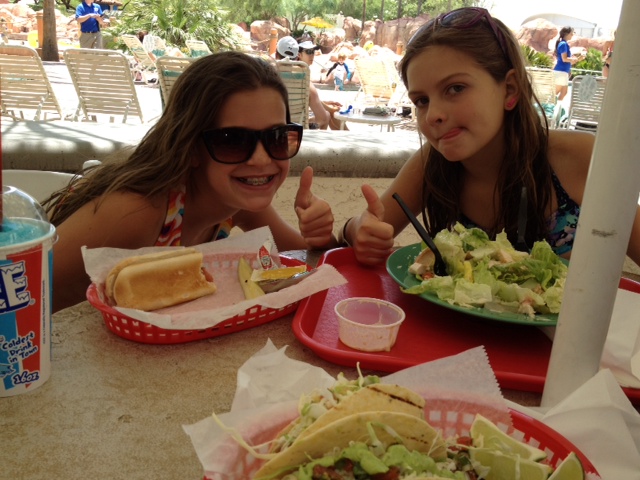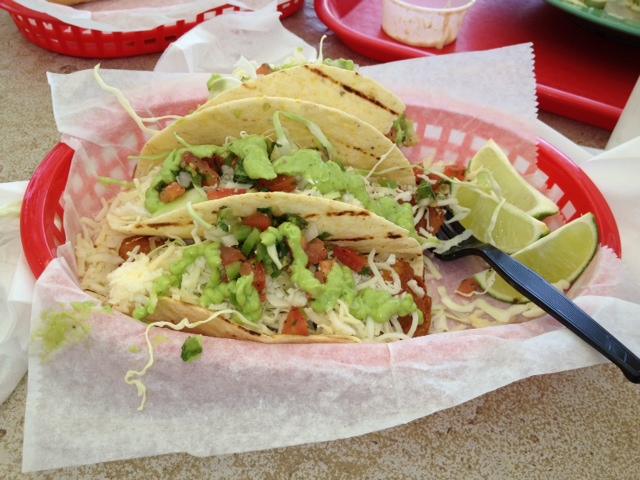 We left with the girls adorned by the balloon figures that the restaurant's talented balloon artist made for them and we stopped by the eatery's gift shop to purchase two darling stuffed horses that sold for under $10 each.  We loved our fun and tasty experience at the Rustler's Rooste!
On Day 2,  I surprised the girls with a spa treatment because the Arizona Grand Resort & Spa offers a fun treatment for girls aged 6 to 11 called The Pretty Princess Package.
For $80 your little girl gets a manicure, a pedicure and a beautiful hair style that includes curls and a princess tiara.  I think $80 is a good value for three different services.
The girls loved it, but if I do this again, I will ask to skip some of the pedicure steps since the girls found that part to be long, tedious and a little uncomfortable on their tender feet.  In the future, I would ask that they bathe and massage the feet, and paint the toenails, but skip the trimming, filing and buffing.  Take a look at the pictures to see the spa fun they had and to see their after photos once the very talented hair stylist named Cheryl finished the styles…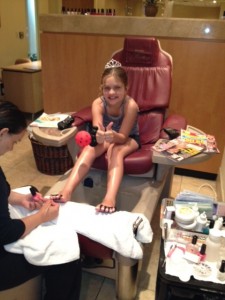 Overall we were very impressed with our stay at the Arizona Grand and the resort has some great summer rates right now.  There are rules and restrictions, so be sure to visit the Arizona Grand website for all of the details.  Happy Summer everyone!
***No compensation was provided for this travel piece.  The opinions about how much I love this resort are 100% mine.