Manic:  Holiday planning!  Be honest: How often do you actually sit back and kick up your feet between November and January? Does the "most wonderful time of the year" feel more like a nonstop cycle of bake, clean, shop, wrap and repeat?!  Most years it does for me, especially since I had kids!
Managed:  These four tips that will get us ahead of the game!  Let's do it and enjoy a managed, not manic, holiday season where we moms, hosts and holiday planners actually get to relax, too!
1.  Be prepared for guests. Help out-of-town guests feel at home with a welcome stocking filled with toiletries, non-perishable snacks, reading material and their favorite coffee or tea.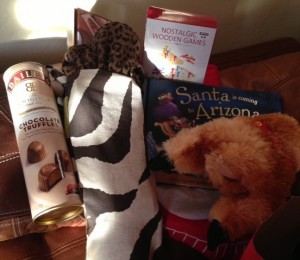 Assembling everything ahead of time will free up those final precious moments for last-minute chores.  Also, keep a secret stash of snacks on hand for unexpected company. Stock the pantry with nuts, popcorn, crackers and chips, which is the perfect accompaniment for any variety of the Shamrock Farms delicious assortment of flavored sour cream.  Keeping a bottle of Shamrock Farms delicious eggnog on hand will also instantly up the festive factor of even the most casual get together.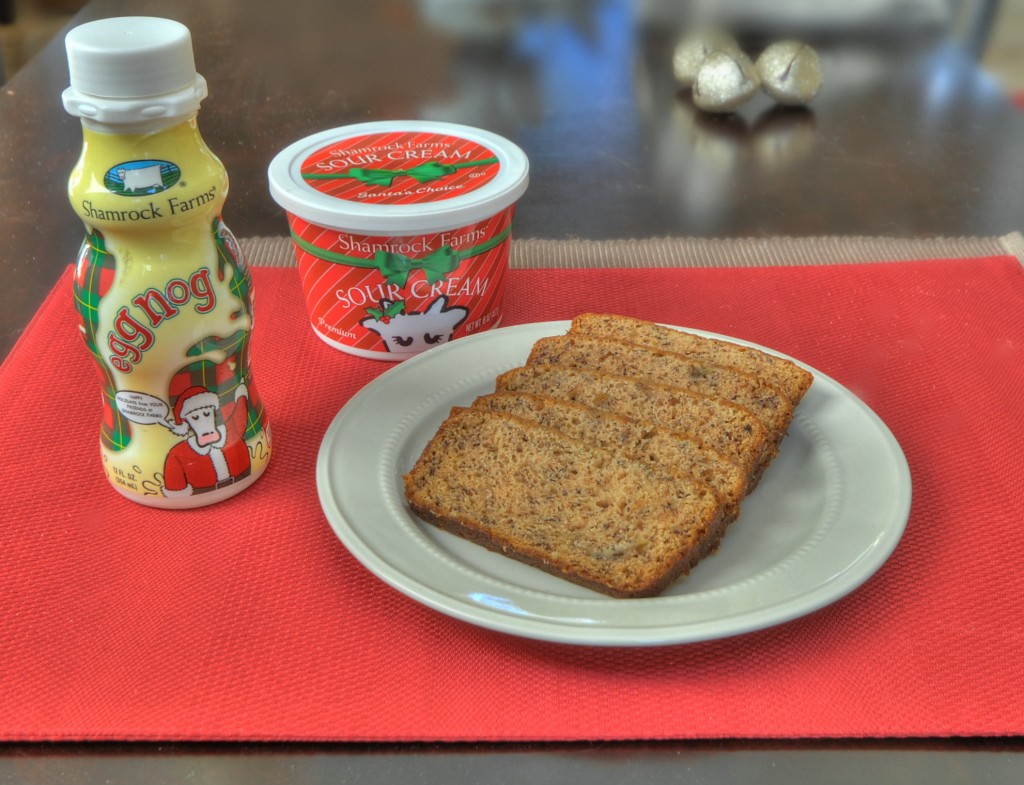 2.  Make-ahead meals. Who wants to cook after a day of battling holiday crowds? Avoid going overboard on take out by putting aside a few hours now to create make-ahead meals. Some family- and freezer-friendly options include chicken and sour cream enchiladas, Roxie's easy lasagna  and Hungarian goulash.  (For best results, freeze the enchiladas and lasagna before baking. When ready to eat, pop the frozen dish into the oven for about 50 percent longer than the original cooking time.)
3.  Create go-to gifts. Avoid the last-minute dash for forgotten gifts by stocking up on several of one item – from candles to gourmet coffee to holiday tea towels. If you're feeling particularly domestic, try your hand at preparing homemade vanilla extract in vintage bottles or a DIY body scrub.
4.  Wrap it up. You may be weeks away from wrapping, but who needs the added stress of a midnight run for Scotch tape? Take an hour this week to take inventory of your wrapping supplies and stock up on scissors, tape, paper, tissue paper, gift tags, ribbon and bows. Keep it simple by using just one or two gift wraps for everyone on your list (it really doesn't get much easier – or chicer – than brown craft paper wrapped in colorful twine).
Now, sit back, relax and actually enjoy all of the fabulous memories you've worked so hard to create. You deserve it!
This helpful holiday article was sponsored by wonderful Shamrock Farms.  My opinion about how much I love Shamrock Farms foods is 100% my own.