Happy New Year!  Another year begins!  Cheers to new beginnings with this new year ahead of all of us.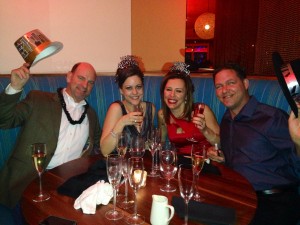 I usually write a heartfelt piece about ushering in another year with resolutions, but my unscheduled time post a few days ago had that sentiment, so today I have decided to talk fashion.  Last New Years Eve I wore pieces that I had owned for years and it all worked great, but this year I decided to treat myself to a new outfit from head to toe and since I found some great stuff, here are the pieces and where each piece and accessory came from for my New Years Eve night out.  Since I receive viewer/reader email asking me for fashion advice and where to find an ensemble from head to toe, I was inspired to share my fashion finds today.  So if you have an event coming up that requires a dress up day or night, take a look at what I put together and where it came from because some of the places may surprise you, especially the orthotic high heel that looks pretty good actually.  So from head to toe, here we go….
If you need a terrific updo (or haircut, style or color) visit my longtime stylist, Angelic who is very talented at what she does.  Yesterday I arrived wanting sort of an Audrey Hepburn inspired type of bun and Angie delivered. I also asked for a side swoop with volume and an updo that could be seen from the front as well as the back.  I love how she did it and it was nice to have my hair up and out of my face with our cold and rainy weather last night.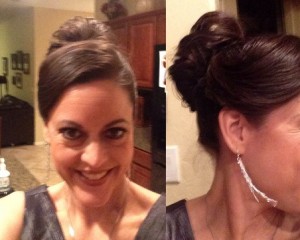 Want to book with Angelic?  Simply call 602-321-7005 and tell her that I sent you.  I have gone to her for the last 17 years and my entire family loves her haircuts, styles and her wonderful work ethic and personality that always makes sure that we leave looking good.  Thanks Angelic!
Next the dress.  I hardly ever shop at Nordstrom because of the prices, but I had a couple of gift cards and I couldn't resist the lovely dress that I found by the Eliza J designer.  The embellished waist and crinkled taffeta is quite flattering and did a nice job concealing the holiday cheer (let's call it that) that I added to my figure this season.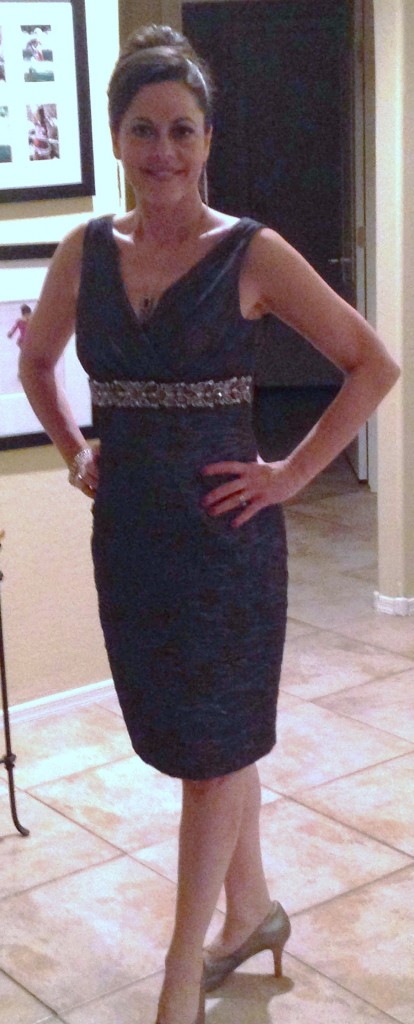 Glad that the high calorie holidays are now over….and I enjoyed every minute and every bite, I must say!  The $198 price tag is more than I usually pay, so the gift cards sure were nice to have!  I plan on wearing this dress to future weddings and special events and I think I will get good use out of it.
For the jewelry, I knew that I wanted simple since the dress sported the pretty sequined waistband so I found some pretty pieces at the Chandler gift store called Urbayn.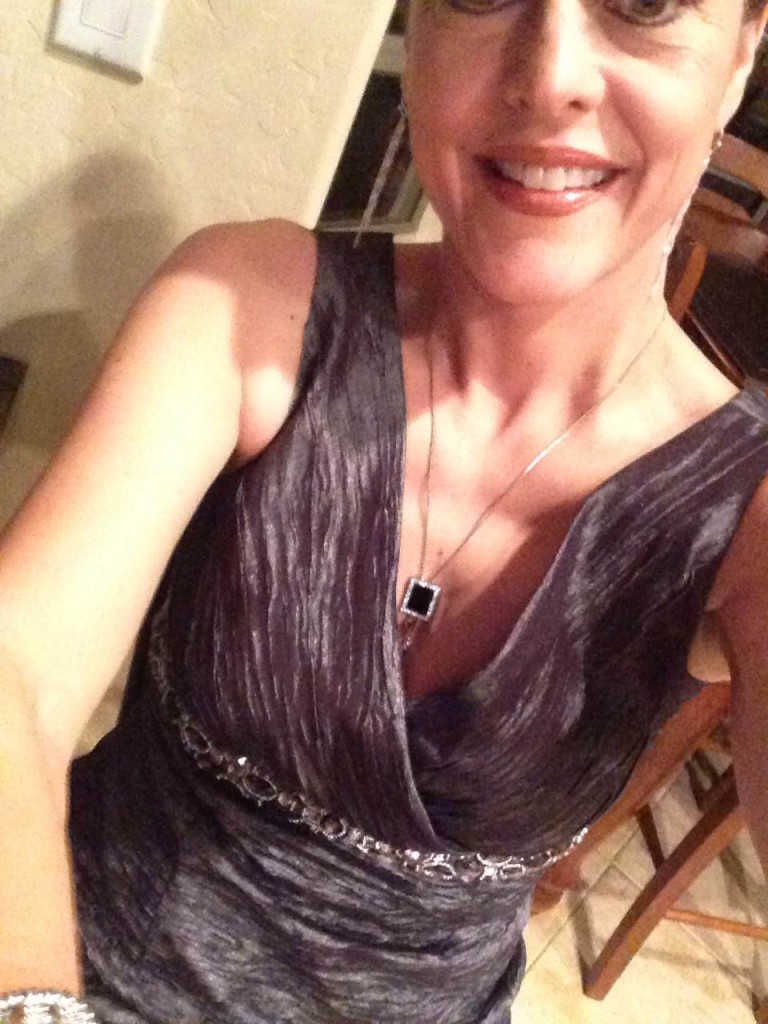 I had initially went there to purchase a gift frame and was pleased to find a pretty necklace and earrings to complement the outfit.  I already had the bracelet that I had purchased from White House Black Market (another favorite store of mine) last year.  The picture below shows off my bracelet as well as my gal pal, Julie's stunning red dress that she found for a good price at JC Penney this year.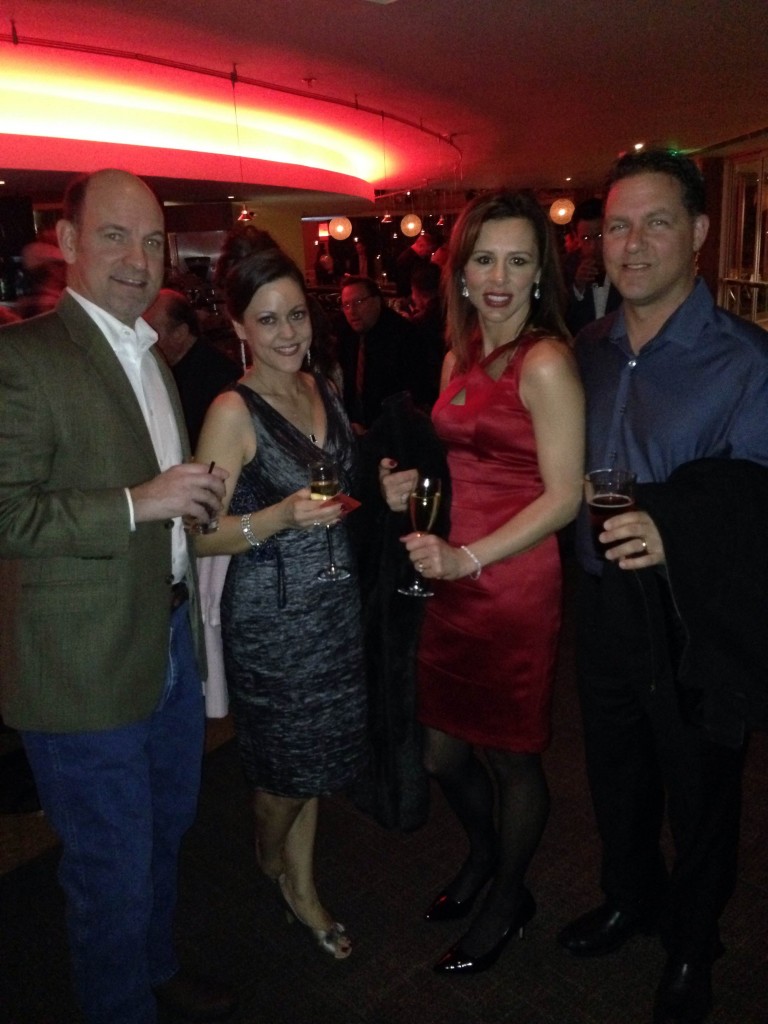 And speaking of JC Penney, I continue to receive numerous compliments whenever I wear my favorite pink coat that I got at Penneys on sale several years ago.
I highly recommend signing up for JC Penney's text alerts because they send me texts with discount codes almost weekly.
And last but not least, let's talk shoes.  Several years ago I had to be treated for plantar fasciitis and a painful heel spur which resulted in me giving up my beloved mountain hikes and my even more beloved stylish high heels.  I was so happy to find a local podiatrist who was able to heal my heels without cotizone shots and with some cool and natural alternatives that you can read about here.  But I had to abandon my lovely heels. So if you are like me and can no longer wear those sexy strapy shoes that give you height and style, take heart because I have found a store that sells pretty heels that are actually orthotics, if you can believe that! The Ziera line annually puts out new looks and the shoes look nice and feel good, too.  My feet are not in pain the day after I wear this line of heels.  I liked the comfort of my shoes last night, the peep toe style and how the color complimented my grey taffeta dress.  I buy my Ziera heels at our local Foot Solutions store. The bad news is that they are quite pricey, averaging about $200 a pair, so I recommend getting on Foot Solution's mailing list because they send out coupons several times a year. These shoes are pretty much the only high heels I can wear anymore, so the price is worth it to me and to my sensitive feet. 

What favorite fashion pieces do you have?  Share in the comments section because we managed moms and busy gals like to look good and find outfits that we can wear numerous times that flatter, fit well and most importantly feel good.  I'm wishing you a fashionable and fabulous year ahead!