Manic:  Life….but in a good way, most of the time.
Managed:  After hearing so many of my friends swear by aromatherapy oils and remembering how much I love the professional oils that the massage therapists use at the spa, I finally decided to try oils for myself. My choice is the Nectar Essences breathe me Aromatherapy line.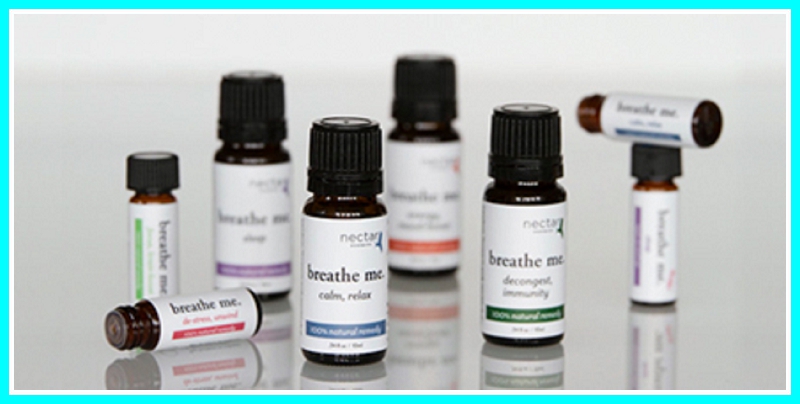 I like the oils and it does make feel like I'm relaxing in a welcoming spa when I breathe in the aromas.
One thing I like about this line is that it is 100% pure and natural and they use high quality oils that have been certified organic by small family-owned producers. The line itself isn't certified organic yet, but they are in the process of being certified. That is cool in my book.
Nectar has oils for all kinds of ailments and for everyday wellness.  I was ill last week so the Nectar Decongest, Immunity was very helpful.  I poured two small drops on my palm, rubbed my hands together and then inhaled with my hands cupped over my nose and mouth.  I also added a few drops to my bath and felt relief as I soaked and rested.  The folks at Nectar also recommended that I use the Super-Immunity oil daily as my wellness routine so I have added that to my improved healthy lifestyle that I have embraced with the new year.
I like how easy these oils are to use and apply.  The company includes a handy instruction sheet that shows you how and where to apply each oil for each specific body treatment.  You can see that my card is a little worn because I have been using it so much….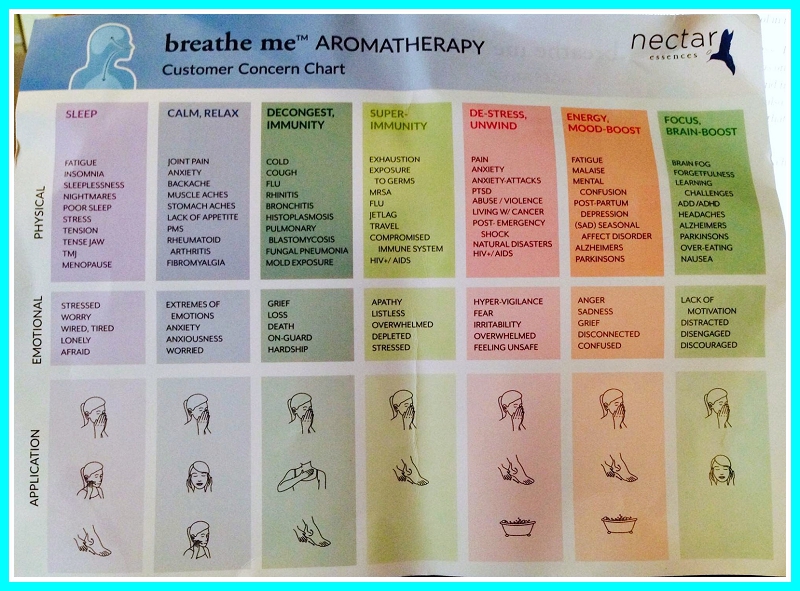 I also like that the oils aren't overwhelming since I don't like an overbearing fragrance.  They are just right and feel good to inhale and are especially a treat in a nice warm bath.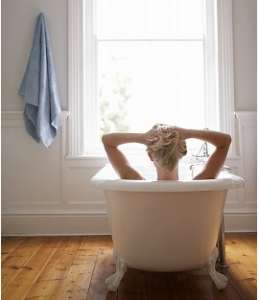 The Calm, Relax variety packaging lists ingredients that include sage, cypress, rosemary, lavender and more.  I also like that this oil can be mixed with olive oil and then massaged onto the chest, neck or shoulders when I feel tension, which does happen since I am a manic managed mom!
Nectar's helpful website includes a remedy quiz that you can take quickly to find out which oil is recommended for you.  Three categories of the quiz are offered which include a short sleep questionnaire, a rundown one and an immunity quiz.  I took the immunity quiz and I thought the questions were smart and the recommended oil for me was right on for my body.
I do believe that like good nutrition, sleep and exercise, scent is also a part of our mood and well-being. Just think about how a certain aroma can bring back a cherished memory.  For me, inhaling a Nectar oil takes me right back to one of my favorite haunts, the spa.  I try to get massages once every other month because I'm a big believer in the physical and mental health benefits of a professional massage.
These oils help me to feel that way in between my cherished spa visits.  I have not tried the oils with my kids because they are teenagers and don't want to try any at this point, but several of my friends swear by the benefits of aromatherapy oils for their own children, although I don't know for sure which brand they use. Nectar does carry a line for children over the age of 3 years old.  I have no personal experience with this particular oil or with applying oil to kids, so I'm not able to recommend that in this article, but I do think that it is interesting to note and to include that some of my friends like oils for the whole family.
With such an easy application and the handy little bottles the aromas comes in, this practice of using Nectar Essences oils is an easy addition to my healthy lifestyle and I'm trying to be as healthy as I can now that I'm pushing 50!
Some of the other Nectar Essences oils offered include Focus, Calm; Sleep; Focus, Brain Boost among others.  I am looking forward to trying more varieties and incorporating the oils into my daily be well plan for 2015.
To learn more about the line and see the pricing, check out the Nectar Essences website which has a ton of interesting and helpful information about how to best use aromatherapy oils.
Nectar Essences sent me a complimentary sample kit to try out the oils.  No monetary compensation was provided and my opinion about how much I like the oils is 100% my own.