One of my readers, Carole Folkert (who used to appear on my morning show's Mom Squad) wrote to me and her story touched my heart.  This is about a precious little girl named Eva who is fighting cancer and Carole not only left her preschoool teaching job to personally help Eva's family care for her….but Carole also came up with a super cool idea to help Eva and children everywhere deal with the upsetting side effect of losing hair that comes with the treatments.  Carole's idea will make you smile just like sweet Eva is smiling in this beautiful picture….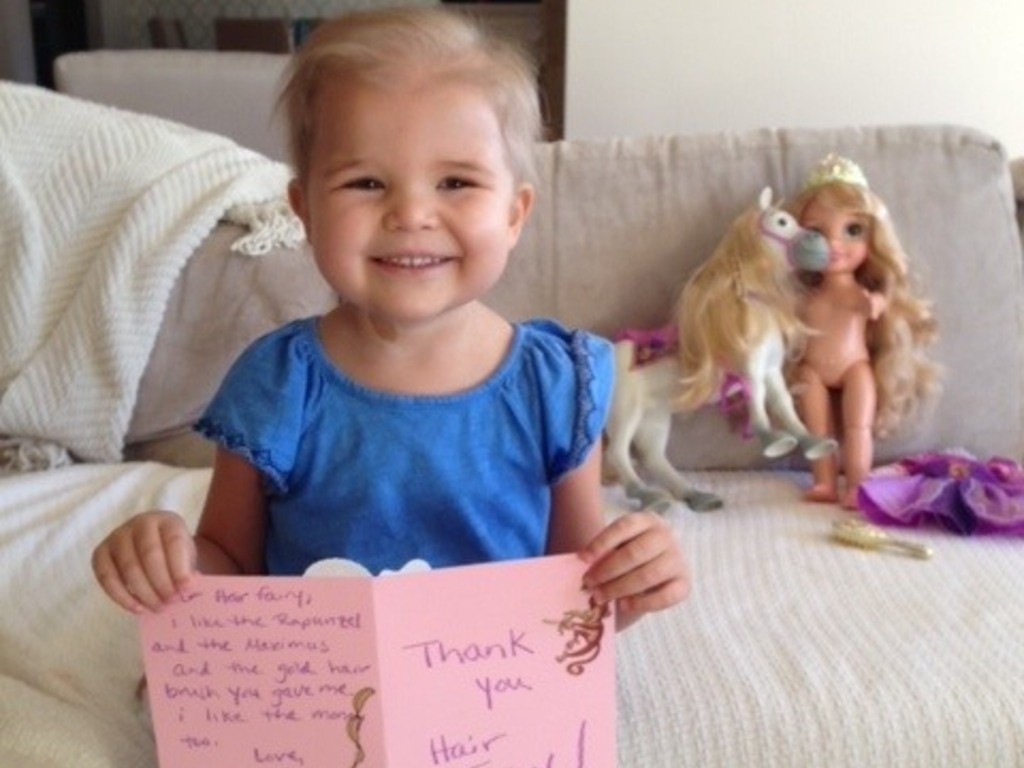 When I read her email, I felt compelled to share this story with our readers, so take a look to see how this girl and this wonderful woman are making a difference.  The story is beautiful and puts positive energy into a difficult situation.  This managedmoms.com reader is making a difference out there and you just have to see the story!
Carole says:
Back in April 2014, not even a year ago, a little girl I babysit got diagnosed with leukemia.  Everyone's lives got rerouted in a moment.  I left teaching at a preschool to support this mother/daughter team.
Treatment began immediately while sweet little Eva's mom remained baffled and barely breathing from shock.  As we got into a new "normal" routine, Eva's mom searched for a book or story to help explain what was going to happen to her daughter, but there was nothing available.  So, I wrote one.  One of the major side effects of chemo is hair loss.  It seems silly to worry about this compared to gravity of the situation at hand, but hair is so defining and so blatantly obviously to the world that someone is sick.  I needed to bring magic and hope and something to believe in to this family and the result is "The Legend of the Hair Fairies".
This is a story about magical fairies, once sick themselves, who trade falling strands of hair for hope.  Other fairies who are in recovery join the two main characters to replace strands with smiles, courage, logic and faith.  We needed to pay for an illustrator so we launched a Kickstarter with our bare minimum needed to pay our fabulous illustrator.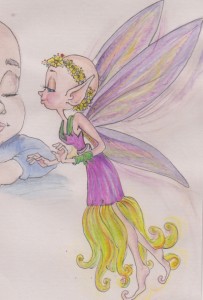 We did that in just six days.  Our next goals, as you will read about in the Kickstarter link, are to fund the printing and distribution of 1,000 books to kids and families affected by cancer and its treatment.  When that goal is met, we are reaching for the amount needed to pay for an additional 5,000 books and a version translated into Spanish.
At first it was all about getting books printed, but on this journey we have learned it is so much more.  We learned that 14,000 kids get diagnosed every year with cancer, we learned that parents need support to explain their treatment to their young children, and we learned that the rest of us need to know that the hair fairies are REAL so we have something to say when we see one of our littlest warriors.  No longer is there that awkward silence or the eyes that look away.  People can smile back at these little faces and say "Oh, you look radiant! I see that the hair fairies have visited you!"  We are grateful for everyone's donations and spreading the word about the hair fairies.  Please consider passing this along and donating if you are able.  In doing so, you are helping to change the world just a little bit and you are now part of a giant WE.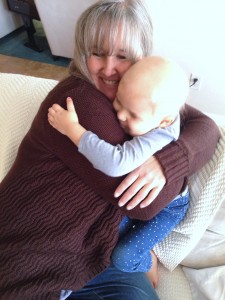 You join amazing people by becoming a part of this project.
To learn more about this amazing project and to consider making a donation just click here.