My blog just turned 4 years old!  Happy Anniversary to managedmoms.com!  To celebrate and to welcome the many new readers who have recently subscribed (thank you!), I am running some of my most read articles and today's is all about how I was able to cure my plantar fascittis and heel spur without needing a cortisone shot.  Read on to see what my podiatrist did, what I did at home and get the link to his office for more information.  This ran three years ago…
Manic:  The last few weeks, adding twice weekly podiatrist appointments to my already jam-packed schedule!
Managed:  My plantar fasciitis!  The alternative treatments worked!  When I posted a few weeks ago that I was trying to avoid the cortisone shot and instead focus on several different treatments, I promised to keep you all posted on my results. Well, I have good news!  And not only are my feet better, but my knee pain has gone away, too.  I think it was related to my heel pain.  My guess is that I was walking incorrectly to mask my heel pain, which was putting undue pressure on my knee.  I don't know this for sure, but this is my personal guess.  But here is what I do know worked for my foot issues…
Right after the New Year, I got my act together and decided to stop ignoring my foot pain.  It was even painful to first walk on my feet every morning, let alone trying to exercise!  So I visited podiatrist Dr. C. Jon Beecroft, D.P.M at Ahwatukee Foot & Ankle Center.  Dr. Beecroft discovered that I have plantar fasciitis in one foot and heel spurs in both heels.  And the padding under the ball of my other foot has thinned out through the years, so no wonder I've been in foot pain.
I did not want the cortisone shot because I didn't want the steroids in my body, unless I truly needed the injection.  My doctor respected that, so here is what we did instead…
1.  Taped feet…kind of like a ballerina!  I went to see my doc twice a week to have my feet taped.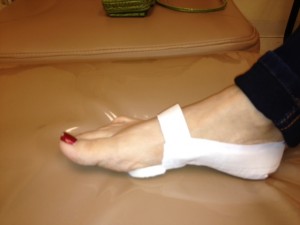 The tape gave my feet extra support, while taking some pressure off of my heels.  I also wore a round pad under the ball of my foot, where the fatty padding has worn thin.
2.  Twice weekly ultrasound treatments by Dr. Beecroft's amazing nurse, Jill.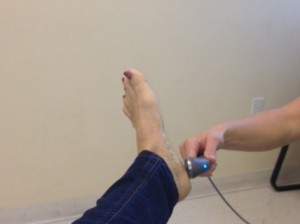 This painless procedure stimulates the flow of blood and oxygen to the region of my heel where the plantar fascia connects, which is the area that gives me so much pain.  The ultrasound waves help to reduce the inflammation.  The treatment felt good and I'm happy to report that after three weeks of this therapy, it worked!
3.  Ice treatment at home, which is super easy for me to do myself, as you can see in this picture…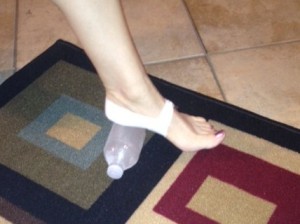 I simply rolled my feet over a frozen water bottle twice a day for about 10 minutes each.
4.  Gentle stretching of calf muscles. I like to do wall stretches – 10 seconds each side and then I repeat ten times. I did this twice a day in increments of ten.  I'm still doing this now, even though my physical therapy with my doctor has ended.
5.  I took Naproxen that my podiatrist prescribed me.  It is like a stronger version of Aleve.  I don't like taking meds, but my doctor advised me to take two weeks of this regimen, along with the physical therapy.  And after three full weeks of my combination treatment plan, we were able to greatly reduce the inflammation that was causing me so much pain, so I did take my pills.  Although I must admit, I only took them for a week.
6.  Wearing an interesting looking night sock called the Strassburg Sock.  This odd-looking contraption looks like this: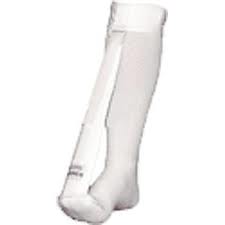 Believe it or not, this sock is worn to bed all night and it is actually comfortable.  This device is designed to keep tension on the plantar fascia so it heals in a stretched position while I sleep.  I bought mine for $38.95 at a running store called Sole Sports that is located at Warner and McClintock.  They have several locations and sell the right kind of gear for athletic (and sore) feet.  I wore this one night during my 3-week treatment.  I keep it on hand in case of a future flare-up.
7.  I finally bought myself the right kind of tennis shoes.  Both the Foot Solutions store, who sold me my new sneakers, and my doc, recommend the Brooks line and I absolutely love my new shoes.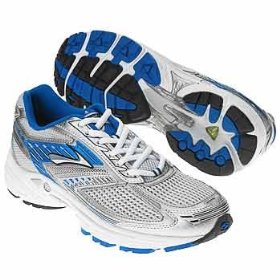 Talk about great support!  I pair them with my padded Experia socks and I can't describe the difference in support and comfort.  It is truly night and day!  I also purchased my socks at Foot Solutions and I have also seen them for sale at Sports Authority.  They cost $13 a pair, but the comfort and support these socks give my feet are worth every extra cent!  They come in lots of bright colors, too.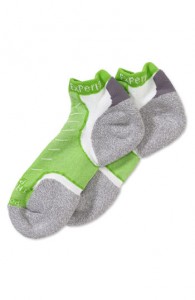 The other change I made was to pretty much let go of my love of high heels.  Now I only wear them on very special occasions.  I did wear high heel boots on a girls night out once during my treatments, but I wore my Experia socks with my boots and that made all the difference, too.
So after three weeks of the above treatment plan, my doc checked my feet via ultrasound and told me that our plan worked!  However, I do have one last step.  I ordered customized orthotics, that I pick up tomorrow.  If you have experience and tips about wearing new orthotics, please share in the comments section.  The doctor told me that I will have to break them in and that I will experience an adjustment period as my body gets used to them.
So my happy feet are happy to report that the treatments worked and it feels good to not have foot pain finally!  I had been dealing with achy heels off and on for over a year.
Have any of you experienced any of these painful foot issues?  Have you tried any of the treatment options that I just described?  Please share in the comments section!  I would love to know what worked….or didn't work for you.
Wishing everyone happy and productive feet….the older I get, the less I take for granted, especially my feet and the rest of my aging….and very busy body!