Manic:  My skin!  The skin on my face is so sensitive that one time an aesthetician was doing a facial on me and she had to stop halfway through because my skin was getting so sensitive!
Managed:  Finally found a wonderful, relaxing and soothing facial that my skin didn't react to at all!  So I can have facials again!  If you have sensitive skin, and a lot of us do on our face, read on about this fabulous facial that I experienced last week at the Arizona Biltmore Spa.  The actual facial is called Hydrafacial MD and I loved it.
Here is my almost 48-year-old face, post facial (with only a little left over eye makeup on) and I think my skin looks pretty good….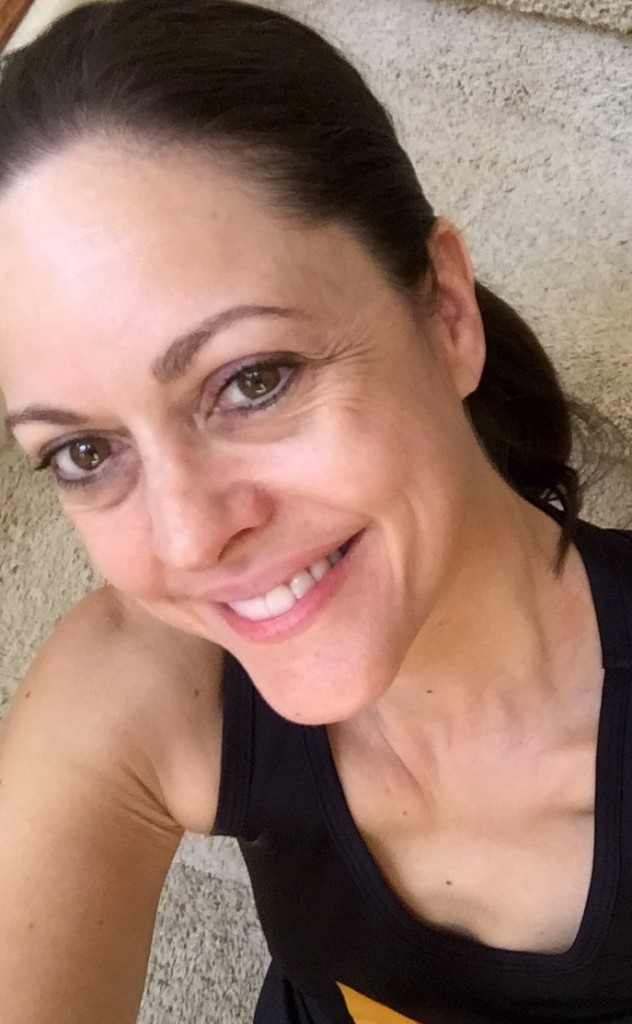 Past treatments left my face red and blotchy, but not the Hydrafacial MD, I'm happy to report.  I also like that this spa facial only took 30 minutes since I don't have a lot of time in my schedule.  With two busy teenagers, time is not something I have on my hands right now!
I like that the Hydrafacial MD multitasks and treated my skin to four beneficial stages of the treatment, which was cleansing (felt great), exfoliating (which I needed), extracting and hydrating…very important for my skin since I live in sunny, hot and dry Phoenix!
It was all very soothing and I didn't feel any discomfort at all.  The Hydrafacial MD addresses several skincare concerns and acts as both a chemical and physical peel that nourishes and hydrates the skin while ridding it of dirt and dead skin cells.  The very nice aesthetician, Florence even showed me the fluid that was extracted from my skin after the facial and rated how healthy (or unhealthy for some) mine looked. She told me that the best possible outcome is clear, but that she has only seen that once or twice in her entire career so my mildly and light cloudy fluid meant that my skin cells were looking good for my age.  She can tell that I take good care of my skin and use quality products.  Since my skin is so sensitive, I am very careful about what I put on my face, so it was cool that it showed.
Afterwards, I felt relaxed and my face felt great.  It felt clean and light with no irriation at all!  Plus visiting the Spa Biltmore Arizona (located in the Arizona Biltmore but the spa is formally called the Spa Biltmore) is always a treat.  It is an award winning spa that I have visited several times over the years and I always leave feeling renewed and relaxed.
Good stuff!
I should also mention that I'm told the Hydrafacial MD is a celeb favorite with fans that include Kate Winslet, Amy Poehler and Evan Rachel Wood.  I see why because I left feeling pampered and my face felt just terrific.
The Hydrafacial MD at the Spa Biltmore is a 30 minute treatment that costs $195 but great news….it is on special at the Arizona Biltmore spa for only $100 through September 2nd, 2015!  I do recommend it. I just loved mine so go pamper your skin and enjoy a spa day.  Maybe even book it the week your kids go back to school if you have kiddos in school.  That new school year starts next week for us, so I just may have to go back and have another facial!
I received a complimentary awesome Hydrafacial treatment to review for my blog.  My opinion about how much I truly loved this facial is 100% my own and I am so happy to finally find a facial that my sensitive skin responded to well!