When my son commented that The University of Texas at Austin is his favorite college tour to date, my husband did a little Longhorn cheer.  You see if our son chooses UT, then he will be the 4th generation Longhorn in our family.  In fact, his Great Granddad, Grandfather and Daddy also did their graduate studies, as well as their undergraduate curriculum, at The University of Texas at Austin so the blood is orange…and I happened to graduate from UT as well!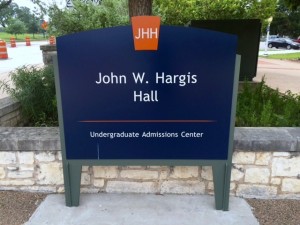 So I also smiled from ear to ear with a happy and proud grin as we made our way across campus.  And two hours later as we stood in front of the historic and lovely UT tower I made sure to get a picture because taking our kids to tour our beloved college is one memory that my husband and I both will cherish.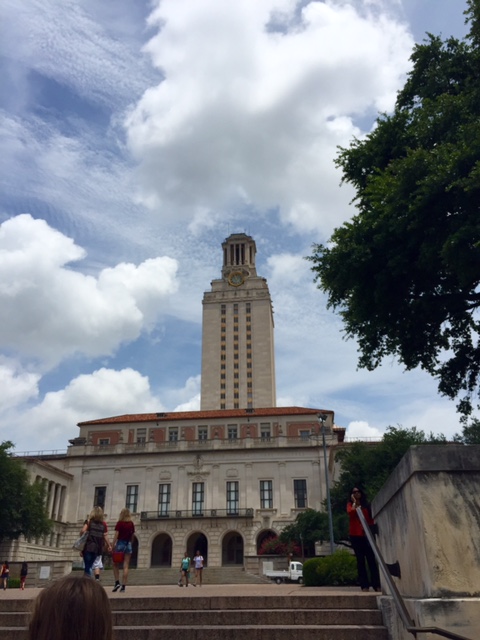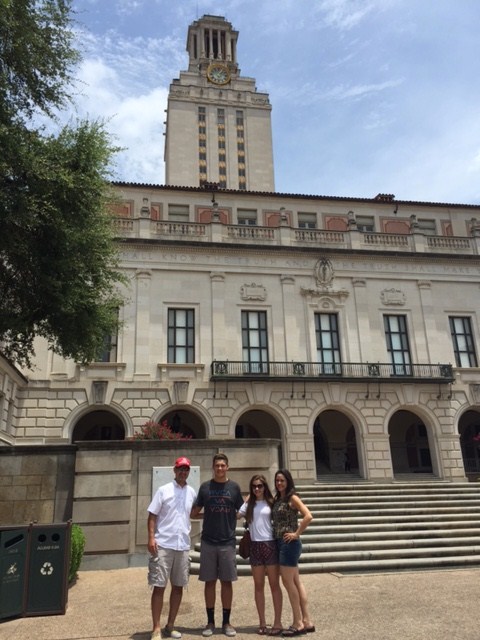 But let me take you back to the beginning of the tour and show you some highlights for fun and to learn more about UT Austin, especially if you or your kids are thinking about going orange.  I continue to be very proud that my degree is from UT and I have had several past employers (both my dream jobs as a Marketing Manager for Southwest Airlines and then as a producer, writer and weekly on air contributor at KTVK Channel 3) tell me that they were indeed impressed that my degree was from The University of Texas.
And now back to the tour.  I digress again because it really does take my breath away at times just how quickly our son grew up.  So bittersweet!  So on we went to UT to take the guided tour.  We started in a big classroom with a lot of potential UT students and these kids came from all over the country and some even from other countries!  The guide let us know that this is one competitive school to get into and that prospective students need to dot their i's and cross their t's when applying, but to also be creative, punctual and have some fun when writing their college app essay.  After all, we are talking about the city of Austin and their tourist tees say it best, that is for sure!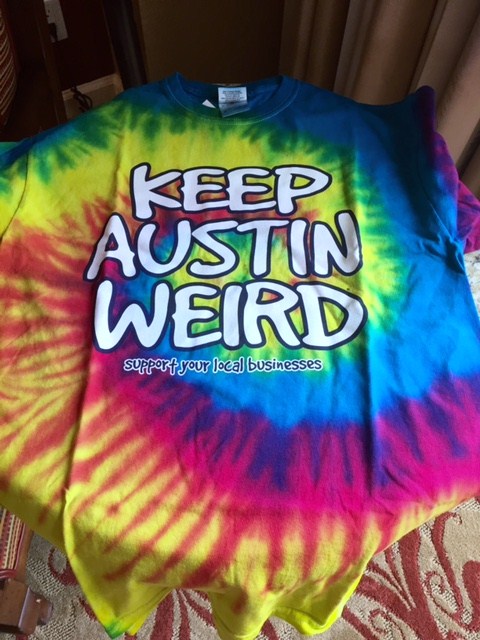 Austin really is a cool town to call home with a great music scene, artsy shops, amazing food with spicy and downhome comfort offerings plus pretty Town Lake that runs through the heart of the city.  The waterway stays busy with serious runners, relaxed families strolling along, paddle boaters and more. I love this picture of my daughter that was taken during our stay because it shows off that lake perfectly…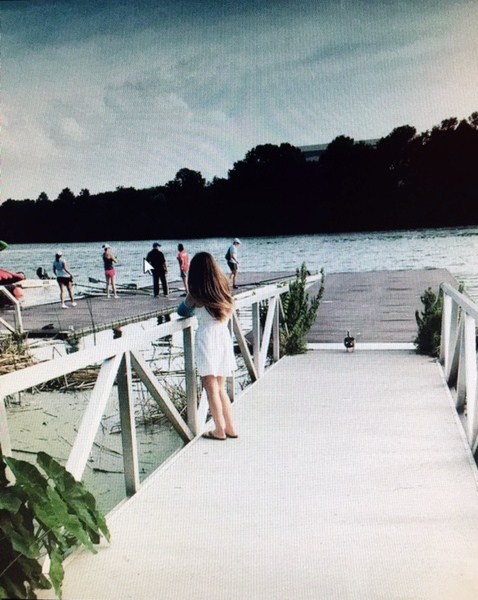 Ok back to the tour!  I keep going off topic because Austin is truly a cool town to tell you about.  If you haven't been there, put it on your list!  So after the big formal discussion, we ventured out with our two tour guides, whose names escape me (darn my late 40s not-so-sharp memory), but they were both terrific.
They were well paired because one lives on campus and one does not.  One traveled overseas to study on a UT college travel plan and one stays in town in the summer to work, so our kids got two different perspectives about the guides' college experience so far.  Both students are now starting their senior year at UT. One thing they had in common is how much they love love love going to UT Austin and their pride and enthusiasm was fun to see as we took the tour.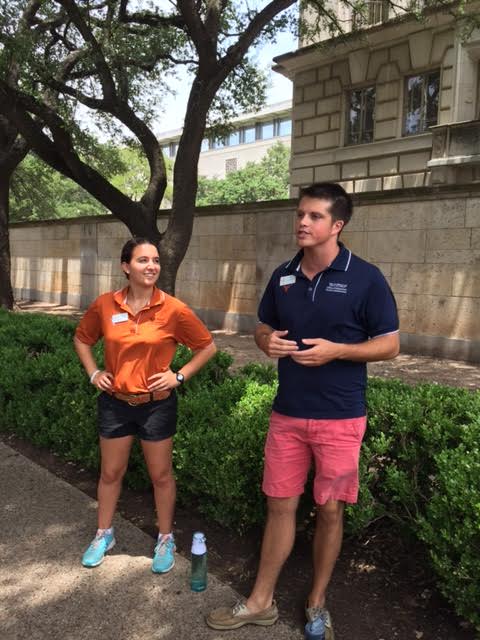 The campus is pretty big and can be overwhelming, that is for sure.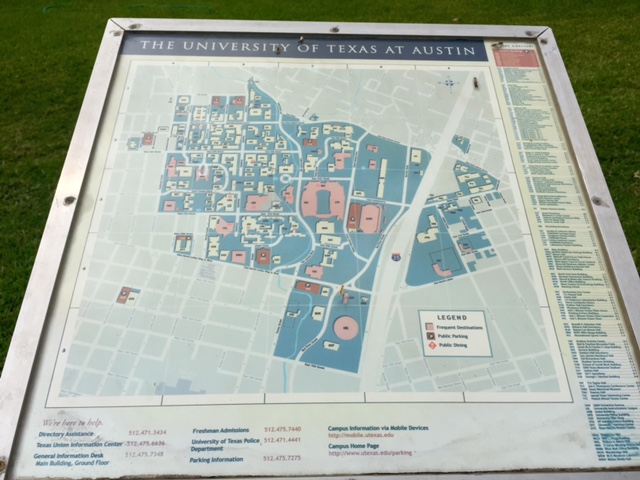 However our guides did a good job of explaining how UT works hard to give students small classroom curriculum as they head into their major courses.  And you can't deny how beautiful this campus truly is as you can see in some of the pictures I snapped along the way…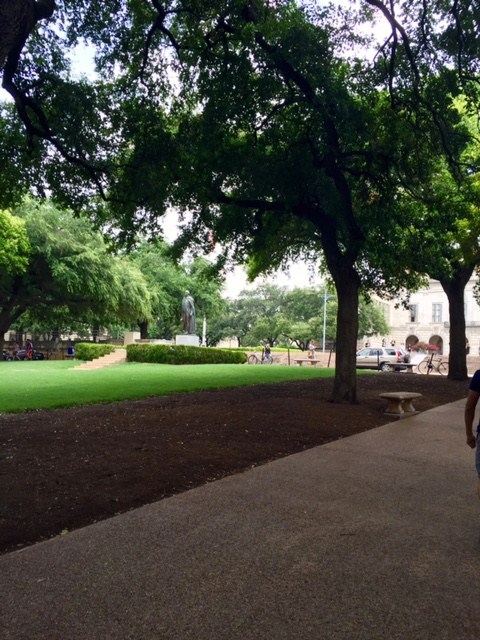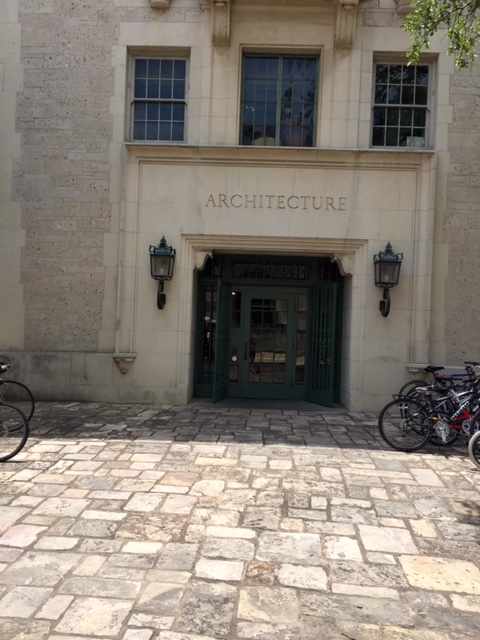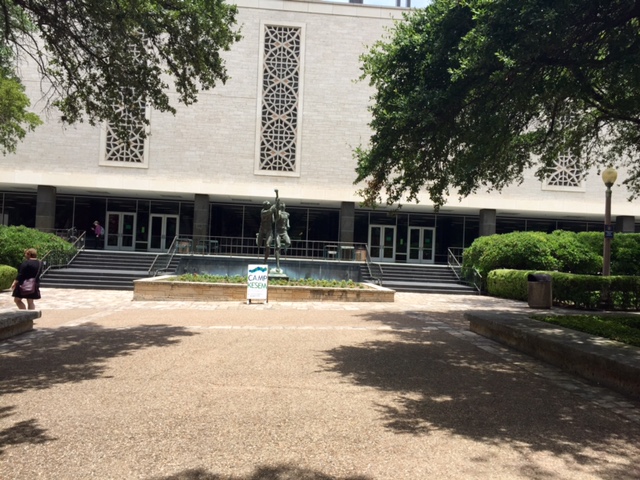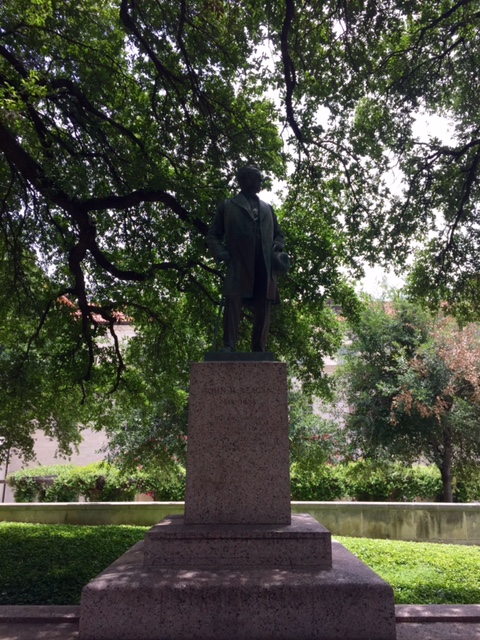 On the tour we learned that 51,000 students and over 3,000 faculty make up UT.  That is big and so is the university's academic records.  The UT website says that the University of Texas at Austin is one of the top 20 public universities according to U.S. News & World Report, with the No. 1 accounting and Latin American history graduate programs in the country, plus more than 15 undergraduate programs and 40 graduate programs ranked in the top 10 nationally.  Lots of big names are Longhorns with graduates that include Michael Dell, Walter Cronkite, Oscar winners Matthew McConaughey and Marcia Gay Harden, journalist Bill Moyers and many others.
I am tickled pink to tell you that our son wants to earn his degree in Journalism, following in my footsteps, especially if he attends UT!  He has wanted to study Sports Journalism since he was a toddler, truly.  Imagining him studying in the same building that houses the UT Moody College of Communication where I attended my classes is a pretty cool visual in my mind.
But time will tell where he chooses.  He was very impressed with the tour, especially the historic and massive football stadium known as the Darrell K. Royal Texas Memorial Stadium at Joe Jamail Field. Seeing it on the tour was super fun for our boy and his orange blooded big time UT Longhorn Daddy!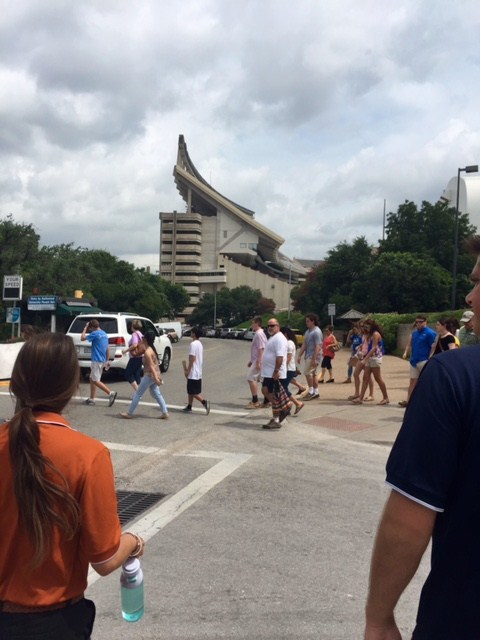 And although this shot wasn't taken in this same stadium, it shows our son's shared Longhorn love that he has with his Dad since they fly out to the Cotton Bowl every year…
So the love they share for the Longhorns is definitely another reason why our son is considering making Austin his future home.  As we made our way through the tour, the guides told us about some cool traditions the University has held steady through the years like beloved mascot, Bevo the Longhorn steer and the Hook Em' Horms hand signal.  I can't tell you how many strangers will approach us and say hello with a Hook Em' sign when they see any of us wearing the famed orange attire…and this is all over the country!  In fact, we always shop at the super cool University Co-Op every time we visit Austin.  And in this picture you can see the street that runs in between campus and the Co-Op called the Drag, otherwise known as Guadalupe Street.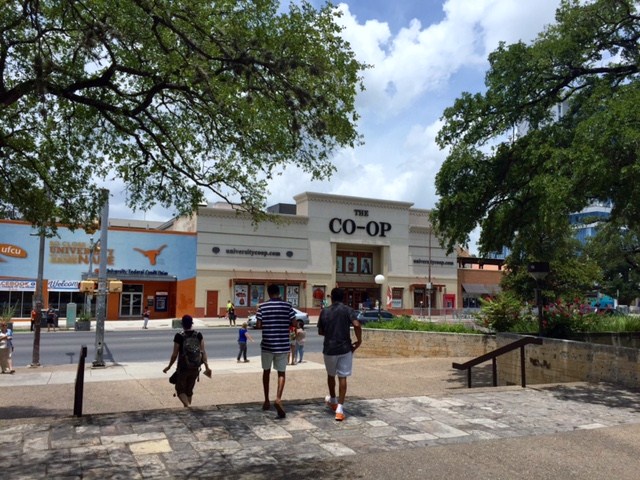 We also made our way over to hub's alma mater college of Liberal Arts and it was surprising and kind of comforting to see that the building hadn't changed all that much.  I like that UT has a lot of renovated and new stuff, but also keeps a lot of the campus true to its roots.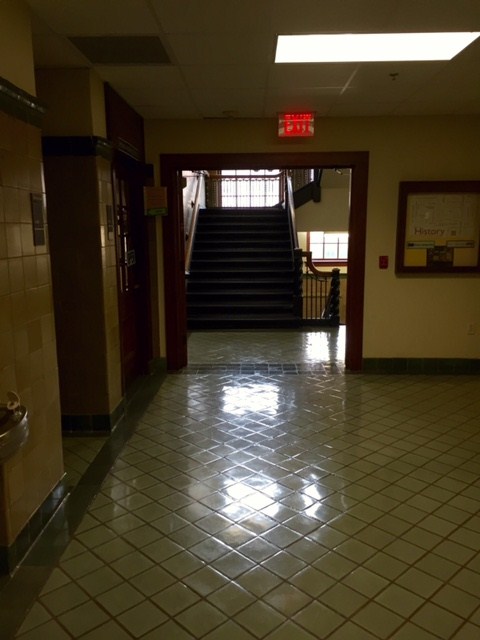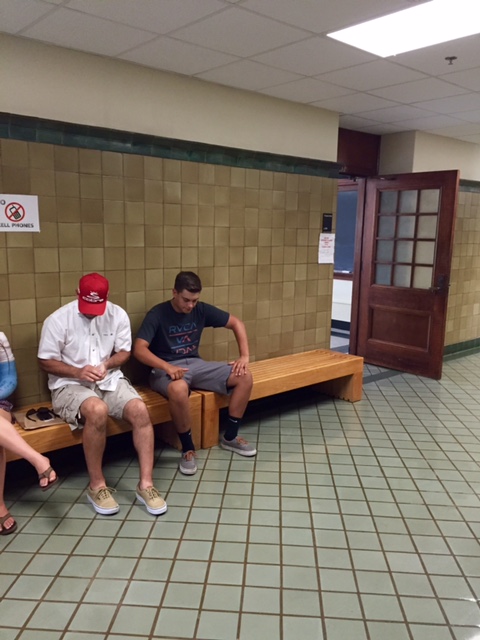 The guides were excited to show us the very impressive resort-like UT pool and athletic club…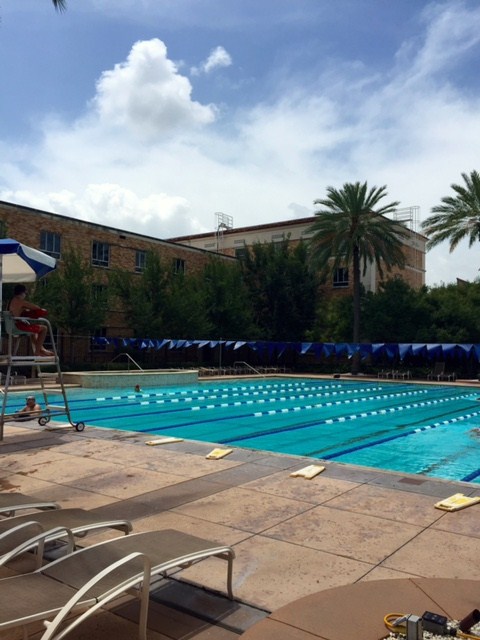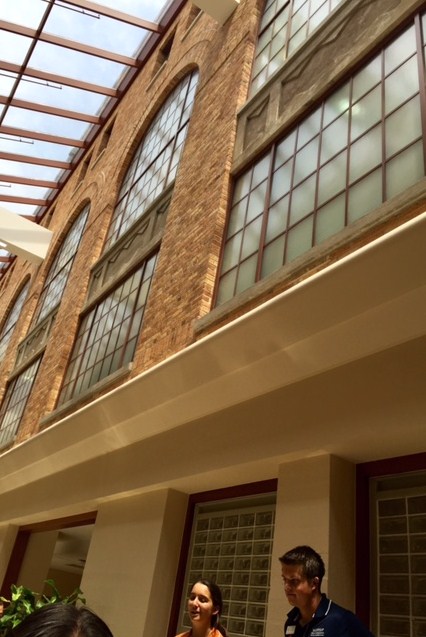 And little sister liked the big rock wall, which didn't exist when we attended UT, let me tell you!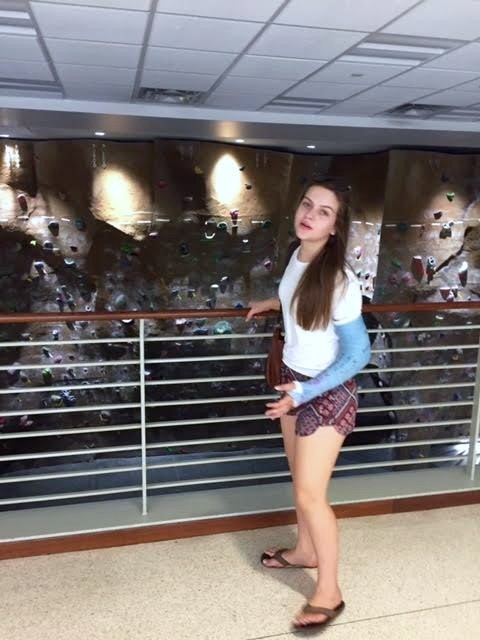 Then we made our way to Jester Dorm to see what a dorm looks like and it was large and impressive!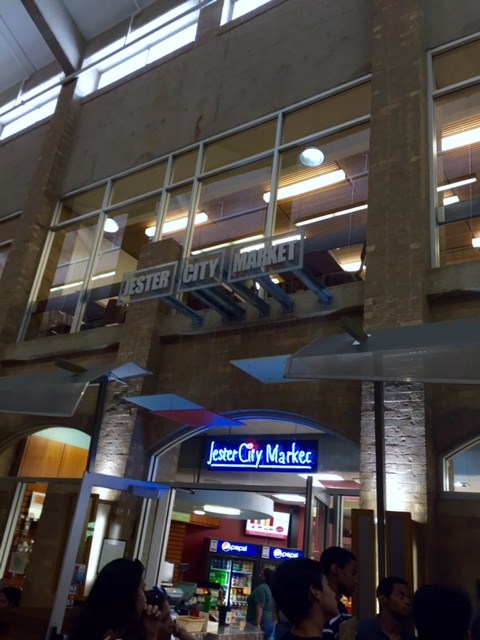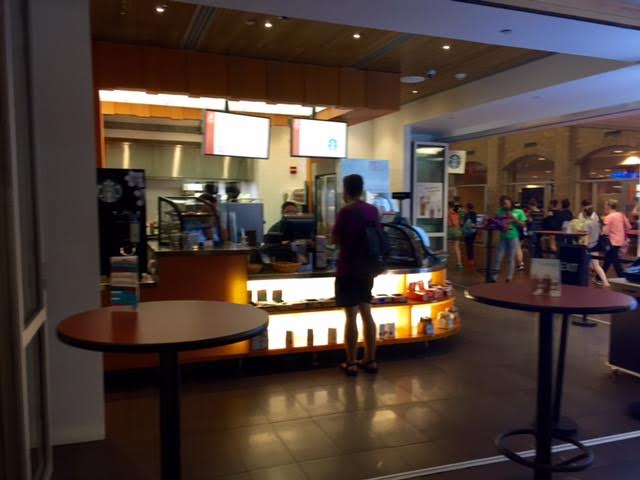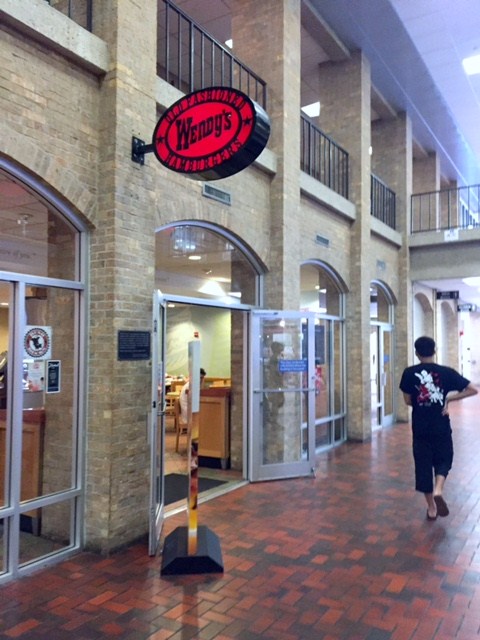 The rooms are a lot smaller than the common areas, but about what you would expect for a dorm room and nice enough….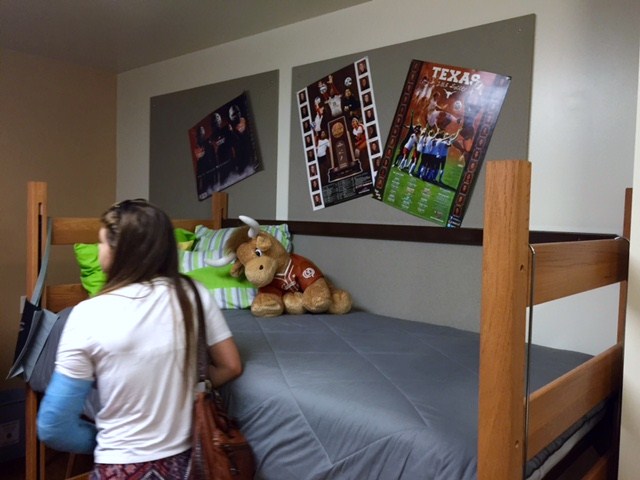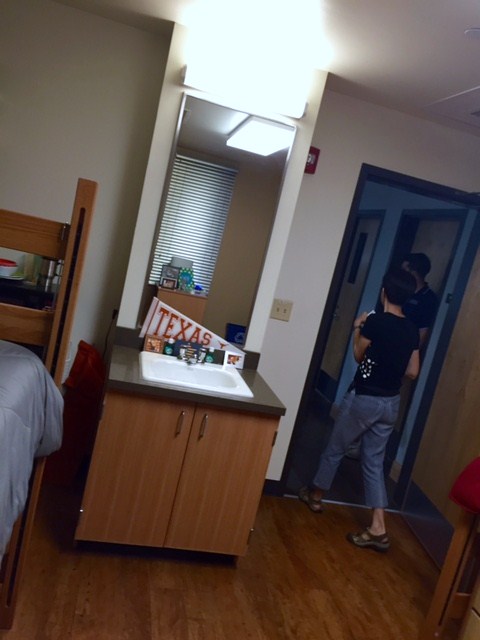 Overall we got a pretty good and comprehensive tour, which is appreciated since this is not only a big campus, but also a big decision.  We also get to sit in a classroom and were reminded about how some of the classes will be large…but the guides emphasized the smaller class sizes as the students move into their major courses in the last two years of college.  And that is what I also remember, which is a good thing!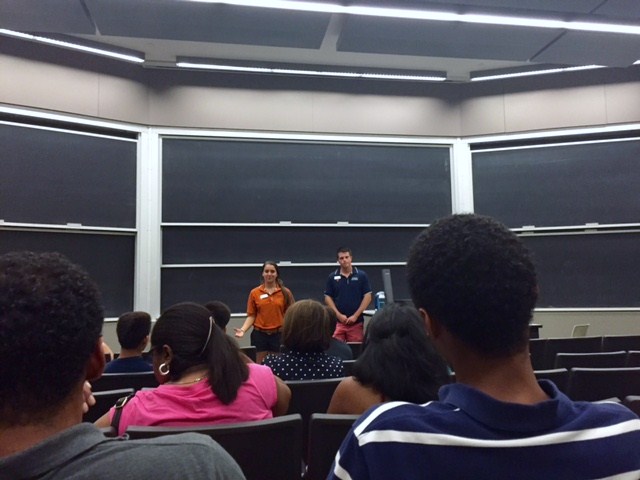 So now is up to our boy and he has a few months left to decide.  We have two final college campus tours to officially visit, the University of Arizona and Northwestern in Chicago.  ASU is also one he is considering. Until then we will fondly remember this amazing day taking our first born to our alma mater.  What a cool experience for sure and I am thankful!