It is Fall Break here in my school district and we are ready!   With our schools starting way too early on August 3rd, we are already knee deep into it and we are tired!  I have been very impressed with how my high school senior and 8th grader have been working hard to get good grades and apply to colleges, in my son's case.  Not to mention how they balance all of the extracurricular activities as well.  So I am going to slow down on my blog a bit this week to spend a little down time with them and feature a few blog posts that are giveaways to keep this week light and fun, which is our goal for this Fall Break week!
So first up, let's do a college football giveaway since we are now in the season.  We're giving away some ASU Sun Devil stuff.  Specifically a very nice BBQ cover and a few other little fun Sun Devil items!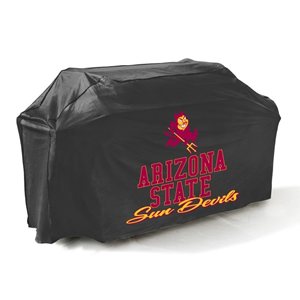 This 100% PVC free gas grill cover has dual-function layers for added strength & weather resistance and will protect your gas grill from from dirt, dust, pollen, sap & rain.  If you are a Sun Devil or have a Sun Devil friend or family member, this makes a great gift idea because it is fun and functional!  To enter in the drawing simply email your name and email address to [email protected] Enter by this Friday, October 9th by 5pm Phoenix time.  
We will announce the winner on Saturday!  Good luck!
Stay tuned all week for more cool giveaway items.  Holiday shopping season is also upon us so some of this week's prizes make great gift ideas, too!