Foodies alert!  An eagerly anticipated hot spot in Ahwatukee has opened!  The Living Room Wine Cafe & Lounge opened today so my teenage girl and I checked it out to give the locals a quick review.  One word on The Living Room Wine Cafe & Lounge – finally!  We locals have been waiting for a place like this to hit our town.  Read on for our delish review and our taste bud take.
The Living Room – 48th Street & Ray Rd. next door to AMC Theatres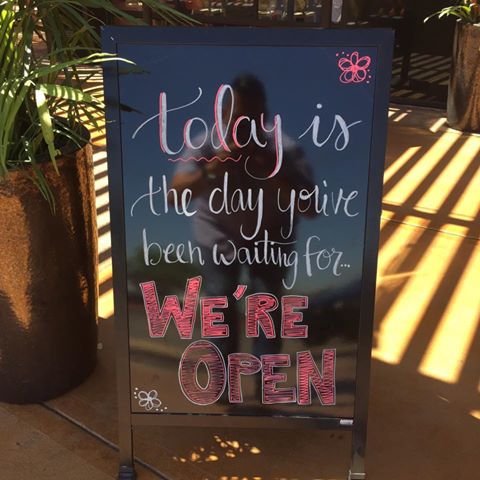 After a dentist appointment for me and a dermatologist visit for my girl, we decided to head to Pita Jungle to grab some grub.  As we looked for parking, we excitedly spied the "We're Open" sign displayed in front of the hip and trendy The Living Room, which had been slated to open in the fall.  What a nice surprise!  The Living Room's newest Ahwatukee location has been eagerly anticipated by me and a lot of my gal pals who used to drive to Chandler to enjoy the wine bar's ambiance, happy hour and good food.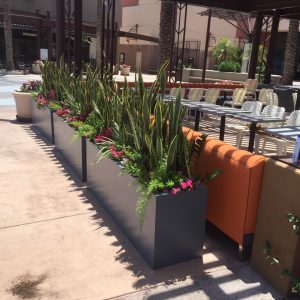 The outdoor patio is inviting and we were told that more furniture is coming, which will further enhance the cool look and feel that the Chandler location boasts.  The inside is done and it is stunning with grand chandeliers and comfy living room styled seating.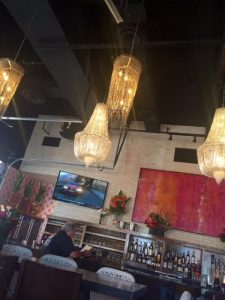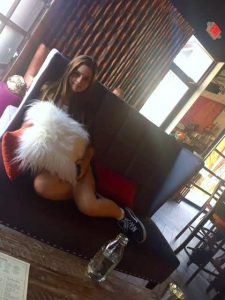 It was fun to be one of the very first customers to walk in and by the Facebook pages that I just saw, it is already packed during the current dinner hour that is in full swing as I write this review.
During our visit, it was the lunchtime drinks happy hour so a glass of wine was in order for me!  I thoroughly enjoyed a glass of Sauvignon Blanc called The Living Room that I purchased at the happy hour price of $7.  It was a very good light white wine, which was perfect for a hot summer day.  The staff was friendly, excited to be there and took good care of us.  I paired my wine with the Caprese appetizer ($11.95) that is a tasty assortment of  burrata mozzarella, pesto, cherry tomato, balsamic reduction and ciabatta bread.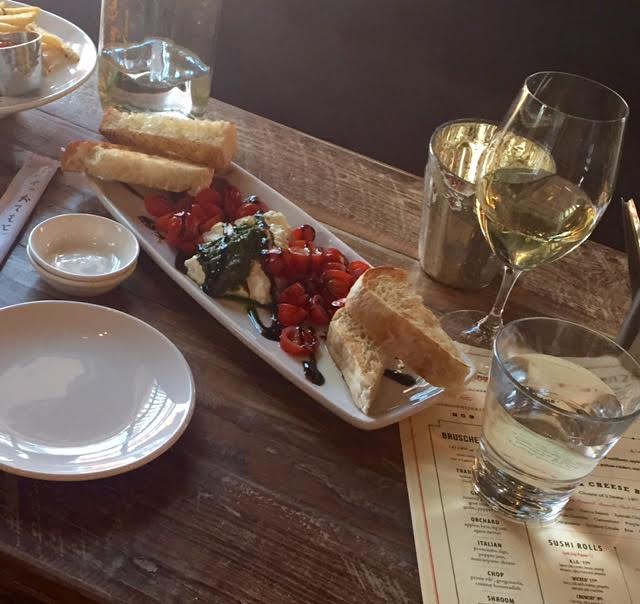 Once we were served this pretty dish, we realized that the pesto may contain tree nuts, a food that unfortunately my poor daughter is allergic to…but no worries because the attentive staff quickly took it away and brought us a fresh dish with the pesto on the side.  So nice!
We also tried The Awesome Fries ($7.50) that are dusted with parsley, garlic, lemon zest, Parmesan, and chili flakes.  The fries can also come with a rich and decadent side of creamy brie for an additional $2.95 if requested.  The fries were indeed awesome and we liked the spicy kick that the chili flakes give, however we have yet to find a restaurant that tops our favorite truffle fries that are served at Zinburger. Here is what our table looked like as we dived in savoring every taste of the plethora of food we decided to put to the test.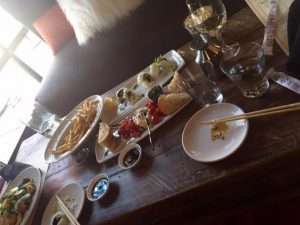 The waitress really impressed us with how she constantly kept our water glasses, and the cool water jug that is placed on the table, full at all times.  That is so appreciated this time of year here in hot Phoenix! Some of the other items seen on the table include the Veggie Sushi Rolls that are filled with slaw and cucumber and the super delish Kale Romaine Caesar Salad ($10.95 + $4 for the chicken) that is combined with shaved grana padano cheese, torn crispy croutons and added chicken.  My girl, who is also allergic to shellfish, has never tried sushi, so this was a fun way for her to taste the popular food in a vegetarian presentation.  I will definitely be back to try their other sushi offerings as I can tell that the assortment will be very good.
I liked the Bang Bang Shrimp Lettuce Cups ($10.50) that are stuffed with crispy shrimp, tangy sauce and slaw.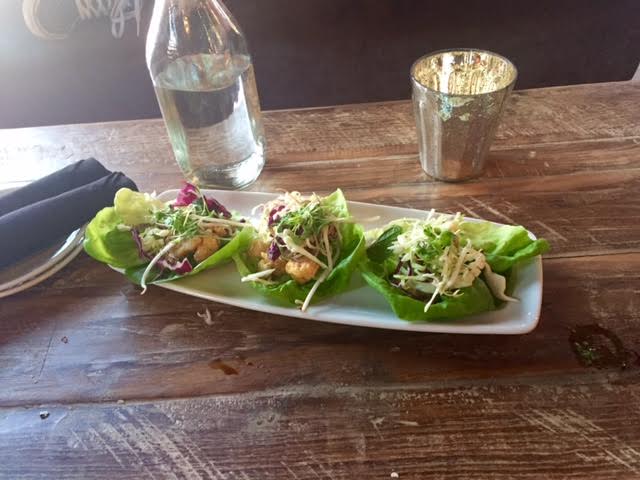 This is a pleasing appetizer that is perfect for light fare with wine and cocktails.  Lettuce cups are also offered in a Korean Steak and Thai Chicken flavor.
To complete our tasting splurge, we went ahead and treated ourselves to the Warm Pizza Cookie ($8.95) and yes it is as scrumptious as it looks!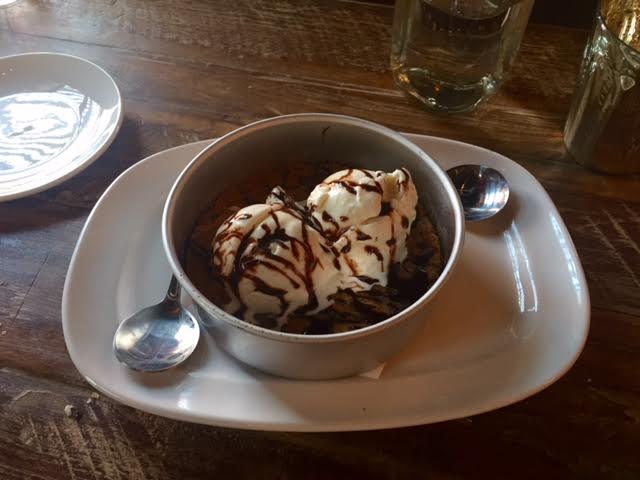 I so wanted a second glass of wine, but I was driving so I opted for a cup of coffee instead.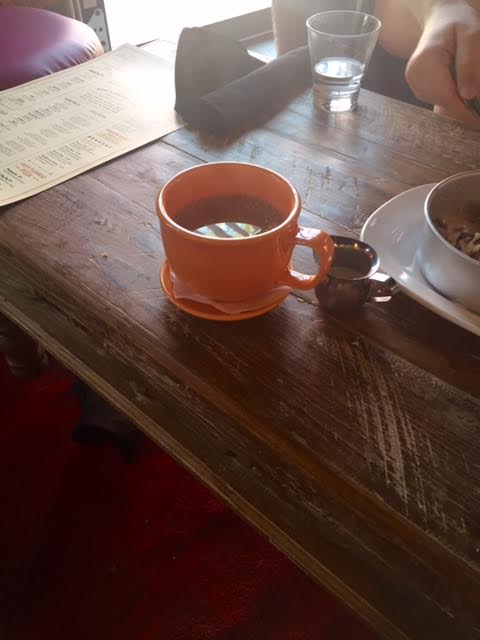 The coffee was really good and hit the spot with that shared pizza cookie I enjoyed with my girl.  I liked the big orange mug it came served in, too.  Such a nice hot spot, fun for happy hour and dinner and cozy and inviting for the lunch I shared with my teenager.
We were disappointed that the restaurant didn't have the oh so tempting Injectable Donut Holes available.  They will have them, but just not today.  The cinnamon sugar dusted donut holes come with three flavor options that include chocolate, berry and Bavarian Cream.  We wanted those over the pizza cookie, but don't get me wrong, we enjoyed every bite of the dessert we ordered.  So next time I want to try the Injectable Donut Holes and the red Sangria that I didn't order since I was driving.  Next time!
Yes we lived it up at The Living Room and we enjoyed every second of our restaurant review splurge. Back to the gym tomorrow for me!
Bottom line:  Food is good but this place is more about the wine, the cocktails, the ambiance and the overall coolness of the decor, happy staff and lots of stuff to taste.  For a main meal, maybe not although I have yet to try the Pan Seared Scottish Salmon or the Green Chili Black Angus Burger, both of which caught my eye while examining the menu.  I am also anxious to return to try their brunch.
I think the Ahwatukee Living Room will be just as popular as the other locations that include Chandler, Scottsdale and Tucson.  I am SO happy that Tukee is finally getting some of the on point restaurants that do so well in other Phoenix suburbs.  We would love to see Sauce, Flower Child and Postino come to this side of town, too!
With the opening of The Living Room, we Tukee foodies can hope that these other restaurants see the value in coming over to our side of town where dining is quite popular both with the professionals, parents and teens that all hit our Tukee town for a dining out experience.  This town does love to eat out!