At 49 years old, I have had three mammograms in my 40s.  My doctor encourages me to have yearly mammograms, especially since we have this awful disease in our family.
I had been putting off my most recent one because the last time I went it was pretty uncomfortable starting with the long wait in waiting room and then the mildly painful squeezing of my you-know-whats in the cold machine.  When I told my husband that I had not returned for a mammogram in over two years, he was not pleased with his wife and asked me to kindly get that scheduled.
Before I called the appointment desk, I did what I do a lot when I have decisions to make.  I consulted with one of my trusted gal pals about her most recent mammogram experience.  As usual, I was so glad that I did.  Girlfriends are one of our best resources for all kinds of information and good referrals, too.
So my awesome friend, Liz told me that she had a great experience at the local SMIL imaging center. I had heard about SMIL (Scottsdale Medical Imaging) but I didn't want to drive that far.  Lizzy let me know that SMIL actually has locations all over the Valley with one as close as Gilbert.  But then I worried that my insurance wouldn't cover it because the Gilbert location wasn't on my EVDI referral sheet that my doctor gave me for scheduling.  Wonderful informative Liz let me know that EVDI and SMIL are now affiliated.  So glad she told me that because when I called, the very nice scheduler told me that is true.  So even though the Gilbert facility wasn't listed on my medical sheet, it was indeed included.
Always call ladies.  Always double check.  You never know!
Liz also told me that she liked the Gilbert SMIL imaging facility because her visit there went very smoothly.
I can concur.  I called on Tuesday and was pleased to get a next day appointment.  My imaging time was set for 8:15am and I left the center at 9:15am, pretty good.  Especially since I was able to get checked in, examined and receive my normal results within that time.
The dressing rooms were nice, the robe was comfortable and the staff was terrific.  I like the nice little bag I was given to keep my stuff in so I didn't have to use a locker if I preferred to keep my belongings with me.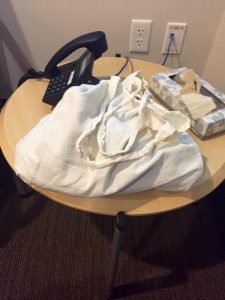 The waiting room has a fridge stocked with complimentary water bottles, which was also a nice touch.  I liked the label on the water, too.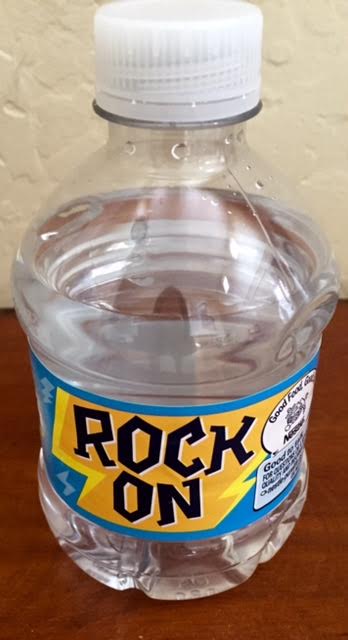 While waiting I observed this super hero sign by the window.  I read it and I liked it.  It reminded me why I was there.  It is a bit nerve wracking to get this done and the little sign made me smile.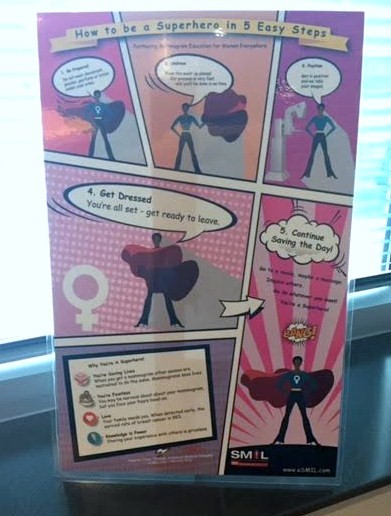 The machine did NOT hurt this time.  And the newer digital mammography emits less radiation and gets a better picture than the older machines did just a few years back.
My technician explained why two extra pictures were needed due to my dense tissue.  I appreciated that because I felt a bit uneasy when she told me that she planned to take extra pictures.  She was very gentle, took her time and was warm and responsive while also a pro at what she does.  I felt very comfortable with her and truly experienced minimal discomfort this time around.
Once done, she gave me the choice of receiving my results within 15 minutes or waiting the usual 2 to 3 days.  I chose to stay and wait there.  Only five minutes later, a tech came to go over the results with me, so I hardly had to wait at all.
She escorted me to a room where I started to take a seat, but before I could reach the chair, she handed me the paper, told me the results were normal and sent me on my way.
I appreciate the fact that this place would have kept me there for further testing that same day if that had been needed.
So if you are considering a first time mammogram or have put off a follow up, as I had done, I hope my positive report gives you a little reassurance as well as a referral to a good place to have it done.
I always try to schedule my yearly physical, blood work and other needed exams around my birthday to keep me on schedule.
Just remember to take care of yourselves, ladies.  It is easy to forget to focus on you with the many directions we are pulled in today's manic times.  Keep it managed girls.  From one busy lady to another 🙂