Warm and inviting Thanksgiving table decor can set the mood and get the festivities going.  After I posted a quick picture of my Thanksgiving table on Facebook, I had a lot of compliments and some questions about where I found my festive items.  Love that and love my holiday table!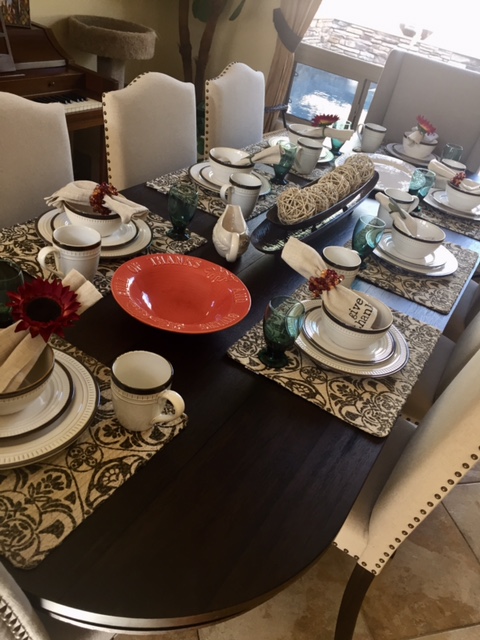 So I decided to share in today's blog post.  Some of these ideas and items may work for both your Thanksgiving and Christmas table, so take a look.
I am excited and thrilled that our college freshman son asked if we could host a few of his friends who are unable to fly all the way home for Thanksgiving.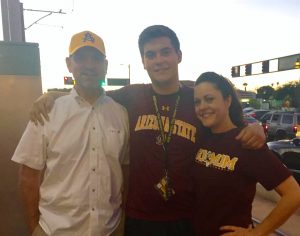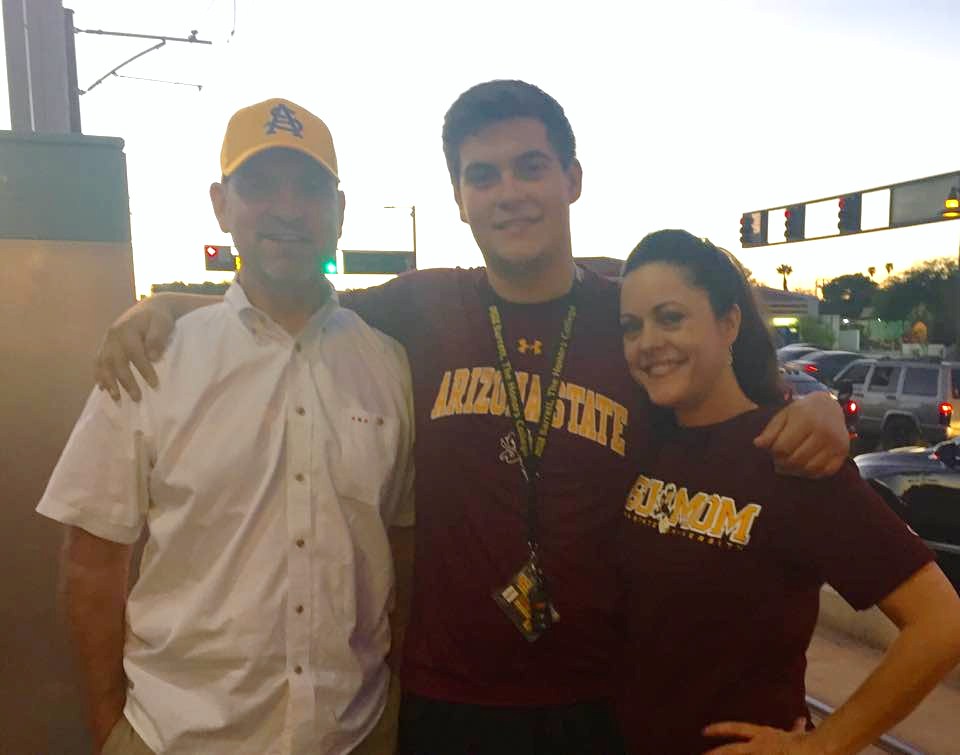 We wholeheartedly replied yes and my heart is full that his heart is thoughtful about his newfound friends being far away from home on Thanksgiving.
So with that excitement (and of course my joy that our boy will be home with us) I went to work to put together a complete Turkey Day table.  I asked my husband for my Christmas gift early, as I had been wanting a new dining room table for the last couple of years.  He agreed and I got busy comparing prices at furniture stores, warehouse outlets, online retailers and more.
Here is the result of my complete finished holiday table, step by step and purchase by purchase.  And very cool…one set of items came from a dollar store.  You gotta love that.  Take a look.  I will note that some of the items I show may be sold out, but similar styles can be found.  Moreover, for Christmas table stuff, there is still plenty out there.  But let's talk about Thanksgiving decor.
Finding My New Table
I wanted simple, but elegant.  And sturdy, since I expect this table to last me a very long time.  Options and competitive prices were available at warehouse stores like Costco, but the shipping wait was over six weeks.  Thanksgiving was coming right up.  Big fancy furniture stores were asking around $4,000 and up for tables that seat 8 or more, which is the size that I wanted.  However, that is way over my budget, especially since we now pay college tuition!  (Future blog post about the shock of that coming soon!)
I also checked Wayfair and Overstocked, but I just couldn't find the exact one I wanted.  Plus, I like to see and feel the object I am buying, especially when it is a big ticket item.
Then I remembered a relatively new warehouse/furniture store that had come to town recently.  So off we went to take a look.  This place was definitely different.  Very nice and large, but without salesperson pressure. Fancier than a warehouse box store, but with warehouse prices.  Bingo!  My cutie pie son's girlfriend, Hannah went with me and she quickly spotted this…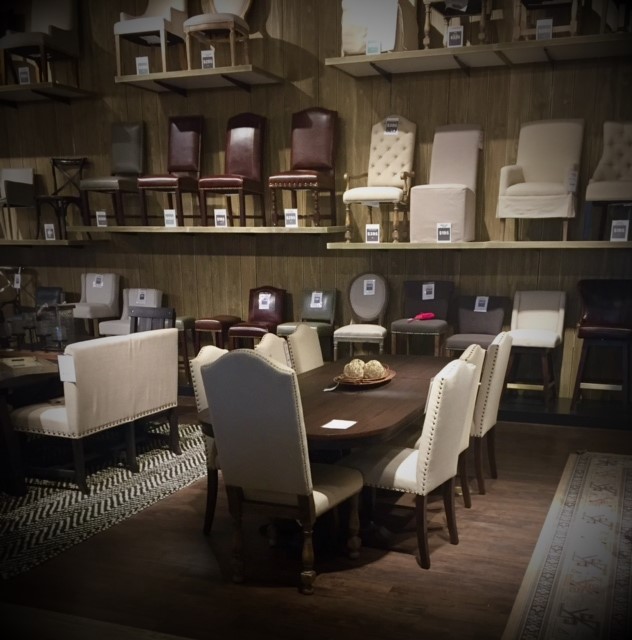 And with that, this went from the showroom to my dining room! What do you think?  Do you like it?  I think it fits perfectly, as shown below in my home.  Just in time for Thanksgiving, too!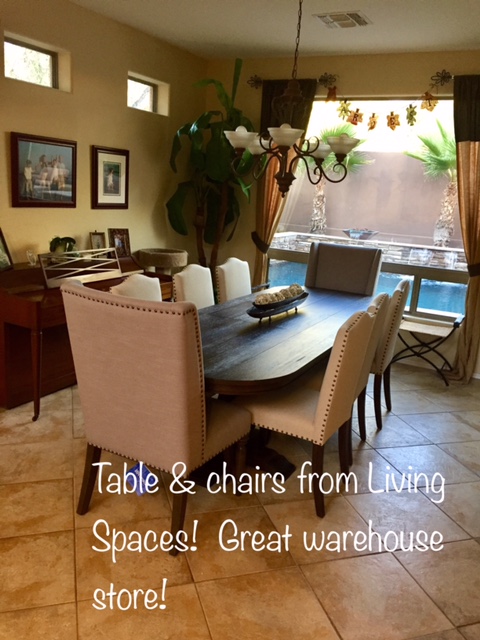 Yep, it looks terrific in my home!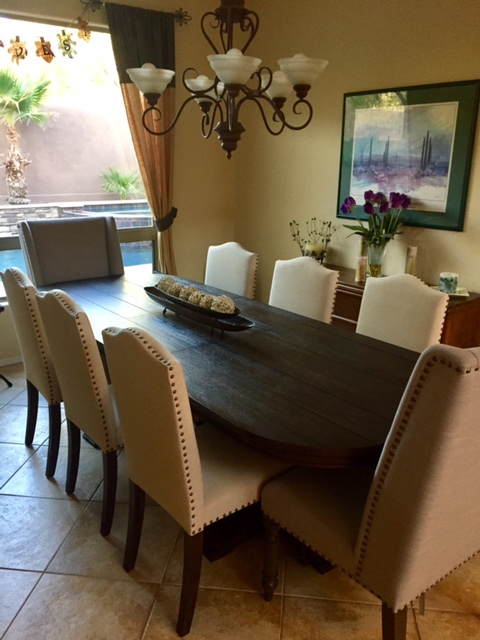 I love Living Spaces!  We got the set for $2,000, which included adding two nice over-sized accent captain chairs that we personally selected from the warehouse shelves.  We could have reduced the price by $100 if we had picked up the set ourselves, but I needed delivery, so that fee was included in the price.  It is a beautiful sturdy table with quality chairs that have attractive decorative studs. Plus, it seats eight people, which is exactly what I wanted.  Christmas came early for me and I found a quality set at a competitive price.  This table and these chairs will hold many precious memories ahead.  I will cherish each and every one of them.  Now that my oldest is away at college, I know firsthand how precious those times are and how time flies.
Next Step:  Setting the Thanksgiving Table
Now, let's set the table! And check it out because I saved money by shopping at a dollar store, saving coupons, mix and matching items I had on hand and more.  Let's set the table and I will share my secrets and tips…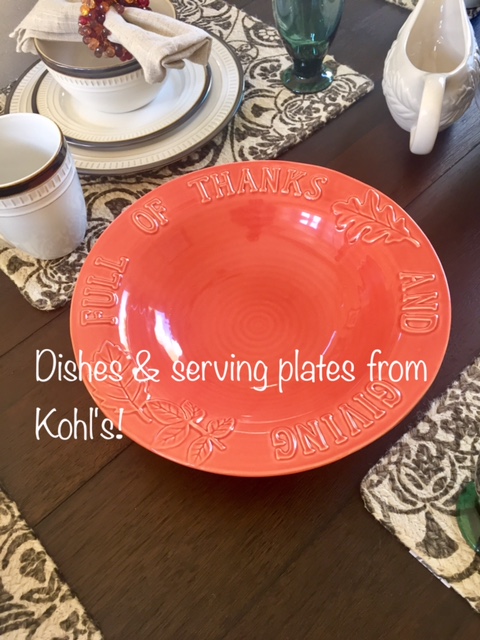 Gotta love Kohl's and since I am a Kohl's Rewards Member, I waited to receive my $5 rewards gift certificate via email.  I then combined that with my 20% off Kohl's mailer coupon and used Kohl's cash that I had saved. This reduced my total cost by 40%!  So with those savings, I purchased the place mats, serving platters and full dish set place settings, all from Kohl's!  Love that!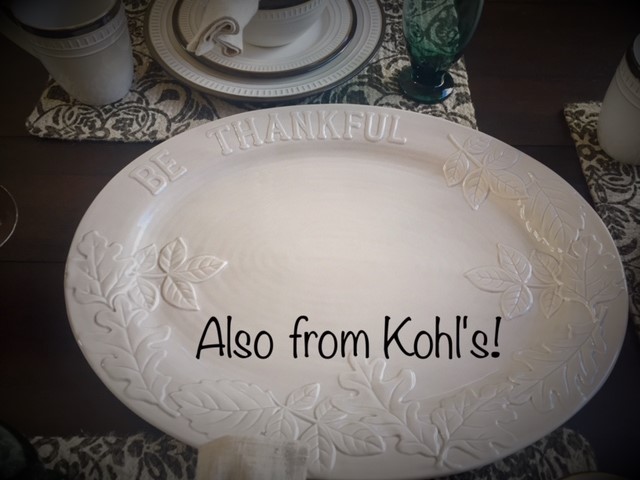 I also really like the place mats I found at Kohl's because they look festive, but work year-round as well.  Many stores have fun Thanksgiving Day decor themed place mats, but I wanted a smart purchase that is versatile.  Found it!  The dish set is also decorative and fancy for a holiday meal, but also versatile enough to be used for all kinds of other occasions, too.  Again that is smart shopping.
And check out the pretty green water glasses.  I needed a set of 8 and I didn't want to spend a lot.  I thought about how to accomplish this for a few days.  Unrelated to this goal, I visited an unlikely store looking for something else.  But look what happened instead…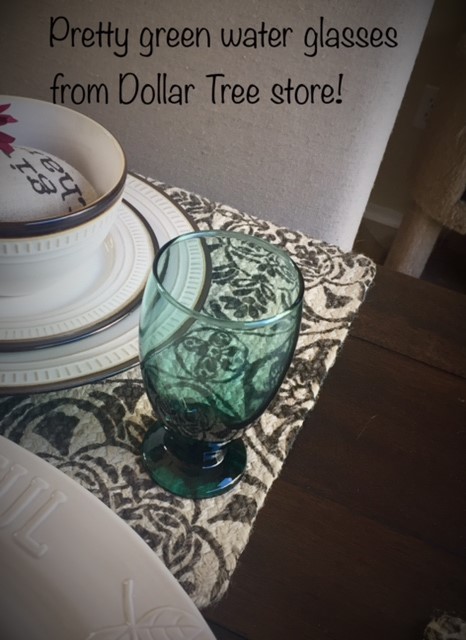 I really would have never thought of a dollar store for a matching set of glassware. The Dollar Tree had pretty Christmas glasses displayed in the storefront, so I decided to venture over to the dish section.  To my surprise, the selection and variety was large and most styles had at least six matching items. And all for one dollar each.  Brilliant!  Finding this set at Dollar Tree was an added plus!
Speaking of FOUND…I found a fabulous local boutique called FOUND by Domestic Bliss that offered napkins that touched my heart. I had to have this shabby chic design with a touching message…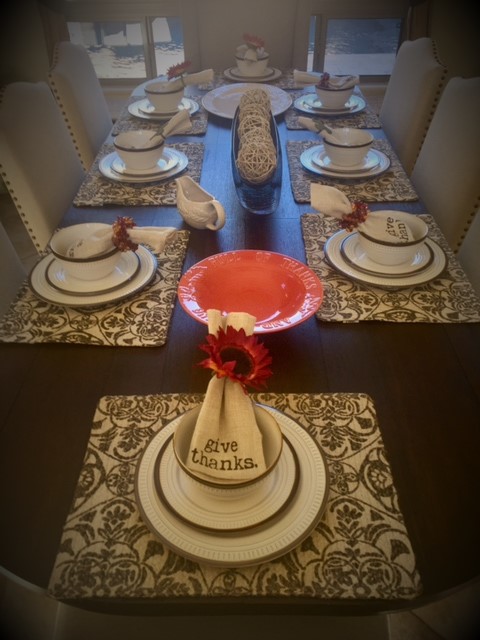 I absolutely love the give thanks sentiment.  I showed these napkins in my recent morning show segment.  I discussed how I saved money by using mismatched napkin rings that I already had on hand.  It works!  Here is the picture from my TV segment…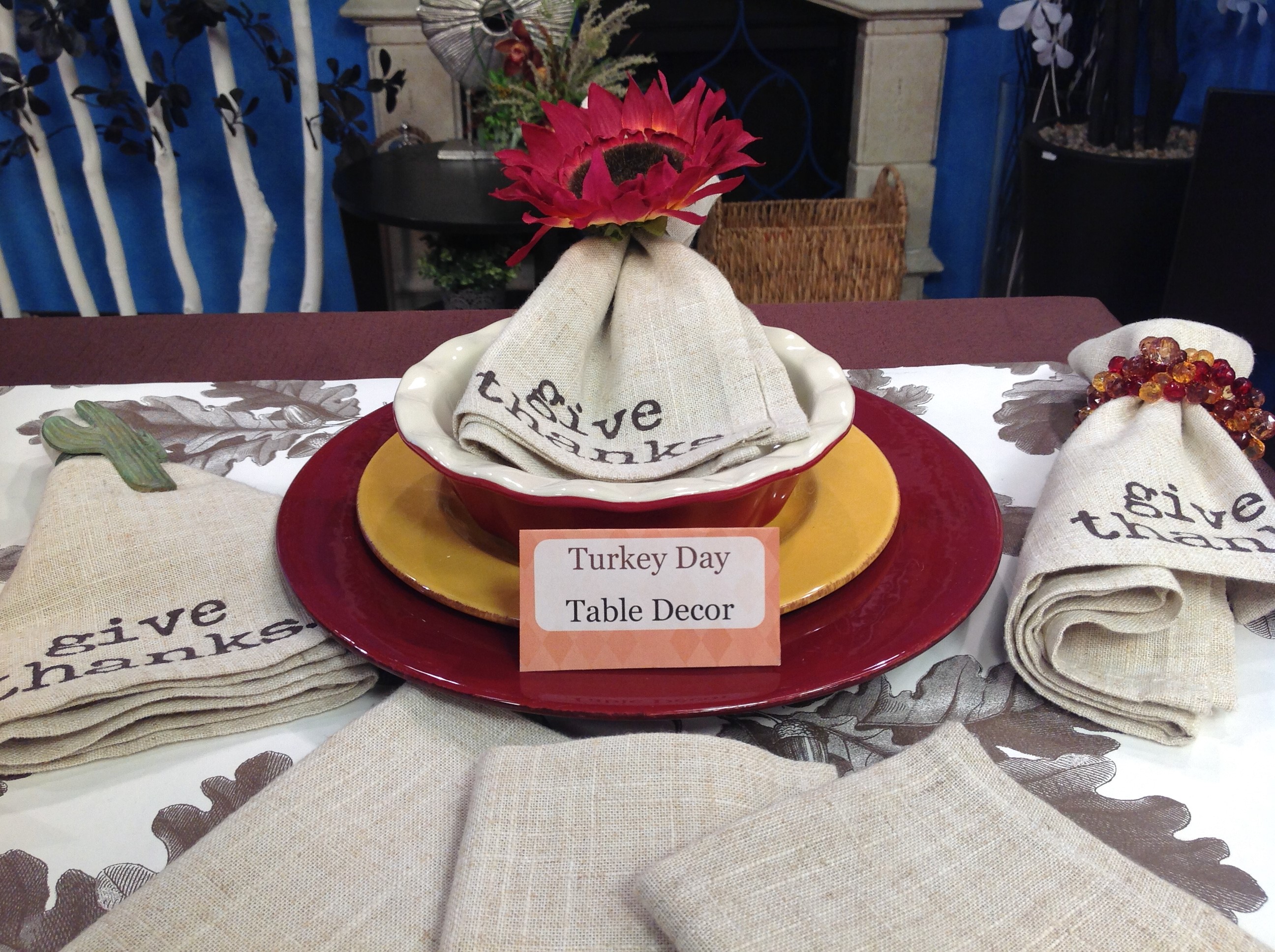 Notice also the pretty and festive table runner can be seen in the photo above, that also came from the FOUND store.  Christmas table runners are offered as well and I like that they are made of paper for easy roll out, storage, reuse or recycling afterwards. I adore earth friendly items!
For the Arizona locals reading this, FOUND by Domestic Bliss is located in Chandler in the Casa Paloma shopping center at Ray Rd., right off the I10.  Unique boutiques owned by local gals are my thing, so be sure to check it out.  She has all kinds of home decor items, clothing, jewelry, clever knick knacks, one-of-a-kind gifts and more.  And the owner, Kristin Wilson Alber, has done interior design decor for celebs and magazine spreads, too.  Definitely check out her shop!
So my table is set.  The college kids are coming. My husband will help cook.  My high school daughter thinks it is cool that big brother is coming with friends.  May your table be full and full of warm memories, too.
Happy Thanksgiving!  I am so thankful to all of you for following my humble little mama blog.  Thank you!  And on this Thanksgiving, I couldn't be more thankful for the three peeps that surround me in this picture.  My joy just can't be hid and was captured in this photograph.  This would also be a picture of my heart.  Happy Thanksgiving 🙂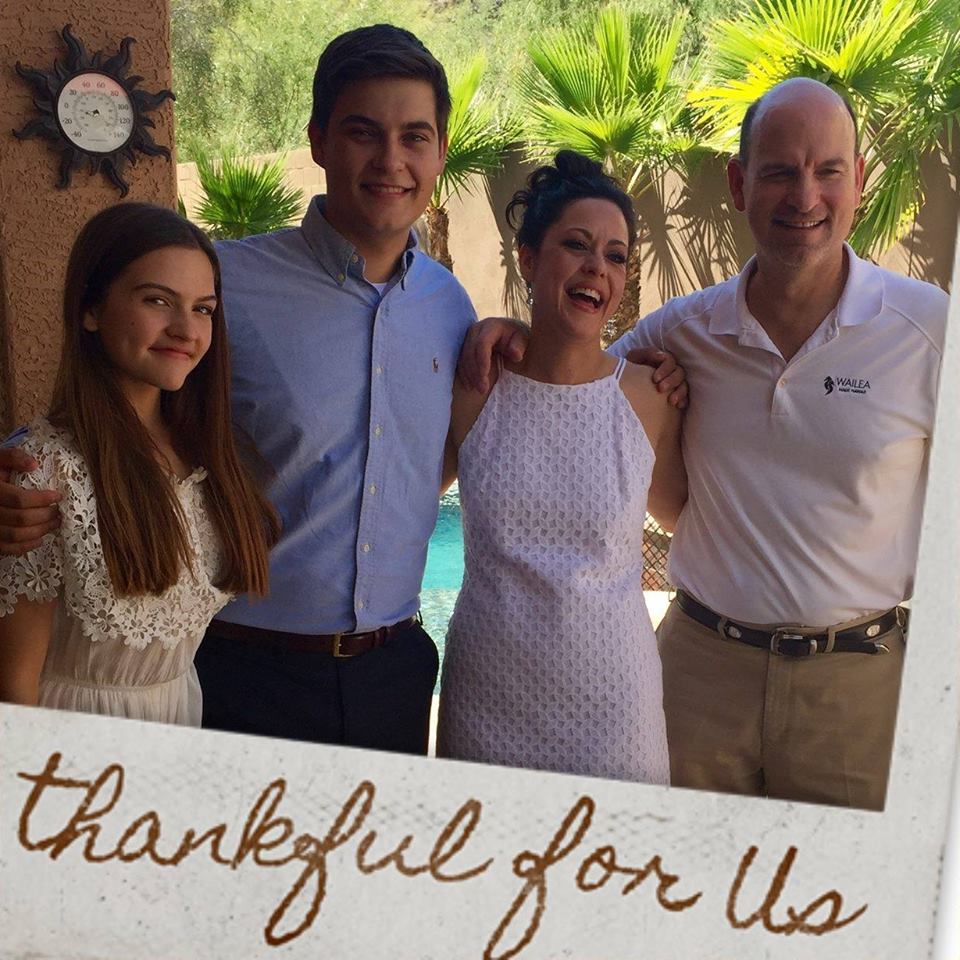 Some links in this blog may be sponsored.  The opinions and recommendations stated in our articles are 100% our own.