With spring break and summer break upon us for many, here is my family's review of the Ritz-Carlton Dove Mountain resort in Tucson.  I like to provide travel reviews on my blog for your vacation planning.  I will never ever regret the time and money we spent as a family traveling through the years.  Our kids grew up so fast! 

For Phoenix locals, a quick trip to Tucson is easy and feels like you really got away from it all without having to go too far.  For my out-of-state readers, this Tucson, Arizona resort is definitely one to consider. Our family had some travel credit points on our AMEX card, so we used that to reduce our cost for this quick weekend get-a-way to this gorgeous property. We took this trip last July as a final destination vacation before our first born left for college. It was a wonderful weekend.
What We Loved
*Check-in!  We loved the check-in process because it included desert wildlife right there in the lobby, although the only family member brave enough to cuddle one was our girl, who made friends with the resident snake.  Yes, I said snake!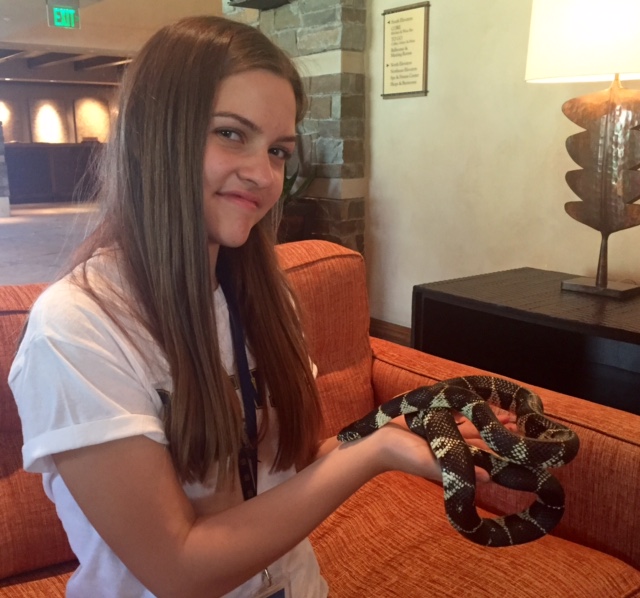 2.  The Jack Nicklaus Signature Golf Course – A big reason we chose this resort  is because my hubs and son wanted to try their golf clubs at the Jack Nicklaus Signature Golf Course and they tell us that it did not disappoint.  I copied this from the resort website as it perfectly explains why this course is the one to try when in Arizona….
Nicklaus created 27 holes with unique challenges and distinct character. With elevations ranging from 2,300 to 3,200 feet, Nicklaus purposefully designed this luxury golf course to be challenging yet enjoyable to play, time and time again.
This world-class golf resort also includes a pro shop featuring the finest equipment, apparel and accessories; expansive, tour-quality practice areas; and an award-winning clubhouse.
The Golf Club at Dove Mountain is an elite golf course to be enjoyed by golfing legends and friends alike. For additional information about The Golf Club at Dove Mountain or to reserve tee times online, please visit www.thegolfclubatdovemountain.com.
The guys didn't take any course pictures, but these two shots show the beautiful course behind us….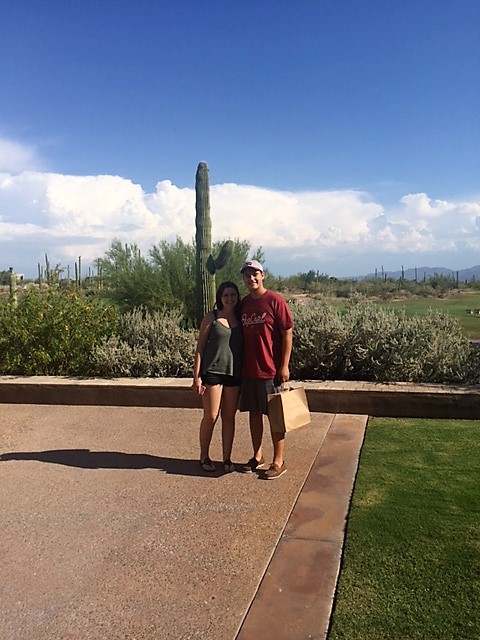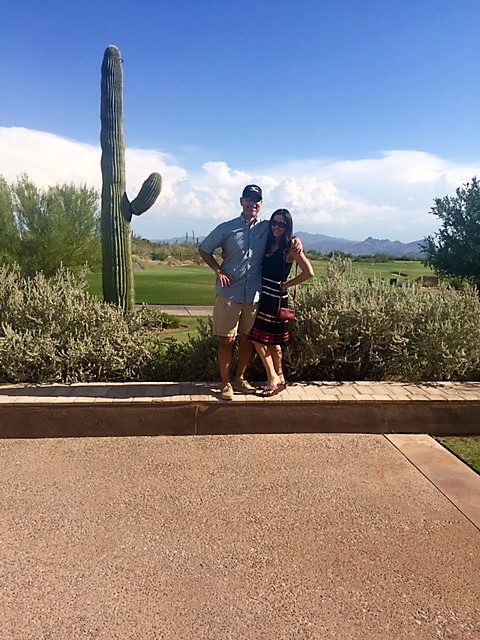 After the boys posed for our pics, they went golfing and we went to the spa, which brings me to our third favorite resort feature.  Did someone say spa?  Ahh yes.
3.  The Ritz-Carlton Spa, Dove Mountain – It is all good here.  The beautiful private spa pool with healthy fare poolside to nuture one's body and tastebuds….
We enjoyed a custom massage and facial.  Both were divine and a complete spa services menu can be seen here.
4.  The public pool, also very nice – Our entire family enjoyed the resort pool, tasty treats, cocktails and fun activities, too.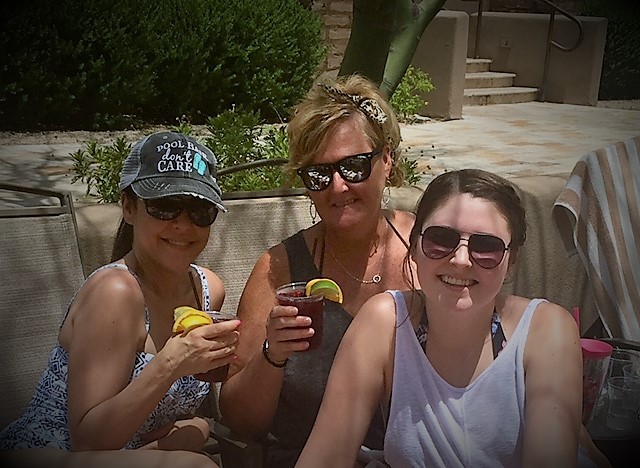 5.  The restaurants…yum!  I don't know if I am food savvy enough to call myself a foodie, but I sure like to eat and I love to try new restaurants.  So the golf clubhouse restaurant, Cayton's Burger Bistro had our names all over it, so to speak.
We were so busy munching down on the decadent Spinach & Artichoke Dip with the Sea Salt Flatbread appetizer and Better Blue Roasted Mushroom Blue Cheese Burger, that we forgot to take pictures of our grub.  We did remember in time for the desserts, though.
We also enjoyed the breakfast fare.  This Core Restaurant breakfast burrito contained eggs, avocado, hash browns, pepper jack and more.  A tasty way to start the day.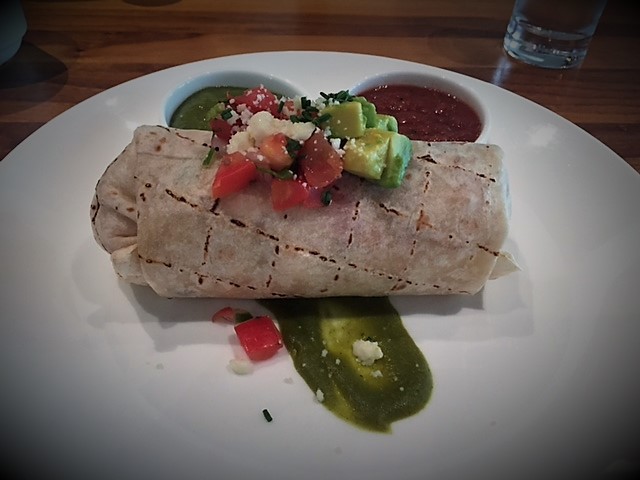 And the restaurant was happy to add additional veggies to my burrito, too.
6.  The location – Guests don't have to drive far from downtown Tucson, which is convenient, and at the same time, this resort is truly tucked away in Tucson's scenic desert and beautiful mountains.  The property is done in southwest casual desert decor and is also elegant at the same time.  A quick drive to downtown Tucson gives access to some fun attractions there, as well.  Or stay put as his resort offers plenty to keep guests happy, fed and entertained and the best of all, relaxed.  Kids programs, hikes, biking trails and lots more activities are offered at this  property.  We highly recommend the Ritz-Carlton at Dove Mountain.