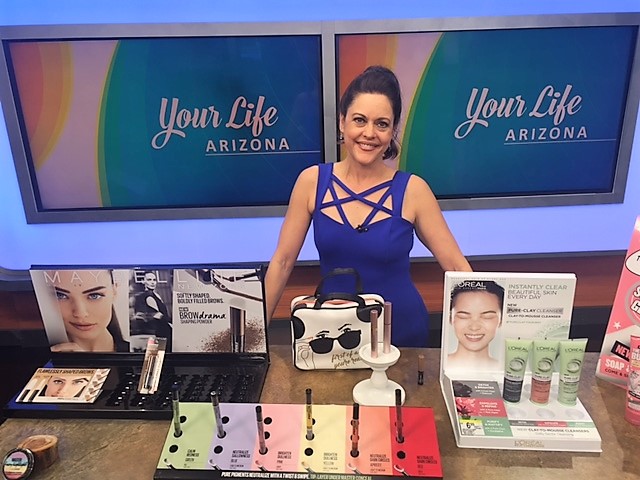 Too hot to drive all the way to the mall for your beauty products?  Go no further than your local drugstore because Walgreens just added a bunch of hot beauty products with prices that are cool.  Many of these items can replace the more expensive drug store brands.  We found some splurge vs steal stuff in the beauty aisle.  I got the scoop from Walgreen's beauty consultant, Bianca, who is also a part of my blog's managedmoms.com team.  Look at what we found to keep you and your beauty budget looking good all summer long.
What's Trending in Summer Beauty
Every time I research a beauty segment with Bianca, I learn about beauty trends.  And to be able to buy them for less at the drugstore is a bonus.  As you read about each product in this article, you will see the following trends:
*Metallics – read on below to see what the metallic trend is and how one drugstore beauty line is comparable to three department store lines that cost significantly more for similar products (in our opinion).
*Lush lashes – long lovely lashes continue to trend so read on to see which new mascara we like for summer.
*Unicorn – read on to see how the rainbow glow is one of the beauty stars of the summer show.
*Pure Pigments – this trend is made of concealer shades with colors that do different things when it comes to concealing redness, dark circles and more.  More later in the article.
*Clay Cleansing – different clay properties for your facial cleansing routine.  We cover that in this report, too.
*Brows – groomed and defined brows continue to rage on in the summer months, too.
*Multi-purpose beauty products – because time and money are both saved.  One of our faves for the summer is listed in a bit.
*Unique at home spa stuff picks – spa treatments continue to trend, but since we can't always afford to visit the spa, read on to see our pick for a truly unique at-home two week facial spa treatment.
L'Oréal Infallible Paints & Metallics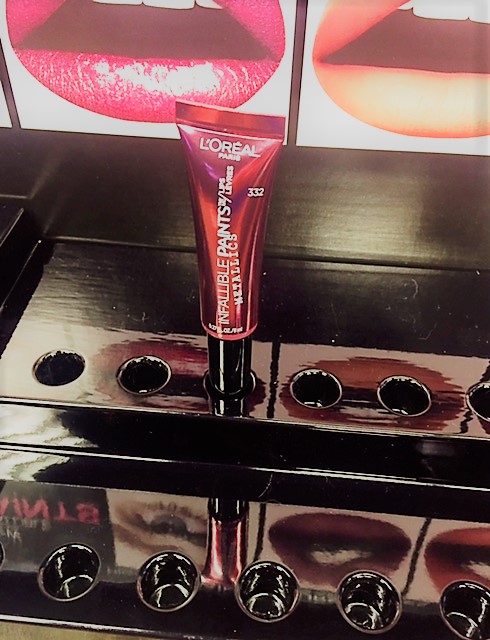 Just like the more expensive Urban Decay line, L'Oréal brings this splurge vs steal to the drugstore.  Like the Urban Decay, Jeffree Star and Kylie lines, but for a lot less, L'Oréal offers Infallible Paint Metallics.
The L'Oréal Matte lip colors are very like the Kylie Jenner Lip Kit line in Kylie Cosmetics, but hers sell for $29 for both a lip color and lip liner versus Walgreen's steal price of $7.99 (with a $2 off coupon offered through July 29th as regular price is $9.99).  Choose between matte or the L'Oréal Metallics, which gives a metallic shiny pigment look that lasts all day long.  Strikingly like the Kylie Metal lipsticks, but at more than half the price since L'Oréal sells for only $7.99 compared to the Kylie stick at $18.00.  Our testers tell us that the L'Oréal line stays on all day and looks brilliant, making this a successful dupe on the Kylie line.
L'Oréal also offers a metallic eye shadow that brightens the eye and give a nice full pigment of color with a great price of only $7.99 (with $1 off coupon now at Walgreens through July 29th).
Lush Lash Trend – Lash Paradise Mascara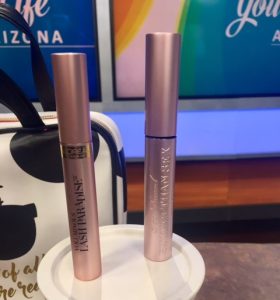 One of Bianca's top picks of the summer is L'Oréal Voluminous Lash Paradise Mascara.  Extremely like the much more expensive Too Faced Better Than Sex Mascara that sells for $23, the L'Oréal Voluminous Lash Paradise at Walgreens costs only $9.99 (or even better get 2 for $15 through July 9th).
Unicorn Beauty Trend
A beauty trend that I had not heard of is unicorn beauty.  I had seen the Starbucks unicorn drink and apparently the unicorn rage has hit the beauty shelves, too. Maybelline's Master Fairy Highlight by FaceStudio Illuminating Powder gives a rainbow glow to the cheeks and other desired facial highlighting areas.  Up until now, the unicorn beauty products weren't available at Walgreens, but the drugstore just added this to beauty shelves this month.  Get your trendy unicorn palette for $7.99.
Pure Pigments Trend
This trend speaks to me because I have long battled under eye circles and puffiness, so the Maybelline pure pigment Master Camo Color Correcting Pen line works great for all different skin types.  We are big fans of the crayon corrector applicator that applies the product just right.  The dark circles concealer works best under foundation and provides intense coverage, so a little goes a long way.  These sell for $7.99 each.
We are loving L'Oréal's new clay to mousse cleansing trio options that are free of parabens and silicones.  Each one contains a different clay element and they all remove everyday impurities like dirt, oil and pollution.   Pick the one that is right for you with three types to choose from.  The first product is the L'Oréal Pure-Clay Cleanser Detox & Brighten that is a detox-brightener made with the popular charcoal that is nature sourced.   The second option in the collection is the Pure-Clay Cleanser Exfoliate-Refine that exfoliates and refines skin with the red algae ingredient and the other one in this cool trio is the Pure-Clay Cleanser Purify-Mattify with eucalyptus.  This one felts so soothing on my skin.  Not sure which one to choose?  Check out L'Oréal's website with a thorough explanation of each and recommendations based on skin type.
Still Trending: Brows!
Beautiful brows continue to be the beauty rage so be sure to check out Maybelline's Browdrama Shaping Chalk Powder that has a cool applicator that sports both a wide side and a narrow side.  The wide side is for the inner brow and the narrow side is for the tail of the brow.  This is my personal favorite as it fills in brows easily for a full and natural look.  This sells for $7.99.
Our Fave Multi-Purpose Beauty Product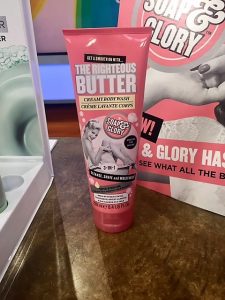 Summertime means constant shaving, so we are loving the super cool Soap & Glory line that offers The Righteous Butter Creamy Body Wash.  This 3-in-1 product is perfect for cleansing, shaving and moisturizing.  Contains shea butter, cocoa, grapeseed, sweet almond and macadamia nut oils. No wonder we love this stuff! Sells for $14 at Walgreens.  Plus, the Soap & Glory line has a $2 off coupon through December at Walgreens.  We will take that!
Truly Unique At Home Spa Treatment 2 Week Facial Treatment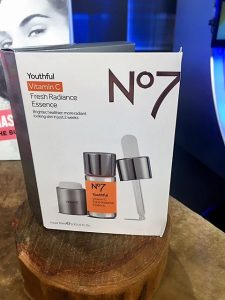 No7 Youthful Vitamin C Fresh Radiance Essence is our pick to get brighter and more radiant looking skin.  This unique formula contains 5% Vitamin C powder that you release yourself into the bottle for a two-week treatment.  After two weeks, the Vitamin C loses its potency, so the treatment is not meant to go longer than that, although the box says that any leftover can be used for one month.  Very cool that the drugstore sells this and it costs $24.99.
There are so many more hot drugstore products that I could show, but I am out of time.  Just visit your local Walgreens and ask the store's beauty consultant to show you more.
Happy Summer beauty shopping and thanks to Walgreens for offering so many items that are trending, compare well to more expensive department store brands and do the job while keeping us on our beauty budget.  More money left over to travel with and escape our desert heat!