You have got to check out this ahhmazing chocoate.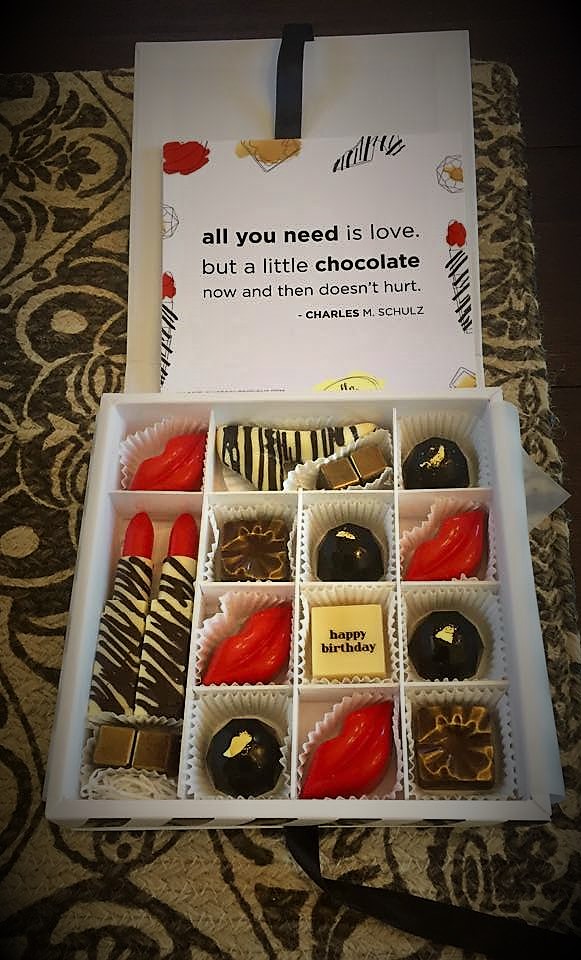 I have never seen anything like this in a box of decadent yum yums!  But first, a little birthday background…
Whoa….the big 5 0 came so fast, that it is hard to believe!  Just like how everything else in life comes so fast! For my 50 years, I asked pals to pay it forward instead of gifts.  I asked that they do something kind and I am hopeful that I will have 50 acts of kindness to share.  We are about halfway there! It has been so cool to hear about the different and unique ways that my friends have been paying it forward.  I will share in a future blog post once all of the 50 acts are collected.
So, my dear long-time friend, Jan (we were bridesmaids in each other's weddings 25 years and more ago) did a beautiful act of kindness (more on that in that upcoming post)…and…she surprised me today with a delicious delivery of the most beautiful chocolates that I have ever seen!  This might be one of my favorite gifts!  Ever!  So incredibly cool!  And yep, the chocolate is good, too!
I decided to quickly blog about it because I am guessing that a few of my readers will want to know about the clever company, out of Austin, Texas, that creates such unique confections.  They serve up chocolates in all sorts of shapes, sizes, objects and more.  Love it!  So here is the information to have when you want to give a truly special, stunning and scrumptious gift!  Custom chocolate pieces?! I'll take it!
Maggie Louise Confections can be found here at this link here. I know that this won't be the last time I see her chocolates, as I plan to give these beautiful boxes of incredible confections as presents the next time I need a gift idea that will be cherished and remembered.  So fun!