Since I just received an email from one of my blog readers asking me for sweet 16 birthday party ideas, here is what we did for our daughter's party. And for my blog readers…please share your sweet 16 bday ideas in the comments section to give our reader even more creative things to do when the sweetest of birthdays rolls around, the 16th one!  We love this blog to be a place where manic managed moms share tips to make our manic lives more managed.  Let me start by saying that my girl asked to plan her own gig.  So these ideas were hers, which is helpful since she is the demographic our reader is planning for!
The birthday girl back in November…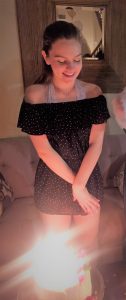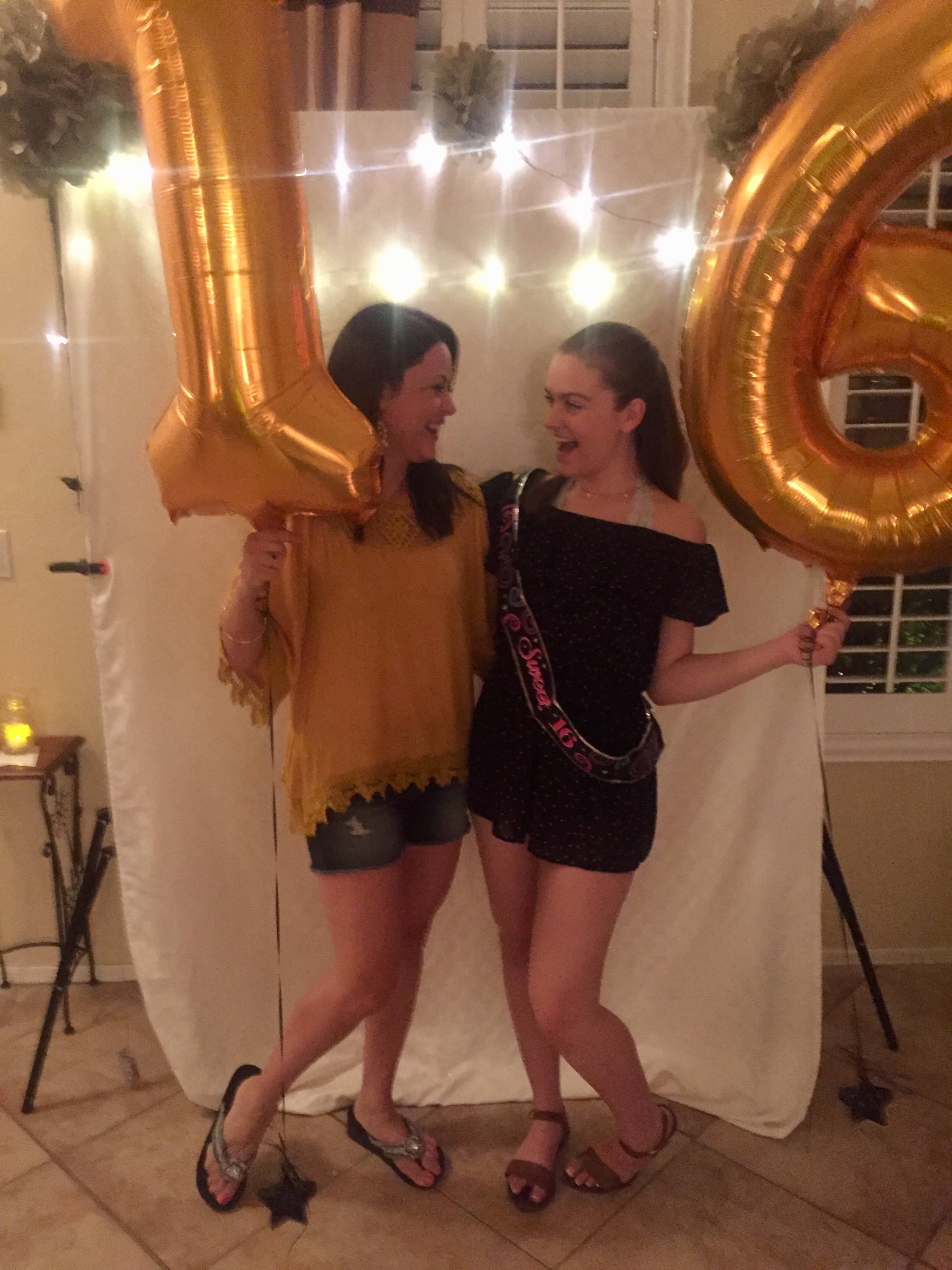 Idea #1 – Big ballon birthday numbers.  Kids love these giant numbers and the 16 one is especially sweet since it is the sweet 16th birthday.  They come in different colors.  Visit Party City stores for prices and sizes.  They make great decor and are especially fun for party pics, too.
Idea #2 – Make your own photo booth.  Simply make a backdrop with a white sheet and string lights across the top like my girl's friends did for her.  So much fun!  Sweet 16 themed party decor, paper cups, plates, props and more can also be purchased at Party City here.  Props for the photo booth can also be purchased at Party City as shown in this picture from the Party City website below.  Or make your own for creative fun.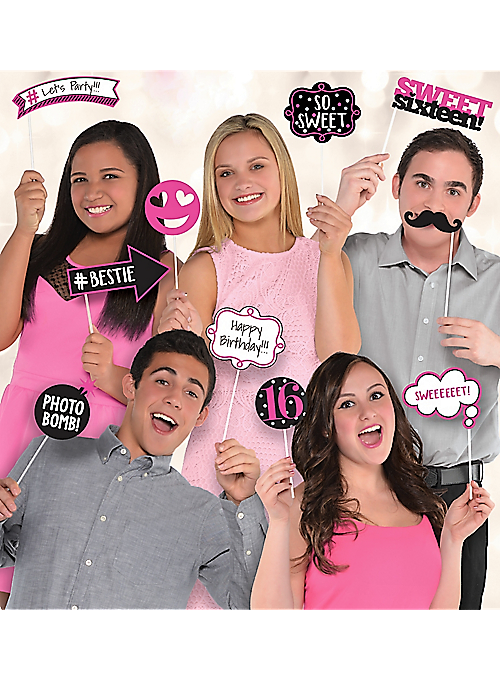 Ideas #3 – Use more (like we did for the photo booth) white (or use colors) string lights for added decor.  My funny girl wanted to make her own from-scratch birthday cake! I didn't argue with her as she is a better baker than I am!  She decorated it with fruit, so no fancy decorationg skills were needed and her pals loved the vanilla bean flavored cake with cream cheese icing.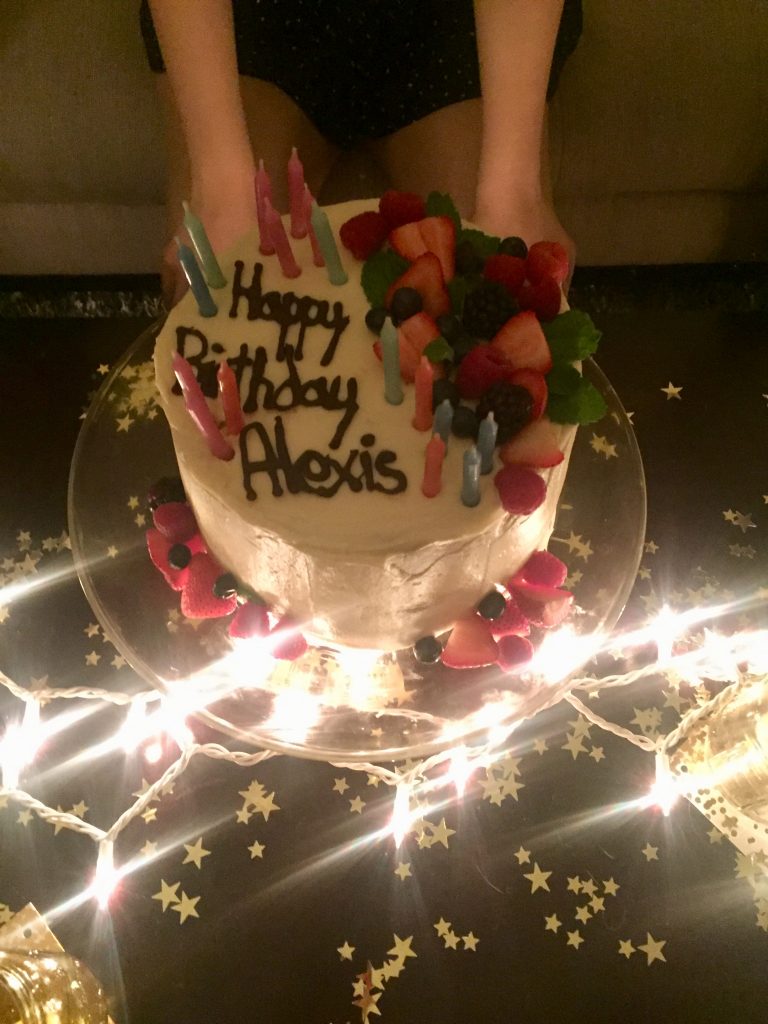 She placed the cake in the middle of white string party lights laid flat and it looked great!  The white strung party lights can also be found at Party City.
*Idea #4 – Have the birthday girl wear a sweet 16 crown and/or sash, also sold at Party City.  In this picture below, both girls are wearing the fun sweet 16 sashes.  Since one of Lexi's pals also turned 16, we did a double birthday party and we Mamas also had a great time!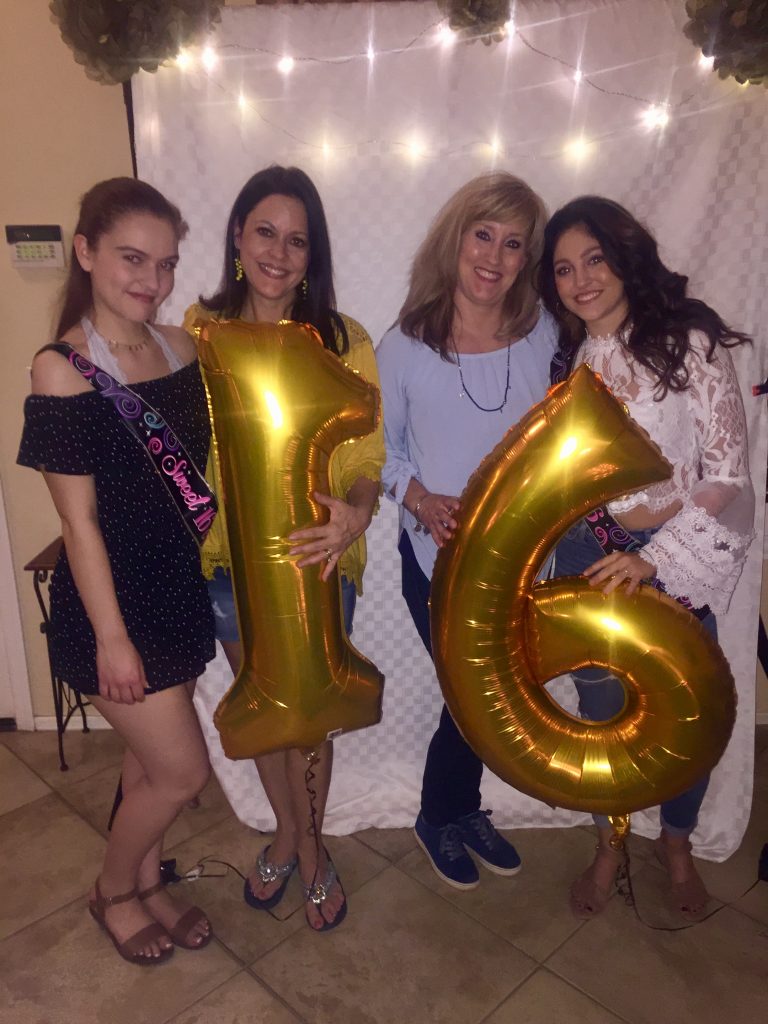 Idea #5 – Rent a bouncy house!  Yep, our girl and her almost fully grown teenage friends asked for a bouncy house!  I couldn't believe it, but that is what they wanted and it was a hit!  I think sometimes our teens miss being little kids.  The bouncy house company I rented from told me that they rent to teens all the time.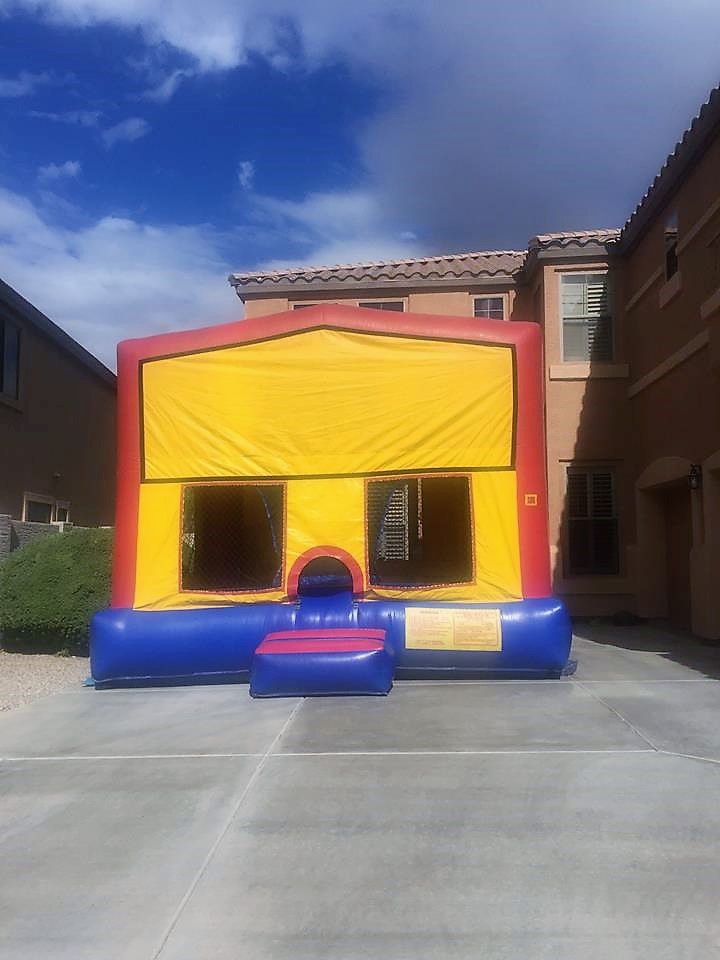 Who knew?!  We rented from Slide and Bounce Around, Inc. and they were terrific to work with from start to finish.  I do recommend checking with your teenager before renting this, though.  It was cool with my own sweet 16-year-old and her buds, but that may not be true for all teens.  Definitely check with your kid first.
Idea #6 – Let your teen pick the snacks and food that will be served.  My daughter picked the snacks and the main fare, which was spaghetti tacos!  I forgot to take a picture of this crowd pleasing funny fare at the party, but I found a picture on Pinterest to share…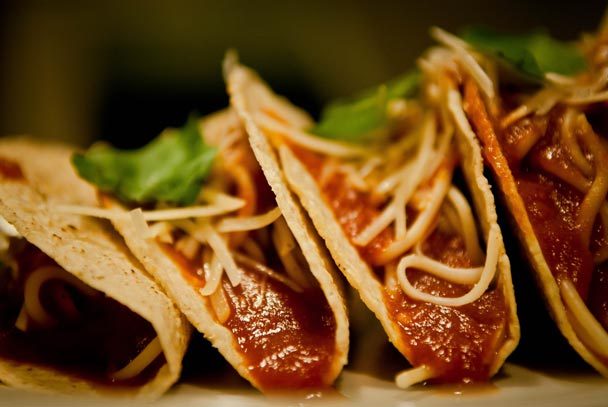 Apparently, that was a big hit when ICarly aired when this age group was younger.  So we put out pasta and tacos.  Most of the teen guests did assemble spaghetti tacos and others either had the spaghetti (we ordered from Buca di Beppo and included Ceasar salad) and/or the tacos separately.  Again…who knew?!  The kids loved this party dinner idea!  Another good one is to get sub sandwiches catered from places like Subway or Jersey Mike's, a favorite eatery of the teens I currenty know around our neighborhood.
Other Ideas – Another popular idea is a costume-themed party. There are too many options to go from there and it's also an activity that many young adults enjoy. You can ask your daughter to decide on the dress-up concept to go for so they'd be more invested in planning and they would enjoy the results even more. Imagine, how fun it would be for them to dress as a character from their favorite book or movie!
Another friend of mine surprised her sweet 16 daughter with a party bus rental.  Yet another one asked her to daughter if she wanted to invite several friends to stay at a local resort for one night.  Still others had a dinner party at Buca di Beppo, which is a good one to accomodate dinner parties.  And other pals took their newly 16-year-old to a quick trip to California, either San Diego or one of the beaches in LA like Santa Monica or Manhattan Beach.
I hope these ideas answer my blog reader who wrote in and other parents reading this, please feel free to add your sweet 16 party ideas to the comments section below.  16 is a sweet birthday, so happy sweet 16th to any of yours turning that magical number soon!  These two girls had a blast celebrating their milestone birthday a few months ago!  So much fun!