Unique boutique hotel, The Viceroy in Santa Monica, California had me curious.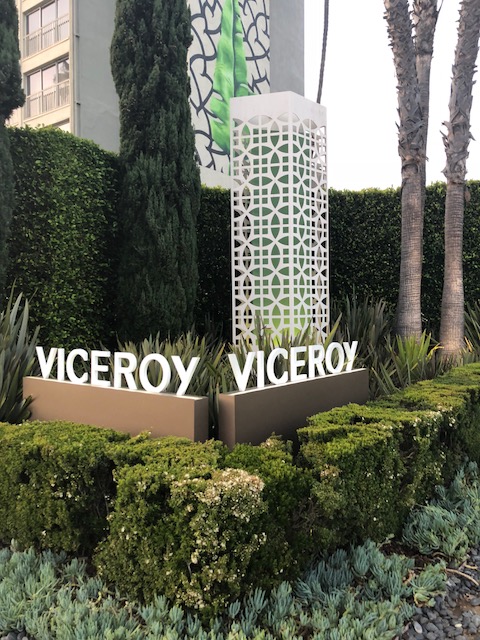 Last time we stayed in Santa Monica, we totally indulged and spent way too much money at the lovely Shutters on the Beach resort hotel.  That blog post coming soon.  We absolutely loved it, but with one in college now and one headed there soon, we needed to spend less money this time around.  I still craved nice, unique and a little bit fancy, especially since I knew I would blog about our stay.  I went to my AMEX card website and looked at hotel recommendations.  The Viceroy's website immediately caught my eye, but would the property look as nice as the website pictures?
Most often the answer is no.  Read on to see my answer to this.
I really liked what I saw each time I revisited the Viceroy's website, so I booked us there.  This boutique hotel is situated on the corner of Ocean Blvd. & Pico, just steps from the beach and within walking distance of the Santa Monica Pier.
So, did my instincts pan out that this property would be as nice as advertised online?
YES!
My video review is below.  And let me add, the biggest reason that I give this property an almost perfect score is because the staff was truly a team that aim to please their guests.
From the moment we checked in with the super nice, professional, warm and friendly hotel front desk clerk, Acquah Dansoh, we were completely spoiled.  Acquah commented that since we were on a mother & daughter trip and that it was our first time staying at the Viceroy, he wanted to celebrate us so he upgraded us to a full ocean view room at no extra charge!  Nice surprise!  Then he served me a glass of welcome complimentary champagne.  Cheers to that!  I was feeling very at home already.  And the first-class treatment never ended the entire time we were there.  Everyone, the maid, the concierge, Jeremy, the restaurant staff…all were so nice to us and spoiled us each and every day.  When we ordered room service, it was delivered promptly.  The hotel restaurant, Cast served delicious California fare (be sure to try the Charred Brussels Sprouts with sour mustard seeds, wholegrain mustard, manchego and pepitas). The pool area was super cool and the entire property and team have a collective peaceful and joyful vibe.
All seemed to love working there.
Only two complaints.  Parking cost $55 a day…ouch!  But all the hotels located in that area charge as no street parking is allowed.  And we wished the rooms had balconies, but other than that, our stay was absolutely perfect.  Here is our video review…