This is a fun giveaway drawing that can also be given as a holiday gift!  Who loves having gal pals over to sip wine and watch movies?  I sure do.  So, when I received an offer to receive a free Blu-Ray + DVD + Digital movie to give away on my blog, I was interested.  When I was told it was the movie, Book Club, I was excited!  If you haven't seen Book Club starring Diane Keaton, Jane Fonda, Candice Bergen and Mary Steenburgen, you must watch it!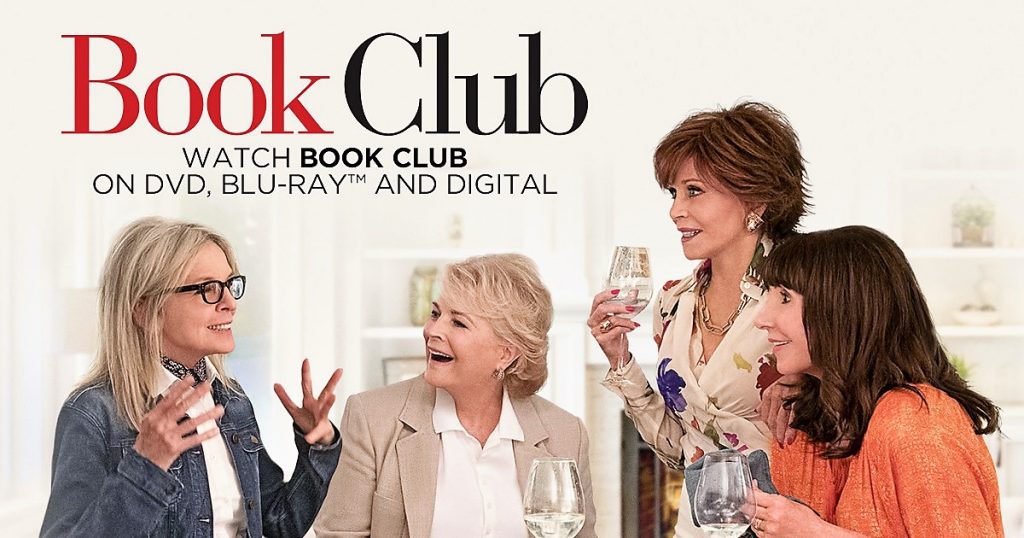 You will laugh out loud watching these superstar uber-talented greats perform as four lifelong pals whose regular book club gets interesting when they veer from the usual type of book to instead take on the spicy and infamous Fifty Shades of Grey book.  I personally have not read the Shades book, but I sure have heard a lot about it! When these older mature ladies bring that into their book club circle, it not only shakes up the club discussion, but their personal love lives, too.  And we soon find out that this movie isn't about the Fifty Shades of Grey book at all.  This story deals with real issues about aging, love, friendships and embracing the process in a hilarious and sweet manner.
Joining the all-star female cast are four heavy hitter male actors who include Andy Garcia, Don Johnson, Craig T. Nelson and Richard Dreyfuss.  This movie was so much fun and made me belly laugh and consider how women can mature with age gracefully with passion, friendships and humor.  I was entertained, laughed hysterically and I was touched.  Just like the movie critics wrote I would be.
So here is your chance to win a movie night for keeps.  Our winner gets a brand-new edition of the Book Club film in Blu Ray + DVD + Digital.  Also included are bags of popcorn and Red Vines.  Fun!  Want a chance to win?  Simply do this…
 Email your name, email address and address where you want prize box sent if your name is drawn to [email protected]

Do this by this Thursday, September 20th, no later than 7pm Arizona time. 

We will draw the winner through random.org and post the winner this Friday on this blog.
Good luck! I was tempted to keep this one myself!  Such a fun movie!