You won't believe that these beautiful dishes only cost $1 each!  That is my first of four fab finds below to share.  And do you like popcorn?  I have found the most delicious one yet and it is also one of the most nutritious brands on the market.  Also a fun party popcorn twist and several other fantastic finds make my fab finds list to share with you today.  Take a look at these steals and deals and stuff that is good and works.
Fab Find #1 – Did I really find that at the dollar store?!  Yep…
If you go to Dollar Tree or a similar dollar store, these dishes are probably gone by now…BUT…every time I have ever gone to Dollar Tree, the dish selection are almost always attractive.  Remember to check your local dollar store when new dishes, glassware and more are needed for a new home, a moving college student, wedding gift and more.  A friend of mine also finds steals on lots of dishes that are brand new at Goodwill, too.  Check her out at The Goodwill Gal.
Fab Find #2 – Tasty & Healthy Popcorn!
Fab Find #3 — Cheers Cocktail Decor
Fab Find #4 — Boxed Is Better
Finding fab finds to share with my blog readers is one of my favorite pastimes.  I love to share what works to make our manic lives more managed, sweet treats that are better (except for those pesky M&Ms that I can't resist), steals, deals and more.
I will say that there is an alternative to M&Ms that are pretty good called Unreal.  UNREAL Peanut Gems taste very similar to peanut M&Ms, but contain no artificial dyes and are instead colored by 100% natural veggies like beets, for example.  This brand is also vegan, gluten free and non-GMO!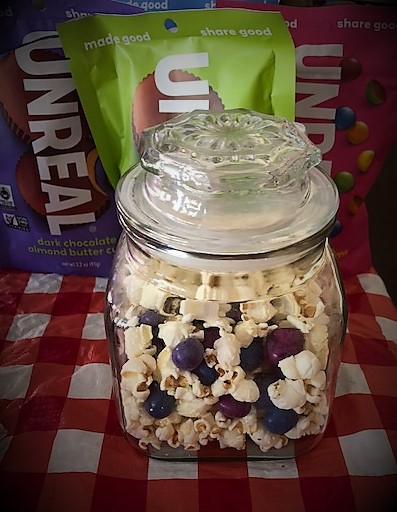 So, give those a try.  I used regular M&Ms this time around only because I wanted the spring colors and because I didn't have the time to drive to a grocery store that was farther away that carries the Unreal brand.
Hope you enjoyed today's fabulous finds. Share your fab finds in the comments section.  Share-worthy tips and fab finds are fun and what we are all about at managedmoms.com. Happy spring fab finds!