Allergy season!  Nobody's favorite!  If you saw my 3TV segment on the Your Life Arizona show, then you saw a few of the items that I have discovered that have helped me so much.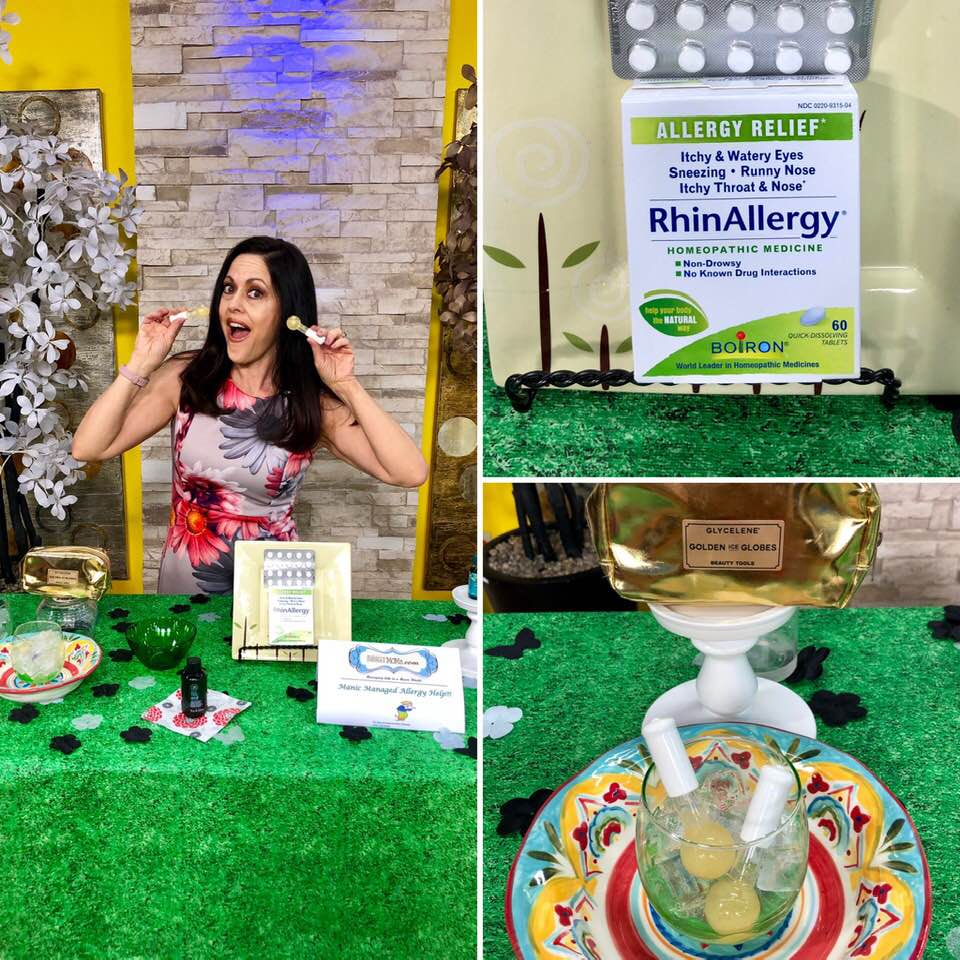 I no longer have to take a daily Claritin and that has been nice.  Here is what I covered plus a few more remedies that were not shown in the segment.  Read on and hopefully feel better with me.
We are in the throes of it now that it is spring.  After seeing several allergists and having been tested multiple times through the years, it was determined that I have two culprits. First…dust.  So not helpful since I love living in my dusty desert Arizona climate.
And kitty cats.
NOOOO!!
We have four cats.
I've always had and loved my feline family members since I was a child.  Fortunately, the allergist told me that my cat allergies are minor but I still have symptoms.  And I am not giving up our pets.  After having them for so many years, I feel like that would be cruel, not to mention that I am totally attached.
…they are the BEST scorpion killers ever!  Enough said!
So, I have experimented with several different allergy remedies through the years including allergy drops. I loved those but insurance doesn't cover them and they are expensive.  So, I let that remedy go.  I haven't tried allergy shots, but I haven't needed to because I finally got my allergies under control with some helpful remedies that I share below.
I call these manic managed because I have mostly discovered these tips while rushing around in my manic schedule asking others, seeing different allergists through the years, listening to my homeopathic mother and trying some stuff out.
I have finally found a combination of remedies that work for me.  Plus, I've got some helpful beauty item hacks to help us deal with the side effects of allergies like puffy eyes and dry skin around the nose.  Read on to see if any of my manic managed allergy tips may be helpful for you.
And a big remedy recommended to me by my allergist (that has helped the cats-in-our-bed situation) is the addition of a Homedics TotalClean Pet Plus Air Purifier in our bedroom.  It will cost you as it sells for $229 here, but it has helped a lot.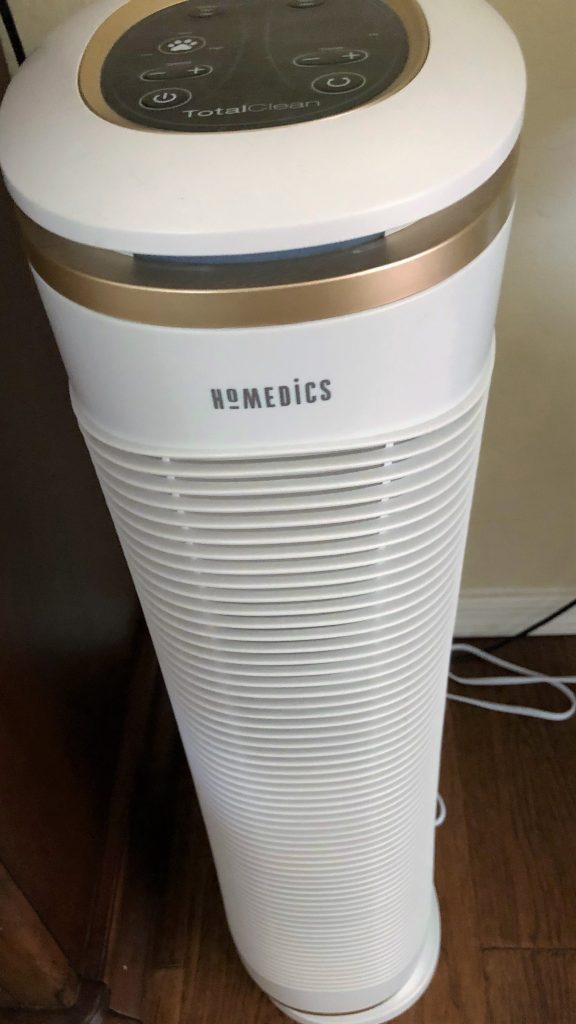 Allergy Symptom Beauty Hacks & Products
In addition to how lousy allergies make us feel, they also leave us looking worn out, tired and ill.  Not cool.
Beauty help is here!  Try these beauty products and hacks to hack away the unwanted stuff that comes with allergy season.  Annoyances like dry chapped skin around the nose and puffy eyes.
Here are my faves starting with a steal vs a splurge.  Keep reading for that little nugget of gold! This tip that is free and I'd say most everyone has this in their kitchen….
The Steal!
*Eye cubes!  The coolest (no pun intended) beauty hack that a gal pal told me about.  For puffy eyes that sinus issues can leave in their pesky wake…that make us look not awake (hate that!) …try this completely free trick!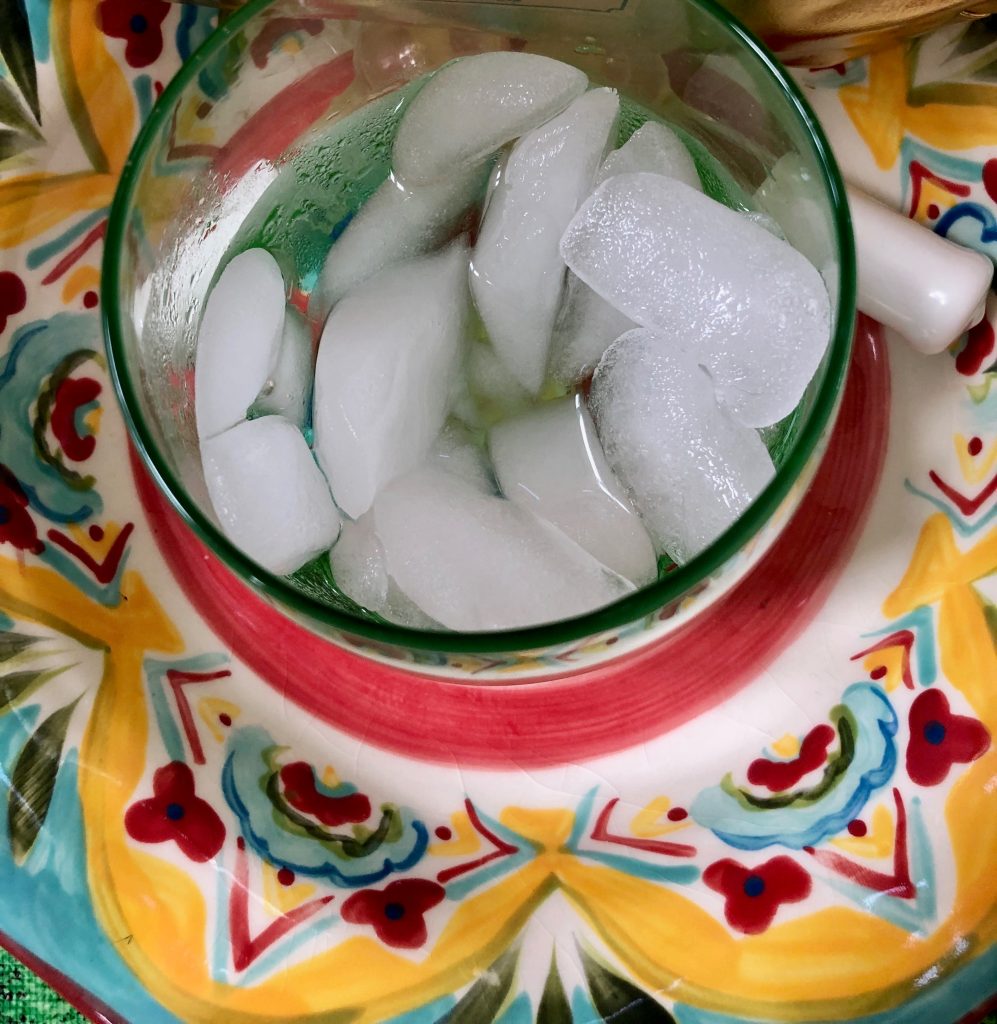 First thing in the morning, simply and very gently rub two ice cubes, one under each eye, for as long as you can stand it.  You can wrap them in a wash cloth if you don't want the ice touching your skin directly.  I put them directly under my eyes and I haven't had a problem with doing that but others may want to cover the ice if the skin is super sensitive to the cold.  The cold reduces the swelling under the eyes.
The Splurge…
Now if you want the splurge, here is what I saw Cindy Crawford recommend in her Vogue YouTube video…
*Glycelene Golden Ice Globes – These two golden globes will cost you!  For $125 you get a pair of these pretty globes that can be used just like Cindy Crawford does on her face and under her eyes.  I went ahead and spent the money (don't tell my hubs!) and ordered a pair so I could test them for this article.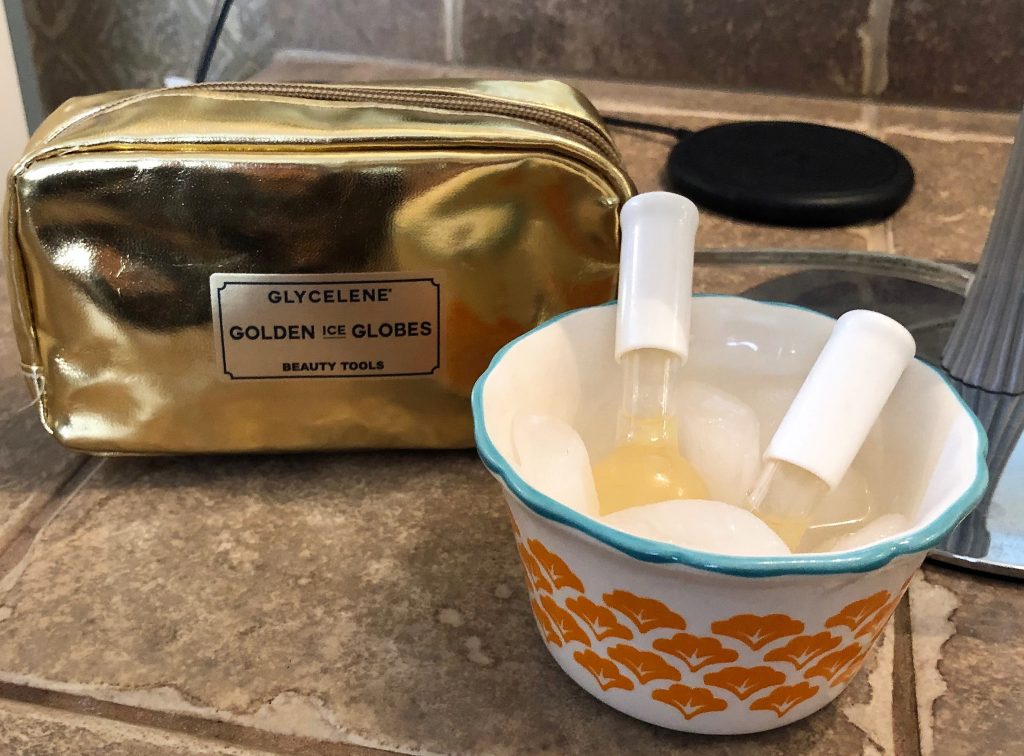 They feel great and I think they work!  However, I also think plain old ice cubes also work.  But I do like these.  A lot. The product inside the globes, paired with the cold, stimulates blood circulation to reduce inflammation and the under-eye puffiness.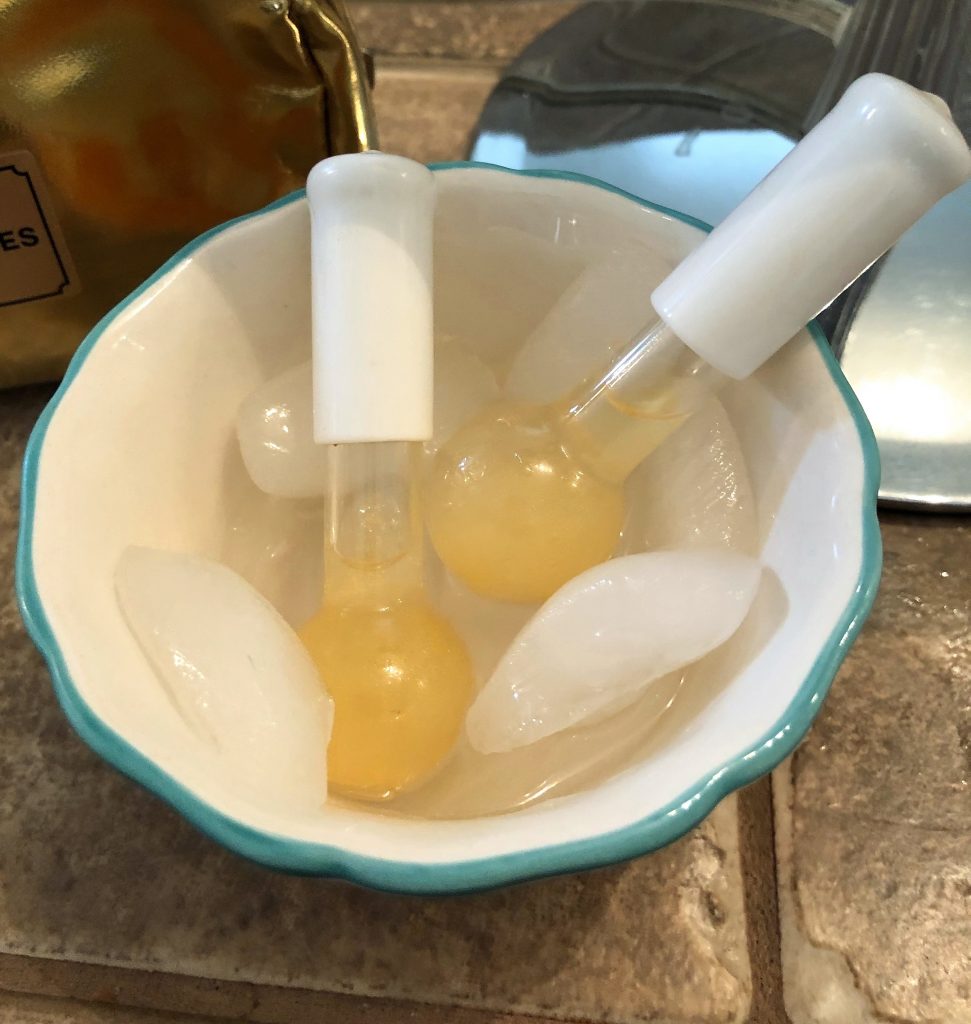 I ordered mine directly from the glycelene website.
My Personal Successful Allergy Treatments
My allergies would most often manifest in my sinus passages.  Not fun.  I do use one allergy over-the-counter med as needed.  I recommend seeing your doctor or an allergist to come up with a good plan and to see which drug store product(s) is recommended for you.  My doctor recommended Flonase and it is over the counter and very easy to use.  I don't use it daily so that it isn't habit forming. I use it several times a week during allergy season. But below is the stuff that I am really digging and most of it is homeopathic.
My Five Faves
*Boiron RhinAllergy Homeopathic Medicine – My mother raised me to be as homeopathic as I can so I was thrilled to discover this gem!  This remedy has especially helped my itchy eyes that plague me during allergy season.  RhinAllergy is a multi-symptom formula that is so easy to take.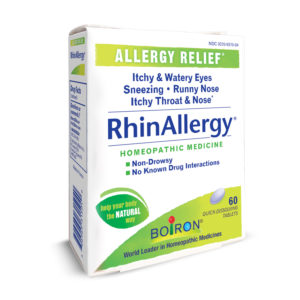 The little tablets quickly dissolve under my tongue.  RhinAllergy also helps with sneezing, runny nose and an itchy throat.  I love that these are non-drowsy, too.  RhinAllergy is sold at Sprouts Farmers Market stores and learn more about this terrific product here.
*Puff's Plus Lotion Vicks Tissues – I first blow my nose with these handy tissues that have the therapeutic Vicks scent incorporated.
The Vick's part of these tissues gives me sinus relief.
*Kneipps Eucalyptus Bath Oil – I swear by this stuff!  Pour a capful under your running bath water and feel your sinus passages respond.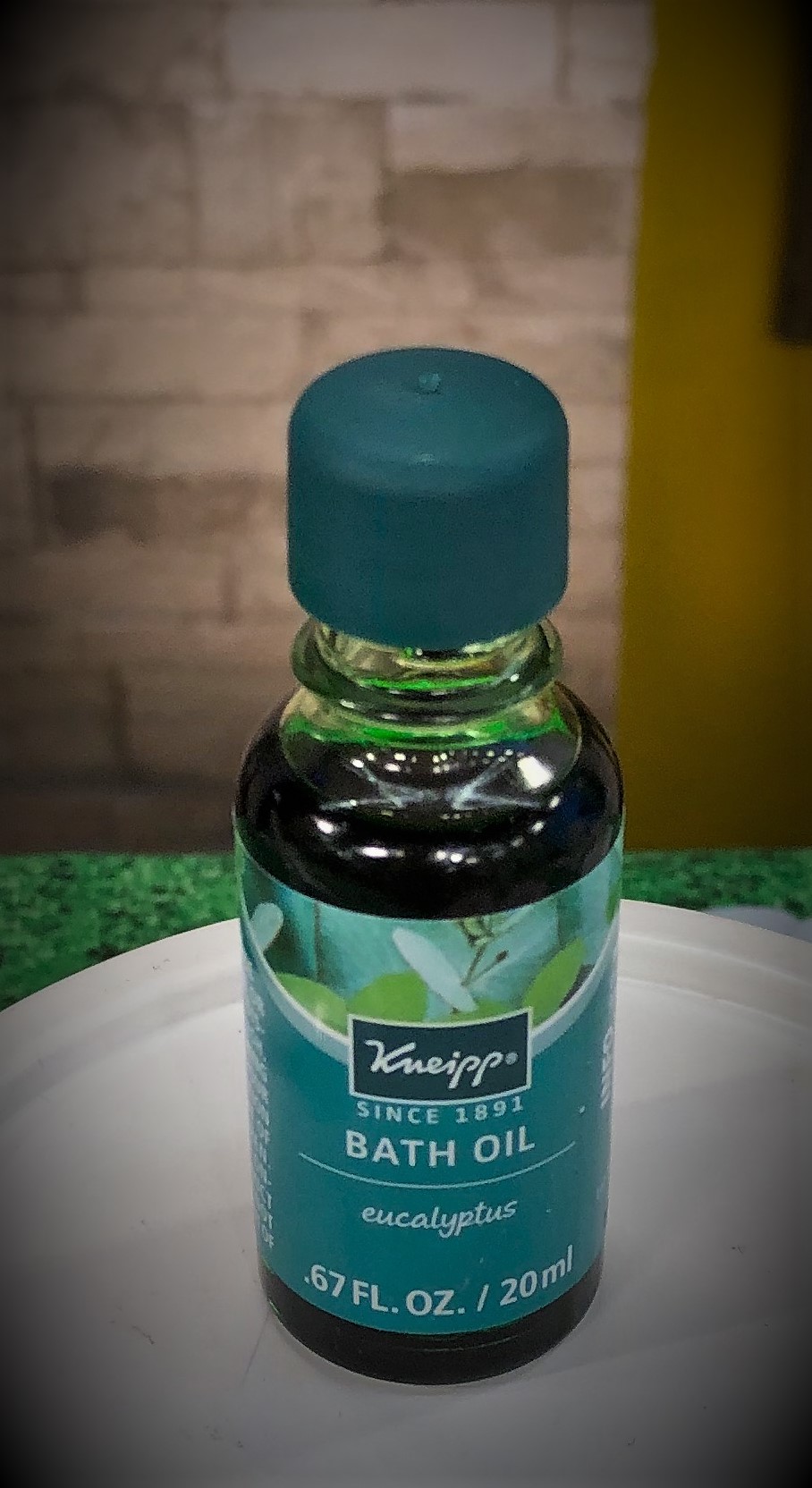 This is all a part of my daily routine when I am battling sinus allergy season.  I also like the Kneipps bubble bath, but the oil works even better. 

I buy mine on Amazon or the Kniepp website.
*Tea Tree Shampoo – I use this once a week to clarify my scalp and to breathe in the helpful and healing properties of the tea tree oil that is infused in this shampoo.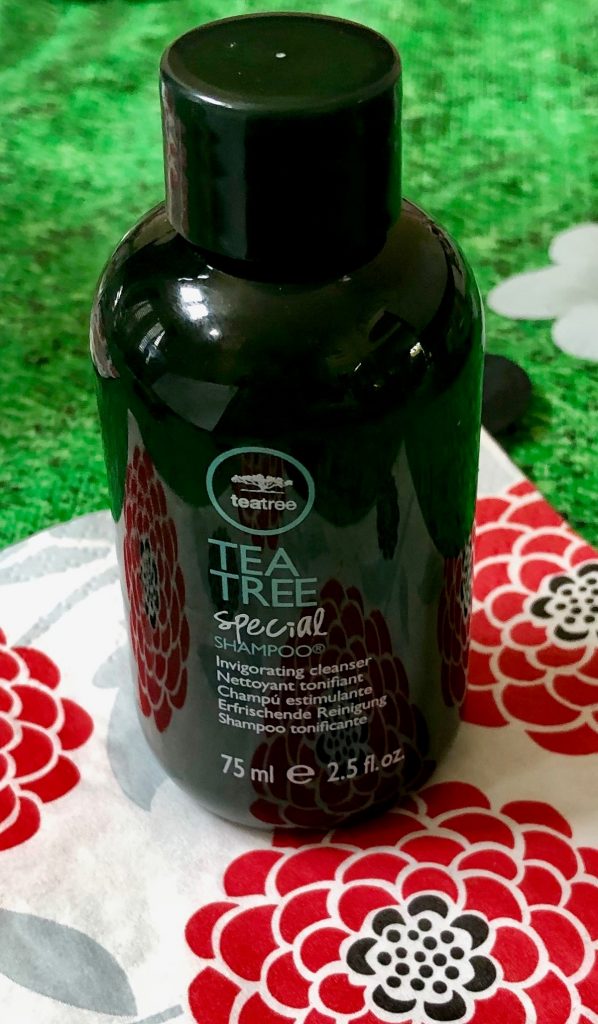 My scalp is left tingling and my sinus passages feel much better with this and the combination of the above therapies I use.  I also recommend getting regular massage with an included scalp massage.
*Eucerin Aquaphor Healing Ointment Advanced Therapy – This stuff is great for the chapped skin we get around the nose from allergy season. The handy tube it comes in can be applied with one hand, so no greasy residue is left on your finger. 


For the chapped skin around the nose due to allergy sneezing and for chapped lips as well, I have found nothing to work better.  Sold at drug stores.
Finally, don't forget to eat well and exercise!  When I work out four times a week, cut the extra sugars out of my diet (this includes reducing my cocktail intake, too…darn), I do have improved sinus passages.  Exercising results in increased blood flow, which helps to clear out the allergens.  Although I wouldn't recommend exercising outside during allergy season for obvious reasons.  Stretch and work out at home or in a gym that has a clean and filtered environment.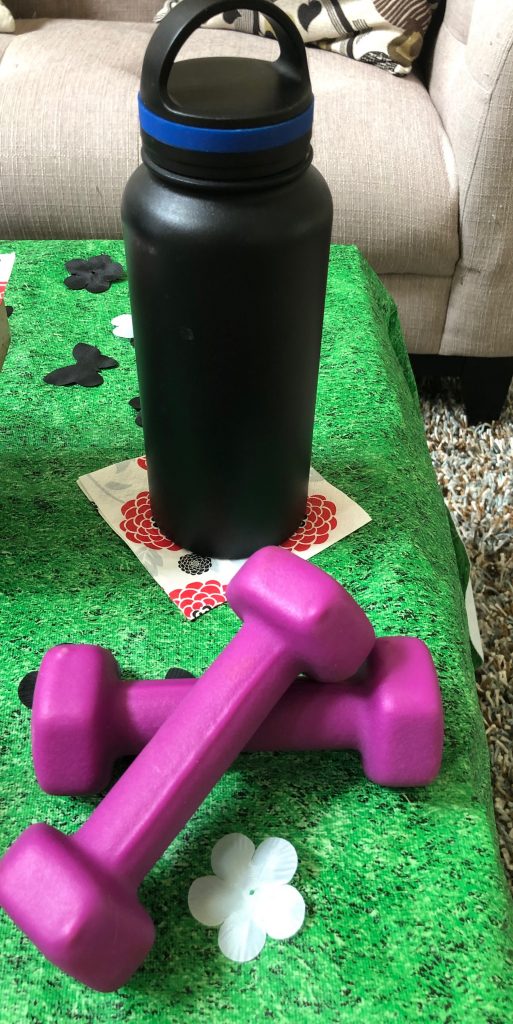 And drink your H20! This helps to flush your system.  Good luck through allergy season. I hope some of these tips help you, too.  What are your best allergy season fighting tips?  Share in the comments section and be sure to check out my blog at managedmoms.com for more wellness tips, recipes, home organization ideas, parenting talk and more.  Happy…hopefully allergy-free…spring!