Father's Day is coming right up on June 16th!  Here are some great gift picks for Dad's Day that I showed on the Your Life Arizona morning show.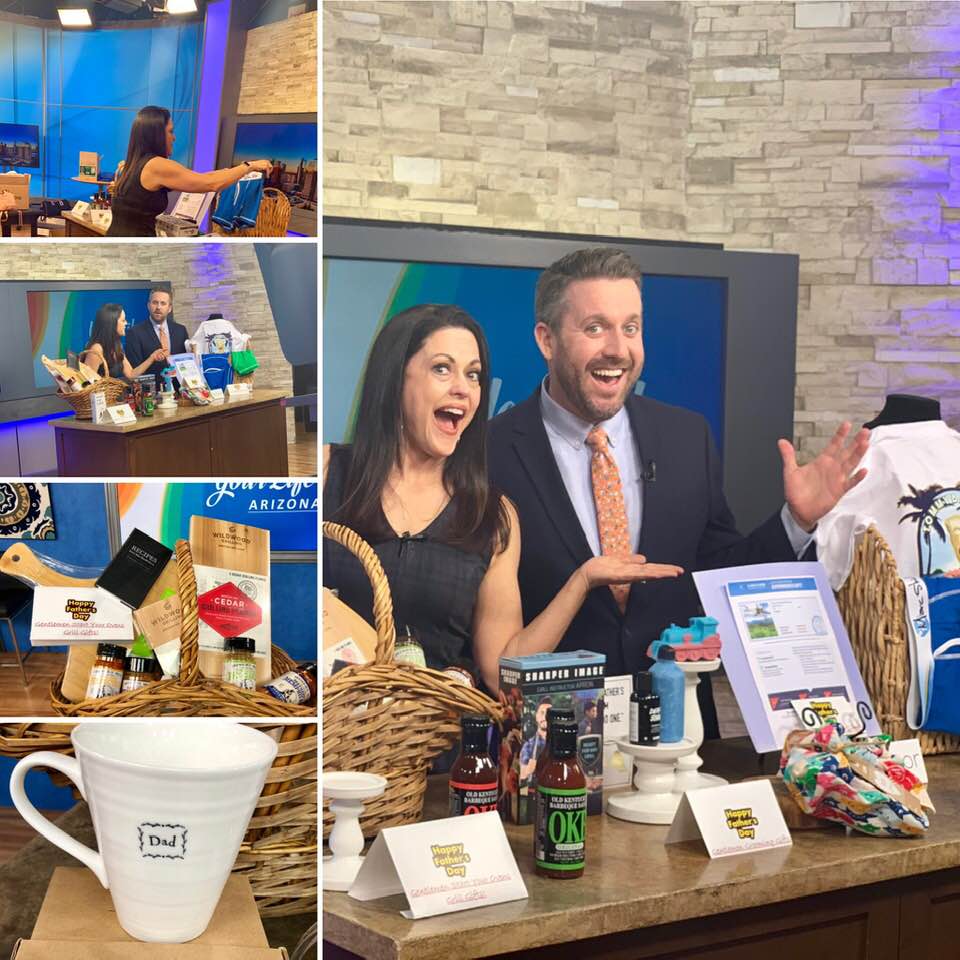 Take a look…
Unique Fun Pleasing Portrait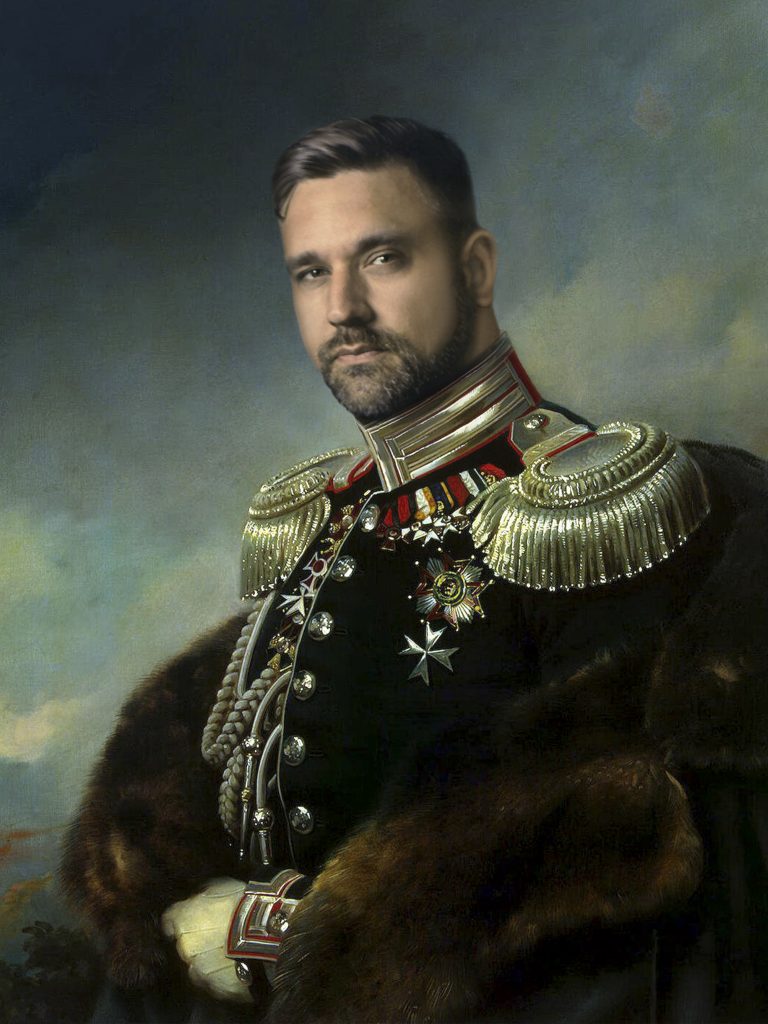 Personalized royal portraits can be the best Father's day gifts ever.  Turn your favorite guy's picture into a unique pleasing royal portriat.  Fun! 
Gentleman Start Your Ovens/Grill Gift Ideas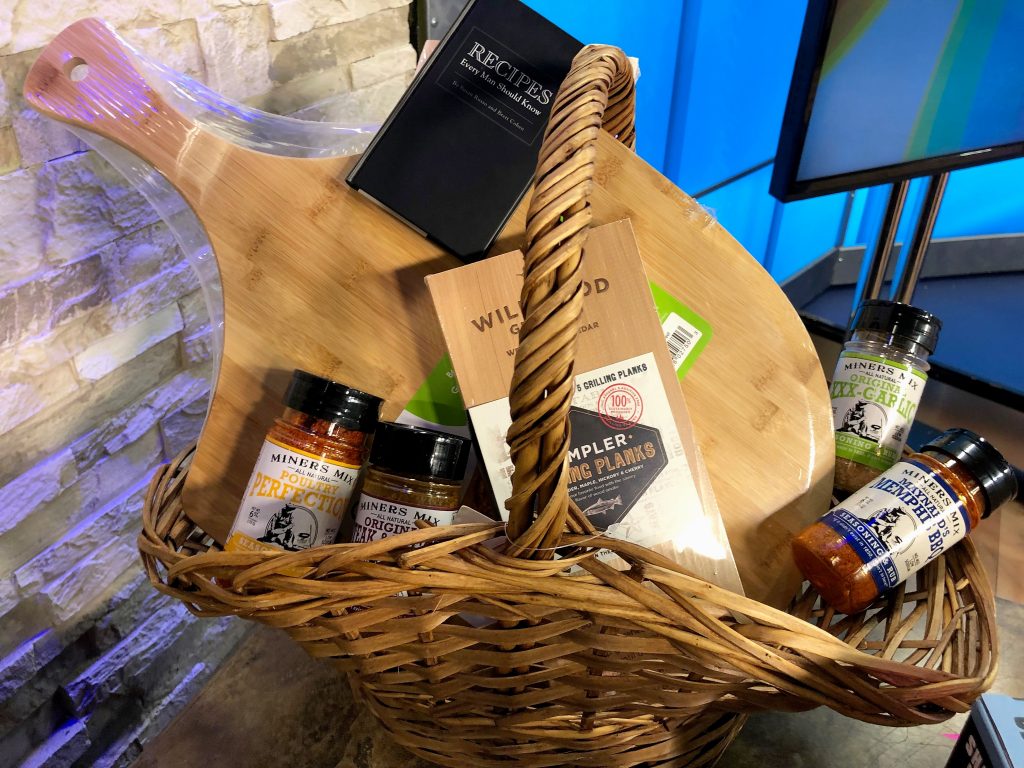 The ideas below, for the dad who loves to cook, can be given separately or put a few of these together to create the perfect chef's gift basket.
*Support local with a gift set of Old Kentucky Barbeque Sauce!  – Select three flavors of the locally owned and made line with the Original, Medium and Hot varieties and pair with a cool BBQ tool.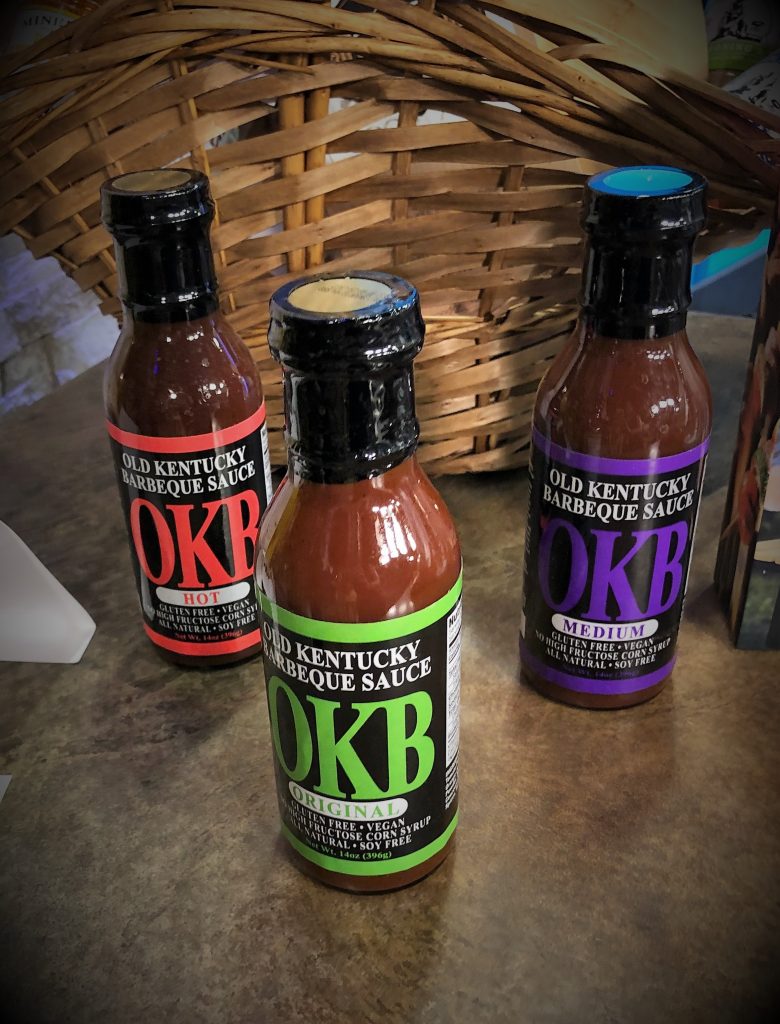 Another great gift basket that you can tell Dad you put together yourself! Plus we love supporting local business and this tasty sauce is a handed down family recipe that is 180 years old!  It was originally concocted in the backwoods of Western Kentucky and has been shared from generation to generation!  With vegan whole ingredients that can be pronounced, this is a good choice for a sauce that Dad can add to all kinds of his favorite recipes. No high fructose corn syrup, gluten, soy or MSG is in this delicious sauce.  Purchase this savory and smart sauce option brand at Fry's Marketplace, Natural Grocers,  AJ's and select Bashas in the Valley.
*Recipes Every Man Should Know Book – He will love the handy little size of this mini recipe book and he will enjoy making the manly recipes that include meat and potato dinners, hearty breakfast classics, beer and bar food plus more.  $9.95 at Arcadia Farms Cafe in Old Town Scottsdale.  Also sold at Amazon.
*Pizza Pie Guy – If the dad you are celebrating loves to bake and/or grill pizza, make him a nice pizza gift basket.  I put one together for my guy that includes a bamboo pizza peel ($14.99 at Bed, Bath & Beyond). I paired that with a Pizzacraft 15-inch round pizza stone that comes on a solid steel tray for $39.99 at Bed, Bath & Beyond.  Add a gift card to his favorite pizza place for a night that he doesn't want to cook and a pizza cookbook and you have a gift basket that he will love!
*Grill Instructor Man Apron ($10.99 at Walgreens and at Kohl's) — This will make him chuckle as this apron has pockets for a beer, phone, mustard, ketchup and more. Hilarious!
*Wildwood Grilling Planks – Grilling on planks pack in the flavor and this brand is earth-friendly because the planks are cut from pieces of lumber that are too short to be used in the construction industry.  These planks are made in the USA with products that are 100% clean and pure with no pesticides, herbicides or foreign matter.  These look great in a BBQ gift basket for Dad, too.  Sold in a variety of sizes at Whole Foods Market, Amazon, Albertson's and wildwoodgrilling.com.
*Miner's Mix All Natural Seasoning & Rub varieties – I love this family-owned seasonings brand that come in flavors like Original Steak & Veggie, Poultry Perfection, Maynard's Memphis BBQ and Original XXX Garlic.  Plus they are 100% natural, low in salt, contain no flavor enhancers, no MSG, no preservatives, nothing artificial and they season all types of recipes perfectly.  Add these to the BBQ gift basket for Dad.  Sold at amazon and at minersmix.com for $7.49 a bottle.
Cheers To Pops Presents
*24 oz walnut wood decor Corkcicle Tumbler – ($38.50 at The Paper Place in Old Town Scottsdale and at Amazon) — This handsome tumbler keeps cold drinks cold for nine hours and hot beverages hot for three hours. The masculine and good looking design is perfect for a dad or grandpa.  Pair it with his favorite coffee or cold drink and you've got a quick and easy gift basket to give Dad.
*DAD Freezer Mug ($9.99 at Walgreens) — This mug can be frozen for a instant chilled beer.  The large plastic mug won't shatter if dropped and prominently says, World's Greatest Dad. Pair this with his favorite 6-pack of beer and you've got a great gift.
*Dad Mug that is understated – My hubs tends to be understated so this sweet mug that says Dad in simple and small print is perfect for him.  I found it at Arcadia Farms in Old Town Scottsdale for $12. 
Gentlemen Grooming Gifts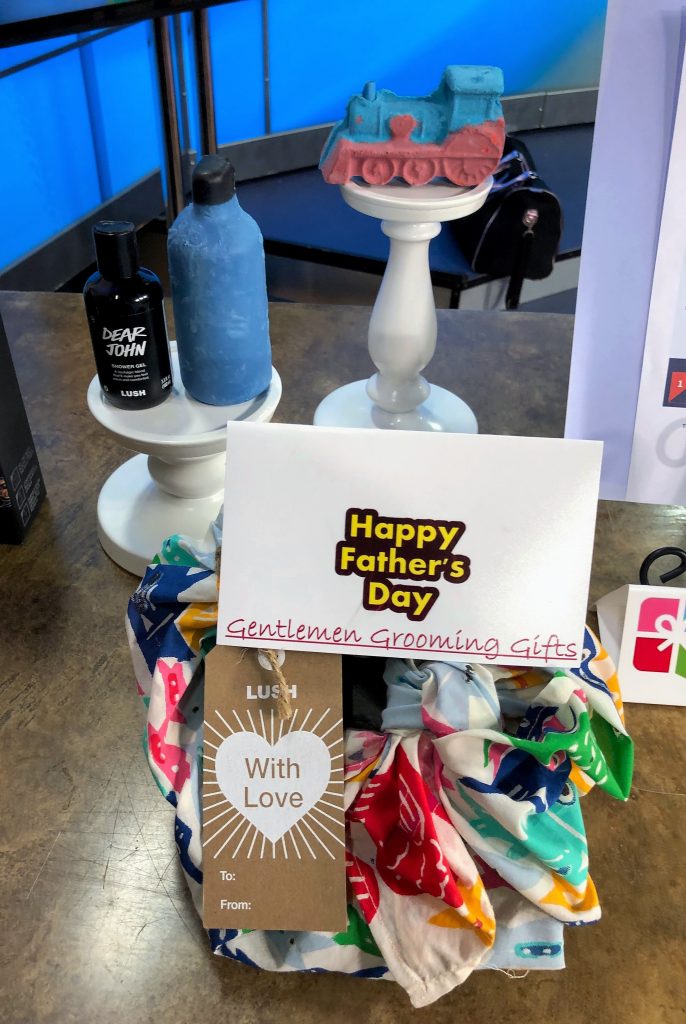 *LUSH Dear John bath and body line products – I love LUSH because the products are made by hand using mostly organic fruit, veggies, essential oils and safe synthetics.  LUSH uses very little or no preservatives and packaging and have other earth-friendly practices, too.  The Dear John shower gel is made with clove bud oil, coriander and other fresh ingredients to create an aroma that is spicy, fresh and outdoorsy.  I bought the 3.3 oz travel size for $9.95 at the LUSH store at Chandler Fashion Center Mall.  Also sold at lushusa.com.
*Dear John Naked Shower Gel by LUSH – The cool shower gel bar is shaped like a shower gel bottle and encourages users on the LUSH website to "break up with bottles" thus giving customers an option to get Dad a gift that is good and green for the earth, too!  Sells for $10.95.
*Crazy Train Bath Bomb – Add this fun train bath bomb to a LUSH gift kit you put together for Dad.  Most guys dig trains and this bar also saves on wasteful packaging and is made with Sicilian Red Mandarin Oil and other cool fresh ingredients.  Buy it for $7.95 at LUSH stores or at lushusa.com.  Get Dad's stuff knot-wrapped at a LUSH store.  The fun colorful cloth designs are a good alternative to wrapping paper.  Knot-wraps are reusable and made from sustainable materials like organic cotton and recycled plastic bottles. 
Fun Fashions For Him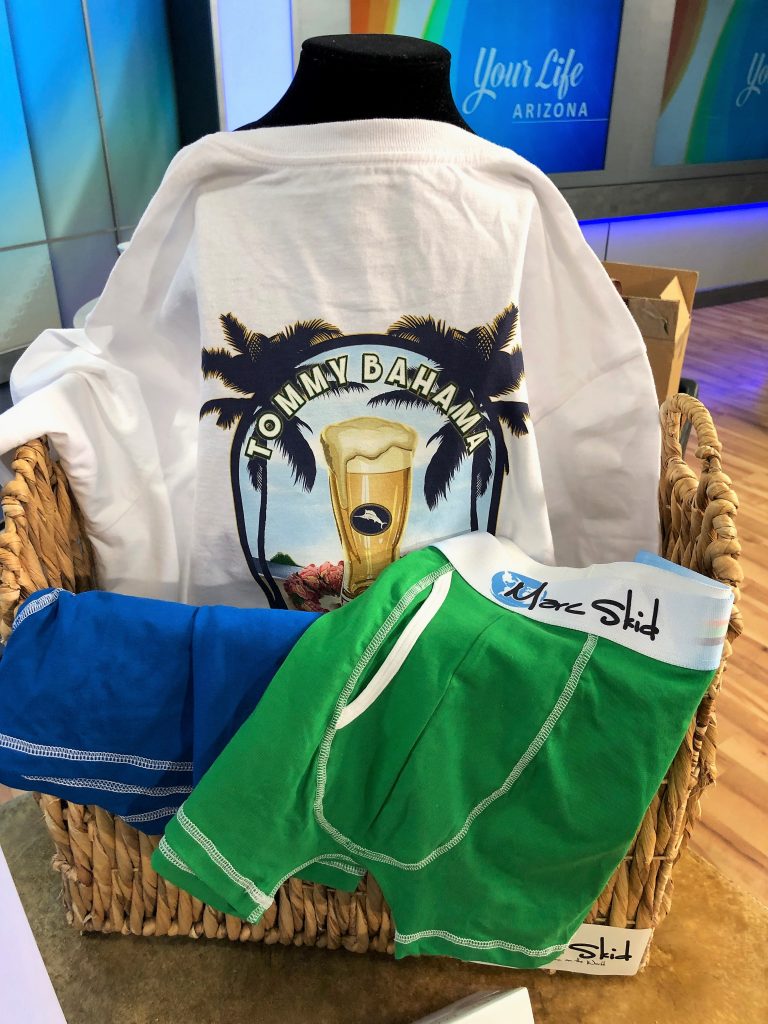 *Tommy Bahama fun print tees –  I picked Tommy Bahama to show because their 100% cotton t-shirts are comfy and hold up through time.  Tommy Bahama also has outlet stores in the Valley, too.  My daughter and I picked out a fun one with artwork on the front that shows a beer on a beach with palm trees. A shirt that is comfortable and reminds Dad to relax! $49.50 at Tommy Bahama stores and tommybahama.com.
*Marc Skid organic cotton underwear – Funny name and very cool product because these comfy undies are also earth-friendly and come from a company that gives back, too.  For every pair purchased, $4 is given to a world-saving charity that Marc Skid supports. Get your guy a pair in bright red, calming blue, fun green or basic white.  I especially love that the waistband is is made from up cycled water bottles.  There is one full water bottle in every pair's waist band.  That is cool!  They are sold in briefs, boxer briefs, hipster and bikini style for $20 a pair at marcskid.com.
Adventure Gift Idea
*Experience Gifts – African Safari Zipline Adventure – My daughter and I went to a cool website called Gift Advisor at giftadvisor.com.  There all kinds of gifts are categorized so we looked under Father's Day gift ideas and found tons of stuff!  My girl loved the experience gift category so she selected the Cloud 9 Living African Safari Zipline Adventure to give to her dad.  The two of them will plan a day to the Out of Africa Park in Camp Verde, AZ and have a blast ziplining together.  I love this unique idea!
*giftadvisor.com – As I just described above, check out this extremely resourceful website to see all kinds of gift ideas for Dad's Day and every other holiday and occasion.  Gift Advisor is helpful and has no added fees.  You just pay for the price of the item.
Sweet & Unique
*Home Sweet Home Basket – Make a basket about his hometown or city either that he hails from and/or the city or town where he has settled with his own family.  Include a book about that place, a mug with the town name, a local food, etc. 
Example – I made my hubs one all about Ahwatukee since we made a home in that community raising our kids.  I included a very cool book called Historic Tales from Ahwatukee Foothills by Martin W. Gibson in the gift basket and he immediately started reading the book when I gave him a copy for the holidays.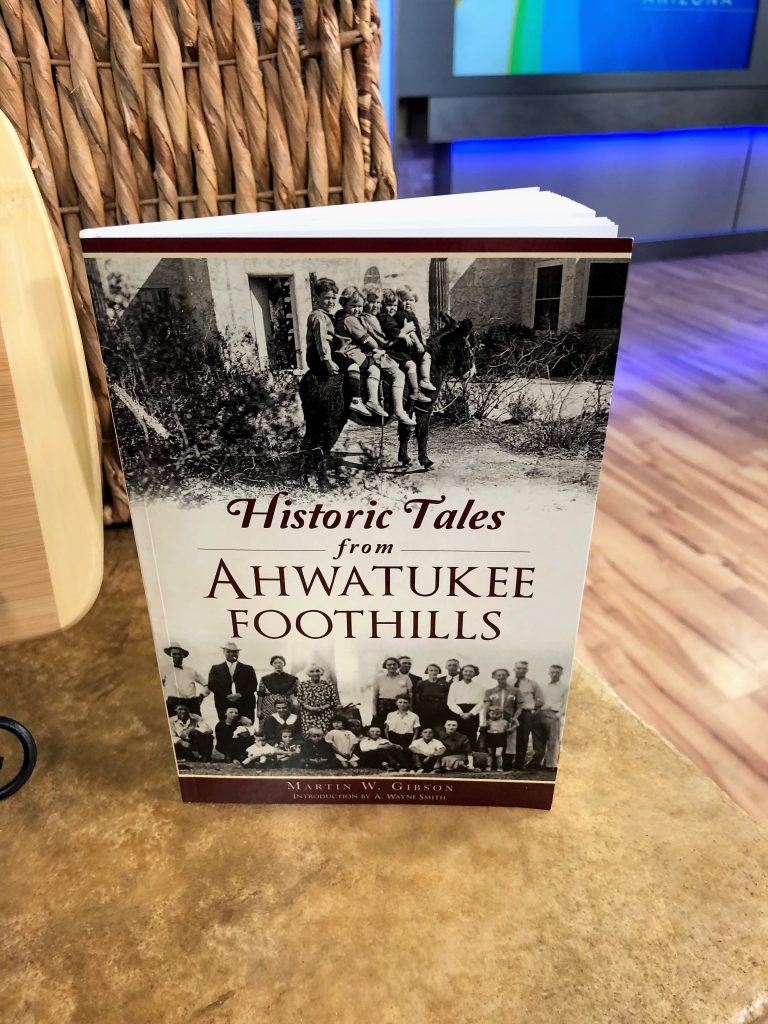 That specific book by Martin W. Gibson is sold on Amazon, target.com, Barnes & Noble, Changing Hands or to buy a personalized copy from the author, email to mgibson24@cox.net.
I also put a personalized throw pillow that says Ahwatukee in the home sweet home basket.  I bought that for $19.99 at the Chandler Bed, Bath & Beyond located at 54th Street & Ray Rd. This particular location also sell City of Chandler pillows, signs and other locale items.  Plus I added a cool cutting board that shows a map of the state of AZ.  Also sold at Bed, Bath & Beyond for $11.99 by Totally Bamboo Destination Arizona.
More Stuff! 
*Dashing Golf Pens – ($9.99 at Walgreens) — For the golf lover, this mini golf bag pen holder looks nice on a desk and houses handy pens that are shaped like golf clubs.
*Dad money clip – ($7.99 at AJ's Fine Foods) – Add some humor with this and clip it to a note that thanks him for his hard work that results in not much cash in his money clip because so much of the budget is spent on the kids.  Make it humorous and thankful!
Did I find the perfect gift fit for the father on your list?  Did I leave out a super cool idea that you know about for Dad's Day?  Leave a comment here or on my blog and Happy Father's Day to all of the awesome dads and grandpas out there!