Last Sunday I hung out with my daughter. Literally!  Ever tried an aerial yoga class? We have several times now.  Loved it every time.  If you want to try a class, read on to see the two places we have experienced, as well as a third one that my daughter did with friends.  Plus, I share the benefits of this type of yoga and how, and what on the body, it works.  Read on and hang out with me!  First watch the quick video of our experience and then look at the photos below to get more details and to see some additional pics of another aerial yoga class location we tried.  We highly recommend this aerial yoga experience that we did at The Sanctuary Spa at the Sanctuary Camelback Mountain Resort and Spa.
Here is the picture of the pros doing the aerial yoga on the silks from the Sanctuary Spa website…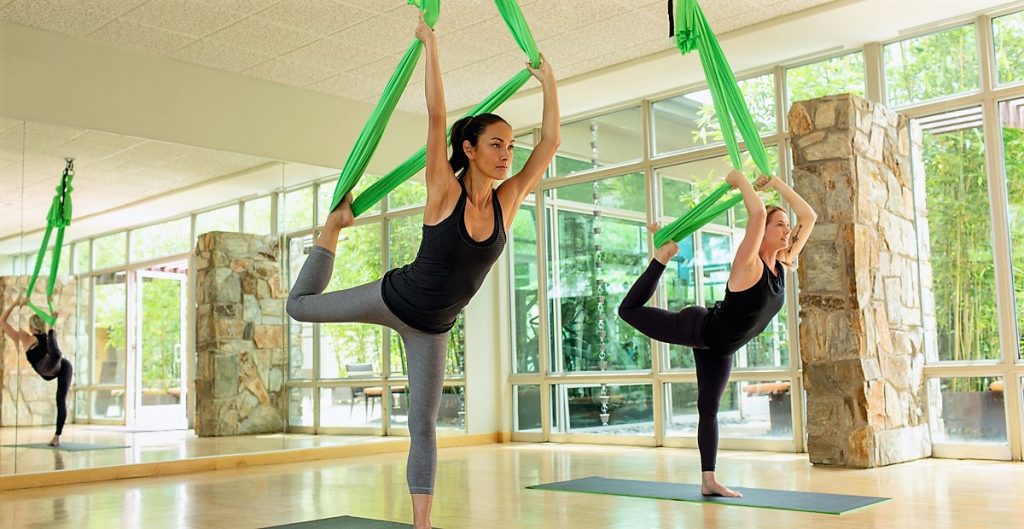 And here we are below, mom and daughter…not too bad for being beginners, right?!…
We will totally do this again. This was my third time to take this type of class. We previously took it at the Fairmont Scottsdale Princess Resort in Scottsdale.  They call it their aerial hammock yoga class.  We had a blast that day as well.
My daughter has also taken a class like this with her friends in Tempe at a place called The Vertical Fix.  She said they were also great there, too.
Have you done aerial yoga?  If so, share your experience in the comments section.  Namaste and be well, friends.