Ready for some helpful household quick tips?  Doesn't it feel good when money is saved by using one item for several useful purposes around the house?  I love discovering those kinds of helpful household hacks.  Today in my 3TV morning show segment on the Your Life Arizona show, I shared stuff that works all around our home and even some outdoor décor stuff as well.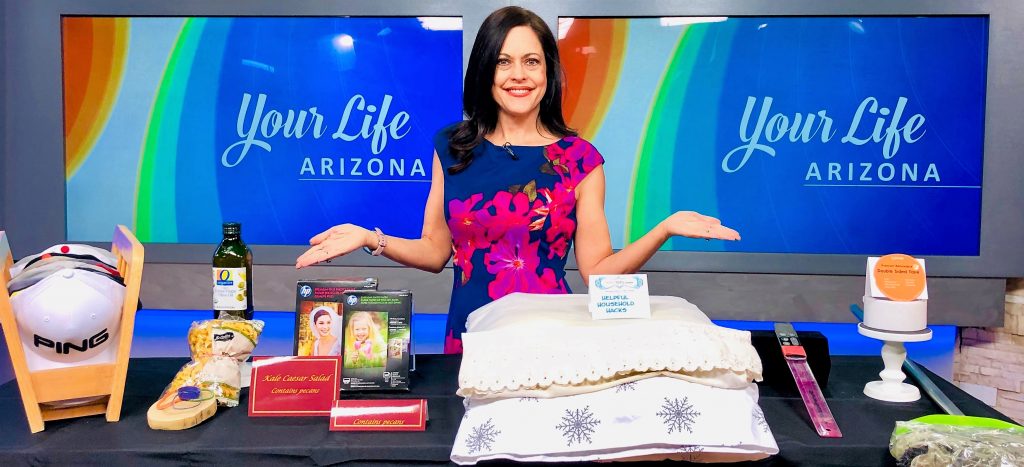 Let's start with my tried and true and most surprising item…a broom and a roll of tape to catch those dreaded stingy scorpions and unwelcome pests.  You don't want to miss this tip and the other home hacks that work for décor, beauty and more!
*A broom or a scorpion/critter getter?! – Upon spotting a dreaded scorpion or other scary critter that carries a potent sting, many of us come unglued.  And for good reason.  However, let the glue (or in this case sticky tape) unglue you.  And grab a broom.  Why and how does this work?  A broom with double sided sticky tape to catch scorpions (and other critters) that are too high to reach or way under a bed works wonders.  In addition to the easier access, did you know that if you smash a mama scorpion, the babies on her back can scatter and there can be up to 100 of them? 
Ick!  Yuck!  I know. 
So, if the scorpion is caught by being taped to the sticky tape broom, then the whole enchilada can be carried outside (babies and all if applicable) to smoother away from the house.  The under the bed scare happened to us.  Lucky for us, our kitty cat meowed an unusual warning cry one night that woke and alerted me to the fact that there was indeed a scorpion under the bed…and under my side!  Yikes!  My hubs grabbed the sticky tape broom that we keep handy.
The scorpion crawled way under the bed to the very middle of the floor. Had it not been for the readymade tape broom, we would not have been able to get the creepy crawler.  At 2am my husband secured it to the broom tape, carried it outside to be killed and I was able to sleep and have sweet scorpion-free dreams!  I bought our double sided sticky tape that is made by XFasten Double Sided Tape from Amazon for $12.97 a roll.  Any broom will do.  I also had a friend use a hockey stick, but I like using a broom because it's wider and gives you more room to grab the scorpion.
*Photo paper or party signs?! – Use your 4×6 or 5×7 or 8×10 (whatever you prefer) to make party food signs.  This is especially helpful for guests that have allergies.  Simply create on your computer to fit the photo paper and print.  I have done this for my son's graduation party and for my 50th birthday party.  It looks nice and guests appreciate the tip that one of the salads had pecans in the ingredients
.
*Crate or coffee table?! – I am happy to share that I have a clever girl who loves home décor projects that are done on a budget.  When she told me that she desired a homemade coffee table for her room made of crates, I had a hard time picturing it.  She told me not to worry and headed off to Ikea. I love the result.  Her finished crate box coffee table is functional, simple, inexpensive and looks pretty cool!  The Knagglig Box crates were purchased at Ikea for $9.99 each.  Four were purchased by my teen to make her cool table.  So, the crates become a simple and stylish coffee table…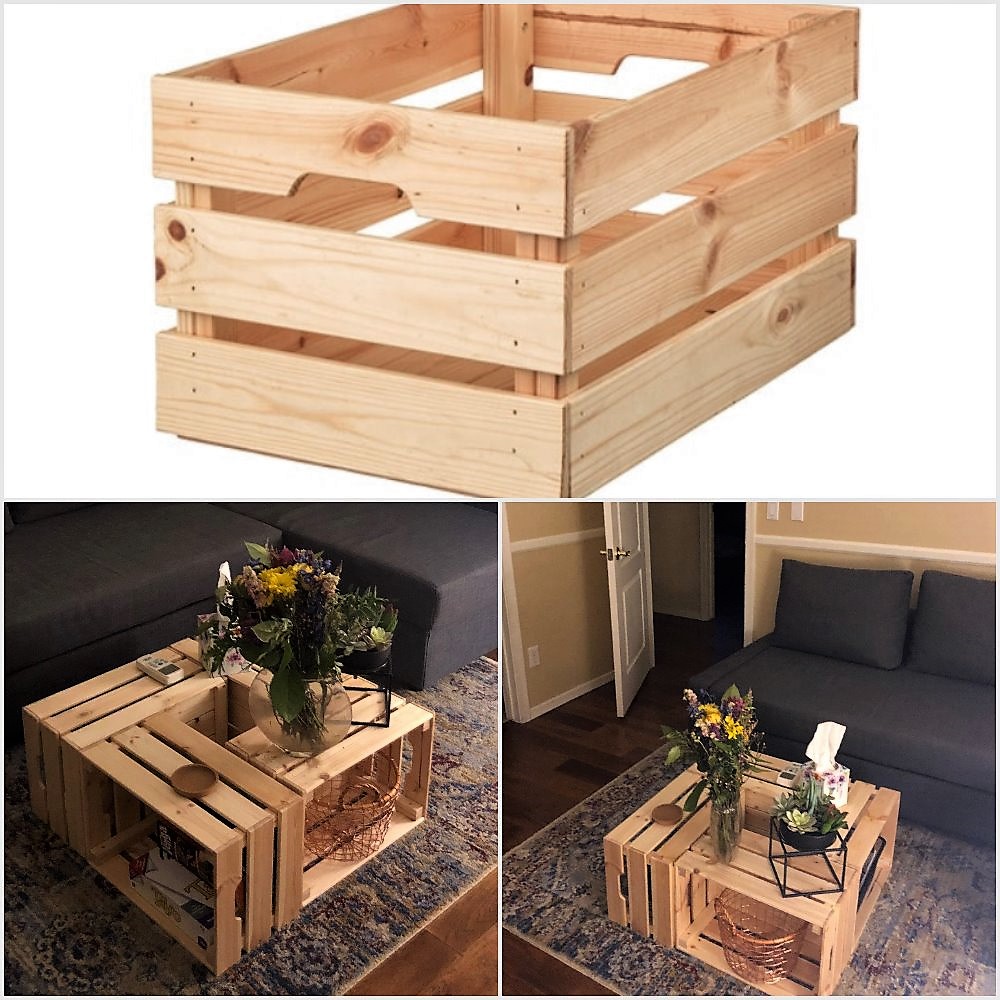 *Shower curtain or closet door?! – My daughter was at it again when she decided that she didn't want the mirrored closet door for her new minimalist style.  So, she purchased a simple grey shower curtain and hung that over the closet.  It looks cool and she discovered yet another purpose for her new creation.  When assigned a video or photograph school project the curtain becomes the perfect simple, plain and present background to shoot in front of…so clever!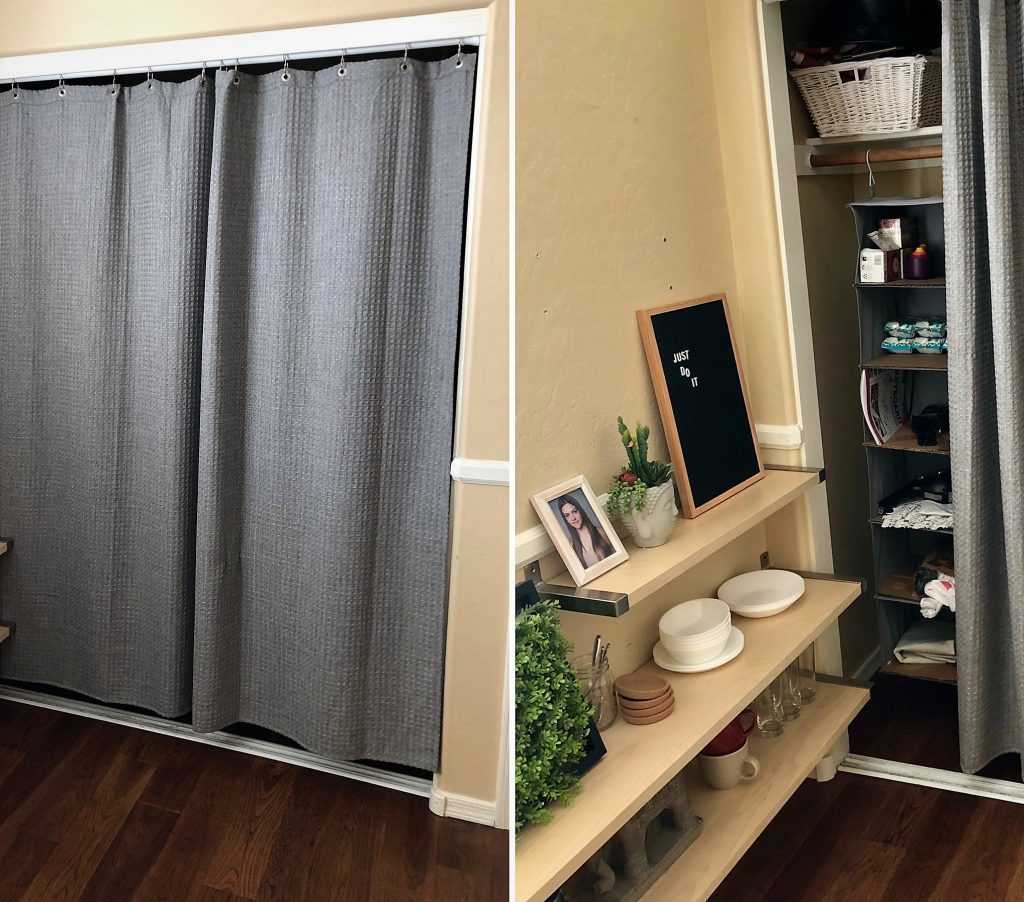 *Pillowcase or linen set holder?! – Storing sheets, pillowcases and blankets can quickly turn frustrating as the piles fall off each other and the matching sets get mismatched.  Try this…simply roll (instead of folding) the coordinating fitted sheet, top sheet and matching pillowcases and then stuff into one of the pillowcases.  Now all stack neatly and sets are kept together.
I especially love this trick when I need to make up a guest bed for arriving overnight guests. I wish I could say I thought of this tip because I feel like I did, but I suspect I read this somewhere once.  I finally tried it and it works great! 
*Outdoor Decor – My daughter purchased cute little cans from the dollar store and filled them with fake plants.  These attractive accents become outdoor decor that looks so nice and is easy upkeep since the plants are fake.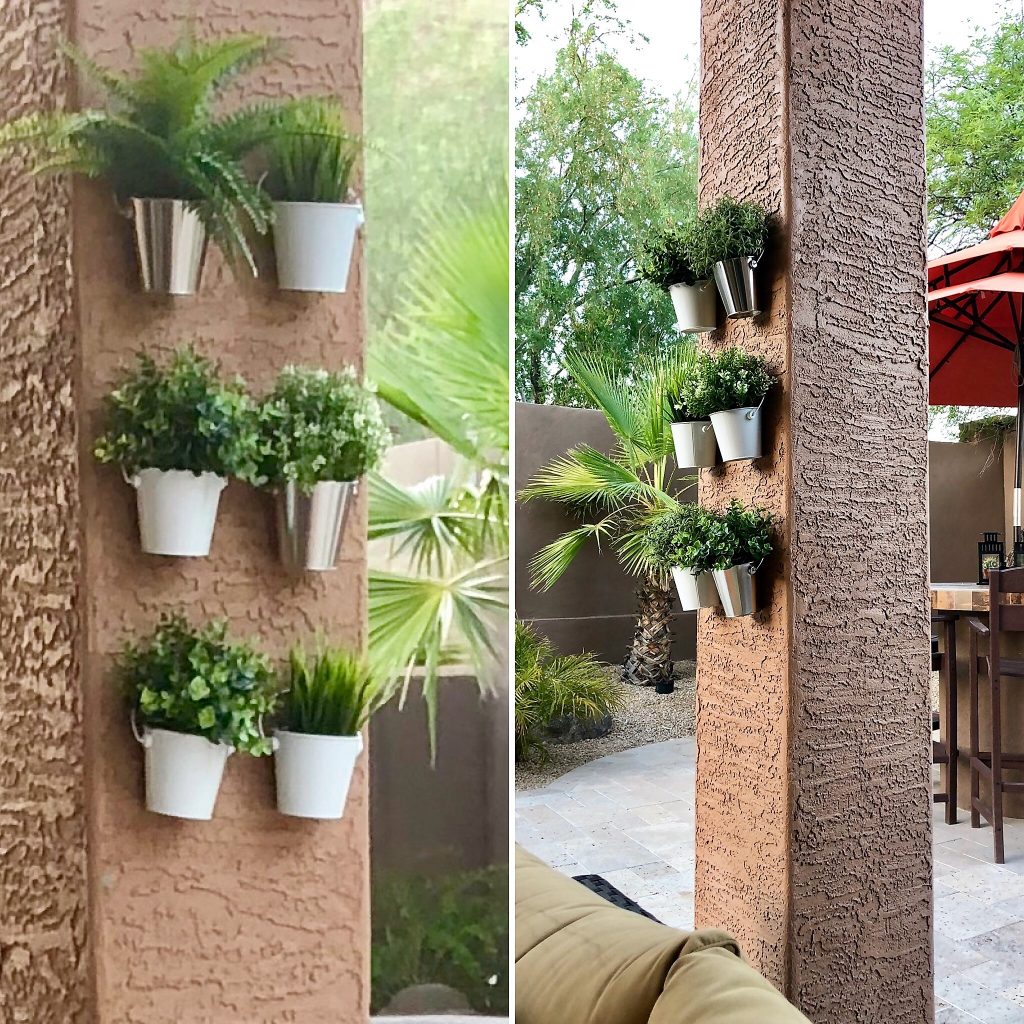 Thank goodness because a green thumb, sadly…I do not have! 
*Olive oil or head-to-toe beauty potion?! – Out of all the kitchen staple beauty remedies I have tried, good ol' olive oil remains the best one I have found.  For dry cuticles, chapped lips, dry hands and more.  Slather or spray some olive oil on your skin the next time you are cooking.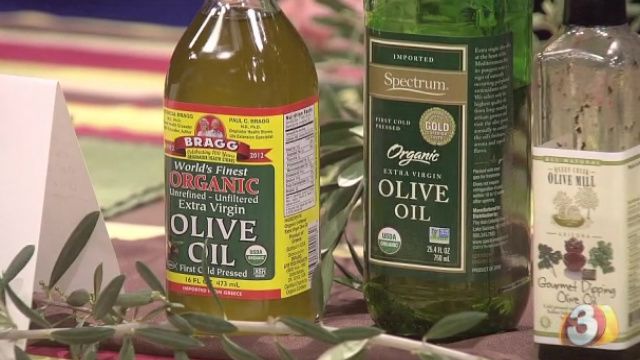 Your skin and your pocketbook will love it!  All brands work but I especially like the three pictured above. 
*Magazine rack or ballcap holder?! – I first tried this and showed it in my closet makeover segment a few months ago.  It has stood the test of time and my husband's hat grabs.  This works, stores the caps nicely and easily displays the exact one he is looking for so if you have an old magazine rack that isn't used as much, since most of us have switched to digital reading, use it for cap storage.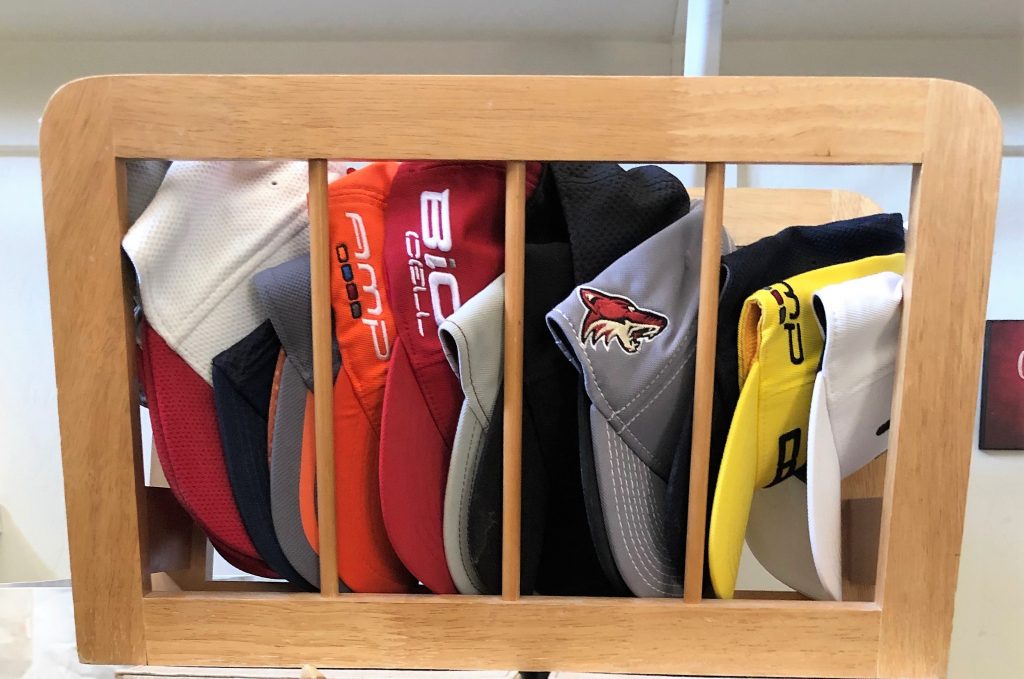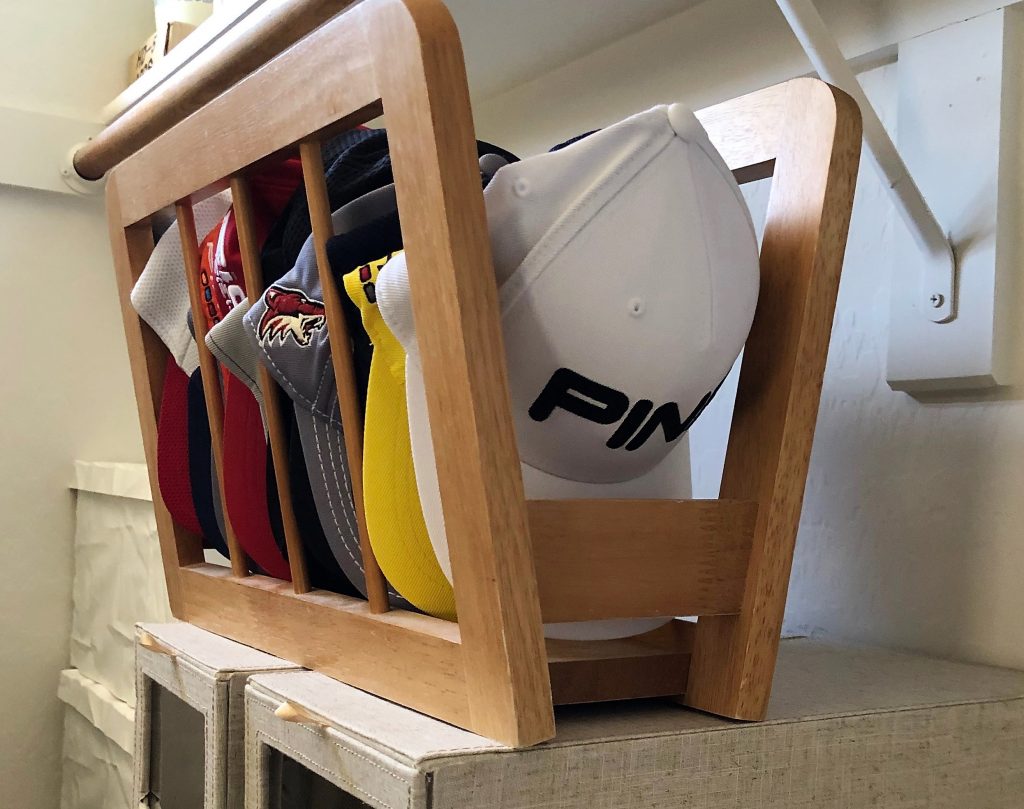 *Rubber band or earth friendly food clip – My mom taught me this one because she tries to be as green as she can.  Instead of wasteful plastic baggies that continue to add to the overflow of plastics that is choking our planet, use the rubber band from your newspaper to wrap an open food bag for storage.  The same rubber band can be used repeatedly.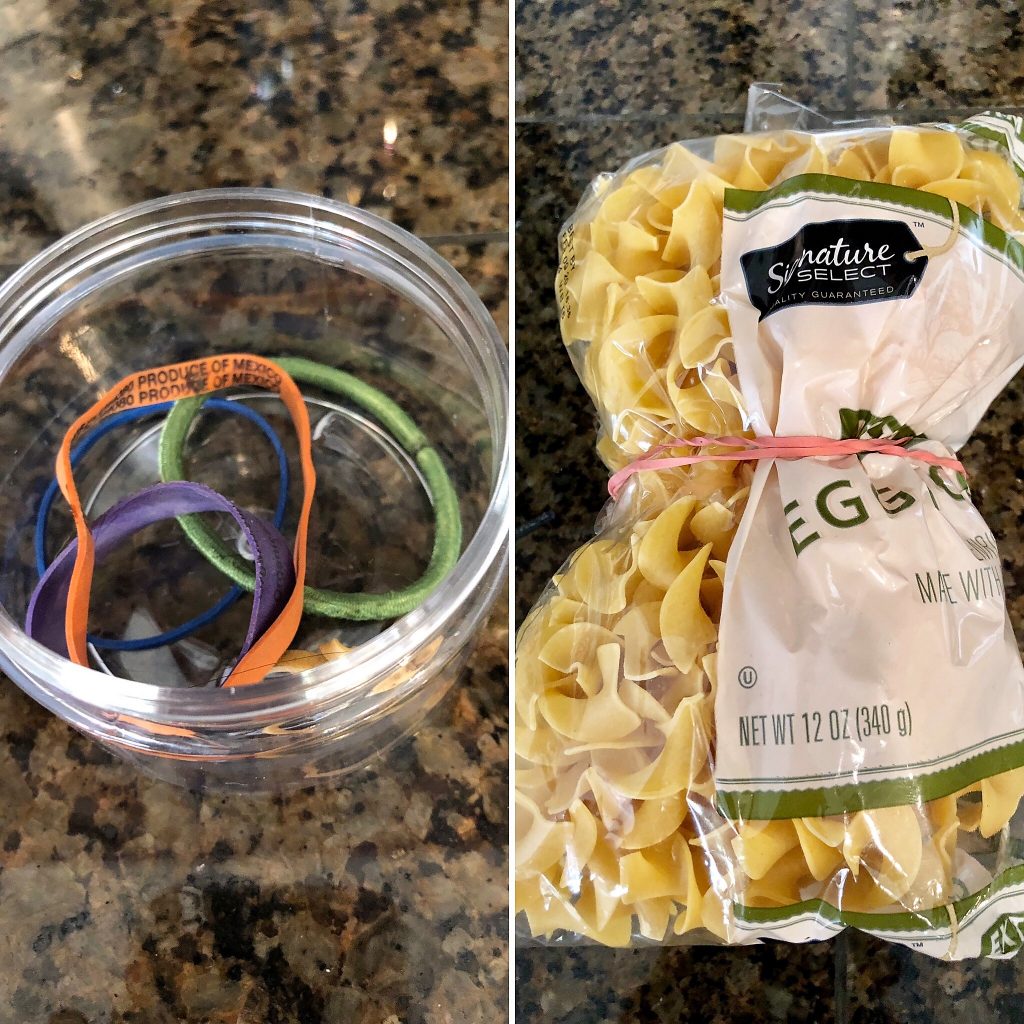 *Ruler or remote holder – I must give a shout out to my son's girlfriend, Hannah for this helpful tip.  And I sure wish we would have listened to her to begin with because we did have to pay the $50 to replace the tiny remote that came with our Siri apple tv kit.  So frustrating!  The remote is so small that Hannah immediately suggested right out of the box, literally, that we tape it to a ruler.  Since we didn't like how that looked, we didn't do it and sure enough it was lost deep in the couch cushions.  It took some time to find it and we did, but we lost again a few months later.  We never did find it.  So now our new replacement remote is taped to the ruler and we can always find it!  Great tip! 
What home hacks do you swear by?  Share here in the comments section as we love to hear from you to help us share more helpful tips to help make our lives less manic and more managed.  Amen to that!