When West & Willow Custom Pet Portraits emailed me about their unique service, I decided to order one to give to my daughter.  She left her beloved beautiful cat, Lucy last summer when she moved out of state to go to college.  I logged on to West & Willow, uploaded a cute picture of our Lucy cat and waited for the precious pet portrait to ship.   Less than two weeks later the pretty portrait arrived.  I was thrilled with how much the picture looked exactly like my girl's Lucy kitty. I also appreciated the modern and simple design that fits in nicely with any type of home decor.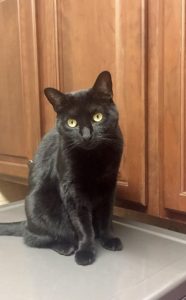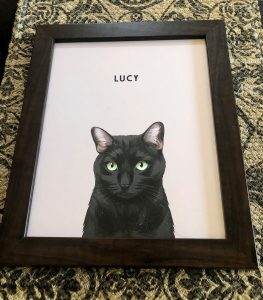 The portrait came out so cute! I love how West & Willow framed Lucy with her name on the top of the portrait.  It does look like her!  I was very excited to give this unique gift to my daughter when we went to visit her.  It was fun to give our girl such an unexpected surprise.  She misses her kitty, so it was special.
We arrived with the portrait hidden in a "just because" gift bag.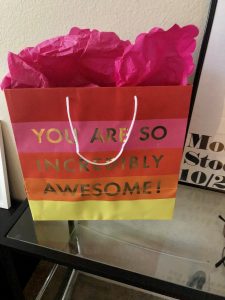 Our girl had no idea what this mystery gift could be and that made it fun!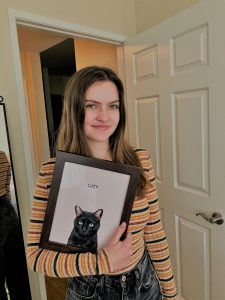 She was surprised and she loves it!  We found a special place for her Lucy portrait to be displayed in her college home away from home.  Lucy misses her human and our college student misses Lucy, so the West & Willow pet portrait is the perfect present.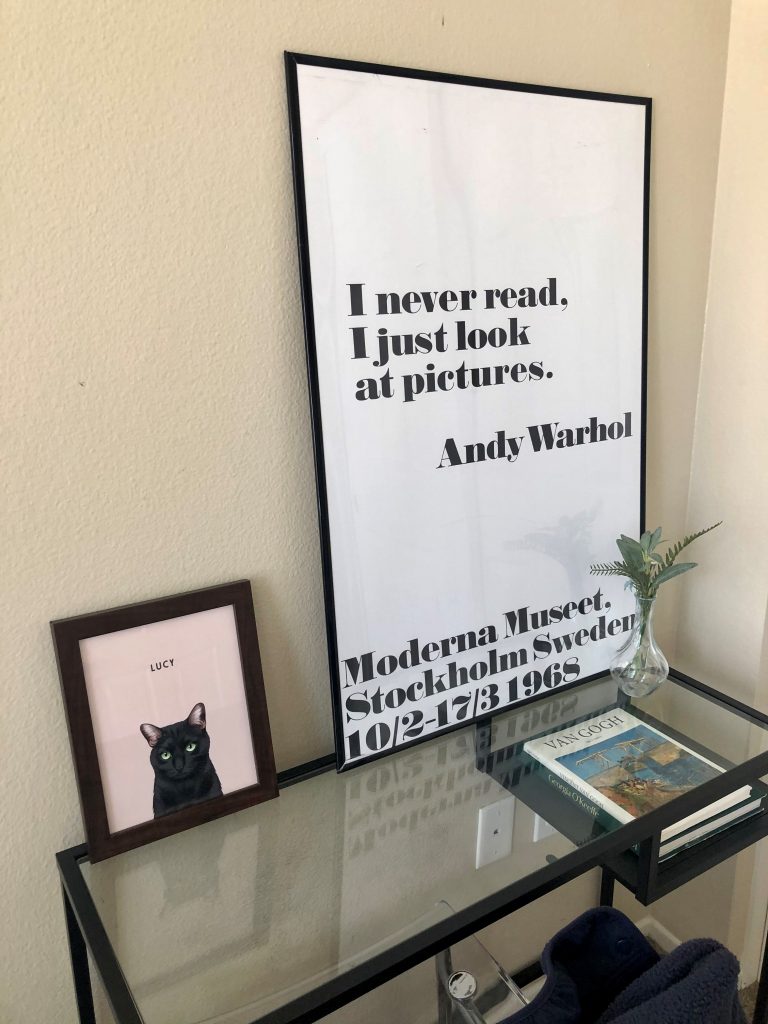 The West & Willow portraits come in different sizes depending on how many pets are pictured.  For one pet, like our Lucy portrait, the cost is $60 for a personalized image that comes perfectly placed in a nice quality 8 x 10 frame.  Frames come in black, white or walnut in either a size 8 x 10; 12 x 16 or 18 x 24 (price increases with size of frame).  The background of the pet portrait comes in shades that include soft white, dusty pink, charcoal grey, terracotta, sage or pampas grass.  Posters without a frame can also be ordered.  Have more than one furry family member you want in the portrait?  West & Willow can create a portrait that shows up to three pets.
The price does increase with each animal.  It is triple the cuteness for sure!
West & Willow also sells phone cases and quote signs.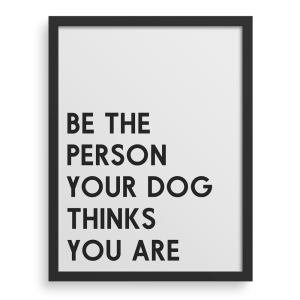 I am so happy with our Lucy portrait that I'm planning to order more. We have three additional cats so they need a portrait, too! This thoughtful item also makes a perfect gift idea for the pet lover on your list.
Want to order one for yourself or as a gift?  Use the promo code, PAWFRIENDS15, which gets you 15% off an entire order at West & Willow.
A big thank you to West & Willow for providing a complimentary pet portrait for us to review.  Our opinion about how much we love West & Willow is 100% our own.