As seen in my AZTV Channel 7 Arizona Daily Mix morning show, here is my spring-cleaning cool organization tips and tools. Cutting through clutter and getting organized as you do your spring cleaning feels so great to get done. Less clutter equals less stress. See the segment and then look at my article underneath the segment for prices, where to buy and more info. After 24 years of raising kids, my clutter stacks are high, so I'm taking it one step at a time. Each time I get one pile organized, I feel so accomplished. Here are a few of my tried-and-true organization tips and tools:
Quick Tips

1. Internal or External Organizer?
Ask yourself if you are an internal or external organizer. Internals like to store their organized gadgets and neat stacks out of sight under a cabinet or in a drawer. Externals like to place their cool organization tools out on display with clever items that keep stuff straight and look nice. For example, internal organizers keep jewelry in a box under the sink, while externals keep it stored in a pretty jewelry box that sits on top of a dresser. Knowing which one you are helps to streamline the process of getting started. I have ideas for both types below.
2. Sift, Sort & Shop
*Sift through your stacks of stuff.
*Sort into piles of stuff to keep, donate, recycle and trash.
*Shop for just a few organization tools depending on what's needed. I found helpful items at CVS, The Container Store, Amazon, Ikea, Bed, Bath and Beyond and The Dollar Store. You don't have to spend a lot to buy a few organization cool tools.
3. The Etc. Box System
*Etc. Basket – I purchased this handy large decorative basket from Michael's a few years ago. I'm not sure they carry this anymore but you can make any box or basket your Etc. holder. I use this to hold mail and items that I find for my adult kids. When they visit, they go through the basket and take, donate, recycle or trash the stuff.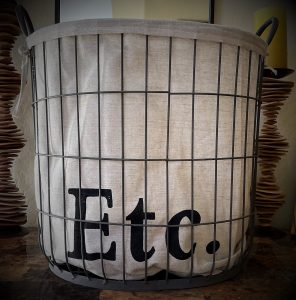 As I find things it is easy to simply toss in the Etc. basket until their next visit. This is a great tip for empty-nesters, but this works for anyone needing a place to store things that belong to other family members until they can take the item.
Cool Tools
4. Use Hanger Storage Stacker 
Get the empty hangers off the racks and place neatly on a storage tower. This looks nice and makes finding the perfect hanger quick and easy. I bought mine several years ago at The Container Store for $29.99…but shop around!
5. Nook Hooks 
I bought this box of Nook Hooks at CVS for $14.99. This simple tool can be used to organize and store all kinds of items.
It comes in a 3-pack and although the box photo shows the item holding mugs, I use it for my husband's many ballcaps in our closet.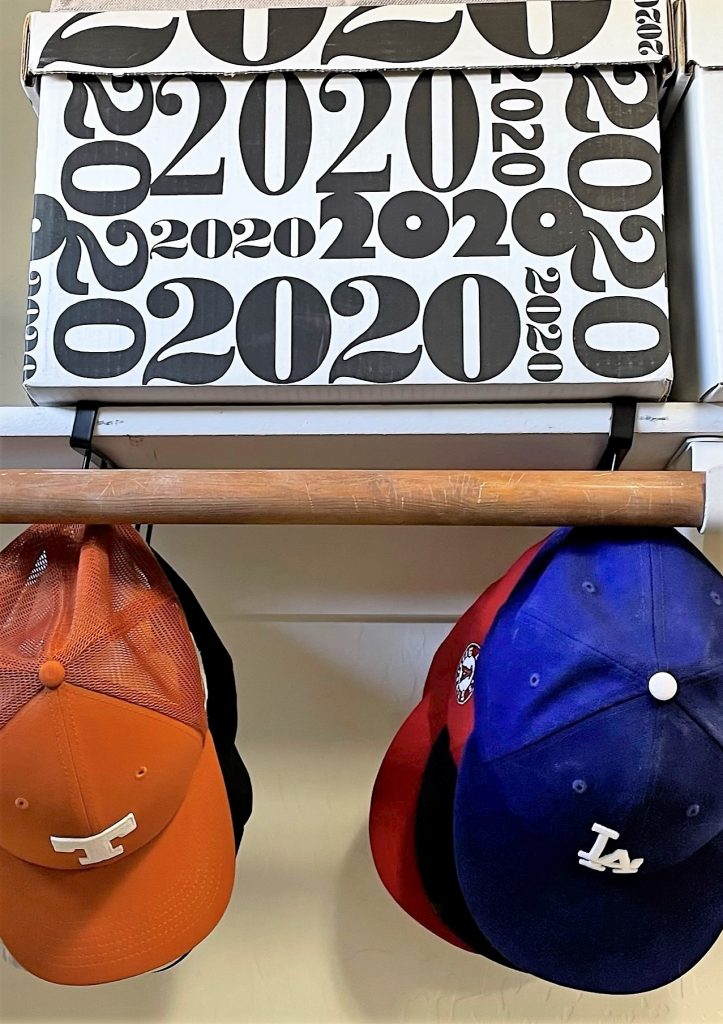 It works great and doesn't require any tools as the hook holder easily slides on our closet shelf. Nook Hooks are also sold at Amazon for $14.99.
6. Annual Year Box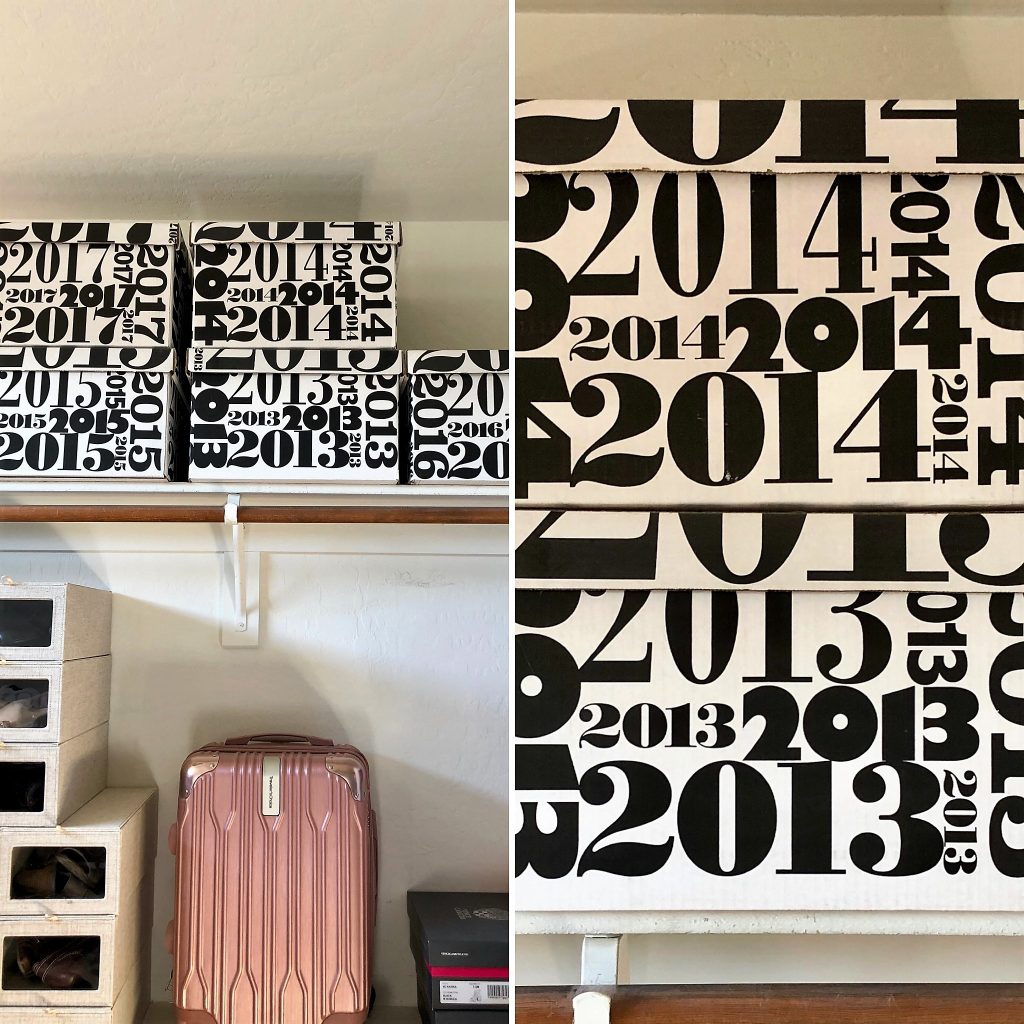 This box system was especially helpful when  we needed to find documents for refinancing our home. The Container Store used to stock the marked year boxes, but they only sell plain white boxes now. Every January I label a box with the year. I keep it by my desk and file items I want to save as I go. Then in December I store the box with the others and start over again. This is a great system!
7. Drawer Divider
I bought the Good Grips brand from Bed, Bath & Beyond ($22.99 for a set of 2) a few years ago and they have held up nicely. They are also sold on Amazon for the same price.
I used one to organize my pajama drawer and I was able to fit more jammie sets in the drawer with the divider.
You can also organize your nighties by season using this handy divider, too. I found sets that had been mismatched in different drawers. This also makes packing for a trip more efficient.
8. Water Bottle Holder
I list the Water Bottle Holder ($27.99 on Amazon) in my top ten list because this smart organization item encourages us to be earth-friendly. Have a helpful storage place for water bottles to encourage using these over plastic water bottles. This can also be used to store your white wine in the fridge. Cheers to that!
9. Battery Storage Box
The Battery Daddy Storage System ($21.99 at Bed, Bath & Beyond) is one of my most recent favorite finds! Once I pulled batteries to store in this handy box, a lot of much needed drawer space quickly opened up since our batteries were taking up space. This item is a smart purchase because if you have a power outage or an emergency and need to find your batteries quickly, this will do the trick. Since it comes with a handle, it can sit upright for easy storage and access. The Battery Daddy also includes a helpful built-in battery tester.
10. Ball Claw
Parents and athletes will love this device because it stores all kinds of sports balls off the floor and on the wall. The round Ball Claw ($12.99 at The Container Store) that I purchased fits soccer, volley, basket and kickballs. The claw is lightweight and adheres to any surface with the mounting hardware included. Not only will this product keep balls stored nicely in place, but your kid athlete may get to practice on time since the ball is easily found!
11. Smart Phone Stand
How many times have you been delayed getting out the door because you are looking for your phone? Unfortunately, leaving home without our phone is not an option for most of us since our phones really are smart and do so much for us. I have used other stands before but they were flimsy. The Beare Smart Phone Stand ($17.99 at The Container Store) is my pick because it is sturdy and can display your phone three different ways. When you aren't using phone, store it on the stand so you can always find it in a pinch.
12. Accessory Organizer
The Umbra Gold Prisma Bracelet & Earring Holder ($9.99 at The Container Store) serves several purposes for me. First, it obviously stores jewelry, but it I also use it to hang the exact accessories I plan wear the next day. If I have an early flight to catch or crack-of-dawn appointment to make, I lay out my outfit the night before, including the accessories and shoes. It definitely saves time. I also like to pack this in my suitcase so I have a place to organize and have my jewelry on hand when I'm out of town.
13. The Photo + Craft + Storage Box
I am very excited about this photo organizer because once I started to tackle my piles of pictures from 1985 (yep, that's what I said!), this photo box made my job easy. Plus it is fun to go down memory lane IF you have a system at hand to look at those prized photos, but then to safely store them and not return them to the overwhelming pile. I bought the Photo + Craft + Storage Box at The Container Store for $29.99. It holds 12 cases that holds 100 4 x 6 photos in each case. I'm so happy with this purchase that I plan to buy another box. This also sells in a verstion that fits 5 x 7 photos.
14.  The Container Store Label Maker
I am obsessed with this! Once you start to label your organized projects, you really feel the satisfaction of completion. I started to label a few boxes in my pantry and that encouraged me to clean out the shelves. Lo and behold, I found some super expired boxes of rice and other foods. My pantry is now organized, clean, and with labels that look great.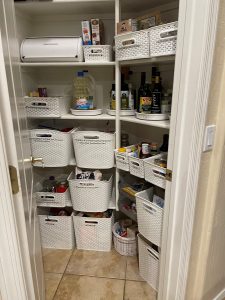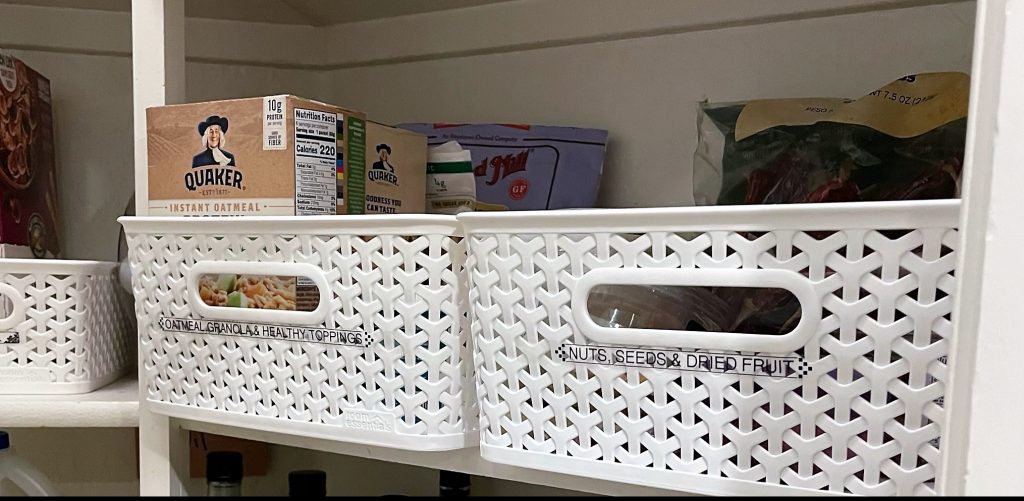 Plus, the labels help me to find ingredients when I'm cooking so the meal gets done faster. Lastly, when the pantry has labeled compartments, I save on groceries because I don't duplicate. I can't recommend a label maker enough for all kinds of organization projects! This one comes with a carrying kit, batteries and two cassettes. One big downside is that this Brother Label Maker is a splurge with the $49.99 price tag at The Container Store.
What get organized tips and tools do you love? Share in the comments section and happy spring cleaning and organizing!