As seen in my Arizona Daily Mix segment today. Father's Day is less than one month away so here are fun and fabulous gift ideas for the different dad personalities on your list.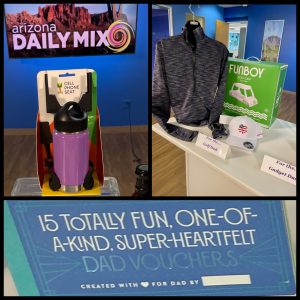 I did the shopping to show you the perfect Dad's Day gift ideas to help celebrate the pop in your life! Take a look. This first one will melt your heart! See the product information and links under the segment videos.

For The Sentimental Dad…
Tell dad how much he is loved and appreciated by writing a heartfelt letter on a soft and cozy blanket. The original Love Letter Blanket from Frankie Print Co. is a thoughtful and personalized gift that he will cherish forever. Simply write out a letter to dad and Frankie Print Co. will print it on a blanket that looks like a piece of lined notebook paper with fringe around the edges. Make it extra personal by using your own handwriting or keep it simple by using Frankie Print Co's cursive handwriting font. The Love Letter Blanket is 100% cotton and comes in three sizes. Sold at: Frankie Print Co. , Etsy and Uncommon Goods.
For The Fitness Dad…
A unique line of athletic and athleisure that has a one-of-a-kind opening in the sleeve for easy access to watches and personal fitness trackers. All items are constructed of high-quality, dry wick material with streamlined designs that contour to all body types for easy flexibility during any activity and all-day comfort. The fabric is soft to the touch so it prevents chafing. The shirts have a fuel pocket in the back and stylish thumb holes. ObservaMé is a black female-owned business that's made, manufactured and distributed in the USA.
For The Grill Master Pop…
O-Yaki Perfectly Portable Grill Set

 
For the dad who spends his weekends grilling for the fam, give him the O-Yaki Perfectly Portable Grill Set! It has all the barbecue accessories he could want and need for cooking outside. It comes with tongs, carving fork, carving knife, skewers, spatula and a basting brush in a convenient zippered storage case so he can take it with him wherever he goes. This is also sold on Amazon.  
Protect Dad's hands from flames with a good pair of gloves. O-Yaki's heat-resistant Barbecue Grill Gloves are durable, fireproof mitts that can be used indoors and outdoors. Silicone grips on the fingers and palm for non-slip grip. Made of ultra-high strength Dayan aramid fiber to withstand high heat with a soft interior lining. The gloves come up the wrists to the forearm area so your hands and arms are protected. Also sold on Amazon.
I love to support local and this is one tasty high quality sauce to give Dad! Pair this OKB Sauce with the barbecue accessories above for the perfect gift basket.  This tasty sauce is a handed down family recipe that is 180 years old!  It was originally concocted in the backwoods of Western Kentucky and has been shared from generation to generation!  With vegan whole ingredients, this is a good choice for a sauce that Dad can add to all kinds of his favorite recipes. No high fructose corn syrup, gluten, soy or MSG is in this delicious sauce.  Purchase this savory and smart sauce option brand at Fry's Marketplace, Natural Grocers, AJ's and select Bashas in the Valley. This is also sold at Prescott Meats in Prescott and other quality meat stores in the Phoenix metro area.
For The Driving Dad…
For the dad who spends time in the car commuting to work or driving to appointments, give him a cell phone holder that will ensure safe, hands-free driving. Cell Phone Seat fits snugly in a vehicle's cup holder, allowing you to drive hands-free while still using your cup holder for a drink. It doesn't block a vent or attach to the dashboard like most cell phone holders for cars. Due to its unique design, it holds any phone, even with cases, vertically or horizontally. You can even charge your phone while it's in the holder. For more information, visit Cell Phone Seat and Amazon.
For The Gadget Dad…
For the dad who loves gadgets, no more 'tech neck' discomfort or inconvenient handling of his phone when trying to read an article or watch a video with Lookstand. This device attaches to the back of any smartphone and extends up to a full 7-inch height so the phone is at the perfect ergonomic viewing angle in both portrait and landscape modes for comfort and productivity. Features include adjustable viewing angles, three preset heights and 360-degree rotation. When not in use, the Lookstand easily folds down and remains attached discreetly to the back of the phone. It can also be used for taking selfies or as a tripod. Comes in five colors. Learn more at www.hellolookshop.com and available on Amazon.
For The Pet Dad…
These dads of furry family members count, too! 
*The Dogfather Whiskey Glass
Fun, functional and a fabulous way to gift a Dad's Day gift from the family dog with the 11 ounce Dogfather Whiskey Glass Sold on Amazon for $12.95 with express delivery.
For The Coffee Lover…
The electric Vinci Express Cold Brew coffee maker lets you enjoy homemade cold brew coffee anytime you want it. The Vinci Express Cold Brew eliminates the long 18- 24 hour wait of the traditional cold brewing coffee methods and brews fully extracted, delicious cold brew coffee in as little as 5 minutes. Simply fill the carafe with room-temperature water, add medium (drip) ground coffee to the filter, select your brew strength, and enjoy deliciously, fully brewed cold brew coffee. Four settings to choose from ranging from light to extra bold. Compact for easy storage in the refrigerator for up to 10 days. Sold at the Vinci Express Cold Brew site hand on Amazon. It's one of the top cold brew coffee makers on Amazon! (Price: $79.99)

For The Golf Dad…
Black Clover Americana Classic Golf Cap

 
Sold at Dillard's Scottsdale, this golf cap will turn heads on the golf course with the USA Americana Classic design, which is also perfect for 4th of July events. Black Clover is a fine line and this cap is made with a sweatband lining and a snap back. $30 at Dillard's Scottsdale and at this link.
Fun Boy Golf Cart Float
Sold at Dillard's Scottsdale, this fun pool float will make Dad laugh when he unwraps this unique Dad's Day gift. He will enjoy relaxing with a cold one, in the float's two cupholders, in this festive float in the pool after a day of golf. $139 at Dillard's Scottsdale and at this link.
For The Sharp Dressed Dad…
Cremieux Linen Short-Sleeve Woven Camp Shirt 
The Cremieux line is a family-owned luxury menswear line exclusive to Dillard's Scottsdale. This casual linen short sleeve woven camp shirt is stylish and fun all in one. $75 at Dillard's Scottsdale and this this link.
Cremieux Spread Collar Solid Knit Dress Shirt
The Cremieux line makes beautiful, soft and breathable dress shirts in classic, modern and slim fit that is perfectly sized to any range of Dad. Comes in several colors for $79.50 at Dillard's Scottsdale and at this link.
JZ Richards Tie
The JZ Richards line is a handmade tie line with all fashions made in the USA in Boulder. The handsome designs are custom-designed and made from 100% silk. Perfect for the sharp dressed dad. Sold at Dillard's Scottsdale.
Fun Stuff…
Football Ice Mold
Makes four large football ice molds. Fun! $9.99 at Barnes & Noble stores.
Crooner Soap on a Rope
This oak moss scented soap on a rope is a fun gift for the singing in the shower dad! $14.99 at Barnes & Noble stores.
15 Totally Fun, One-Of-A-Kind, Super-Heartfelt Dad Vouchers
Fun and sweet gift book of coupons with vouchers that say things like "fun afternoon together" and "favor of choice"…love this! $9.99 at Barnes & Noble stores.