With travel and weddings on my brain lately (our son gets married this year!), when guest writer Ryan Horban asked to write about eloping in beautiful Joshua Tree National Park, I agreed that this would be an interesting and fun article. Ryan is an award-winning destination wedding photographer based in Southern California.
Ryan says:
Engaged? Considering outdoor nuptials in a beautiful setting? Then consider tying the knot in the Joshua Tree National Park. Here are five things to know about eloping in Joshua Tree, California that will make your epic elopement magical in the Mojave desert!
How To Elope In Joshua Tree
The wedding and event industries were absolutely rocked by COVID-19 over the past 2 years, but one of the good things to come out of that wreckage was the shift from big extravagant weddings to intimate elopements. With lockdowns and guest count restrictions forcing brides and grooms to adapt, one of the ways couples moved forward was by opting for adventurous destination elopements. And one of the locations that quickly became a hot spot for those epic elopements was Joshua Tree National Park. If you are planning a wedding or thinking about getting married in Joshua Tree, California, this article will outline the 5 things you need to know about how to elope in Joshua Tree!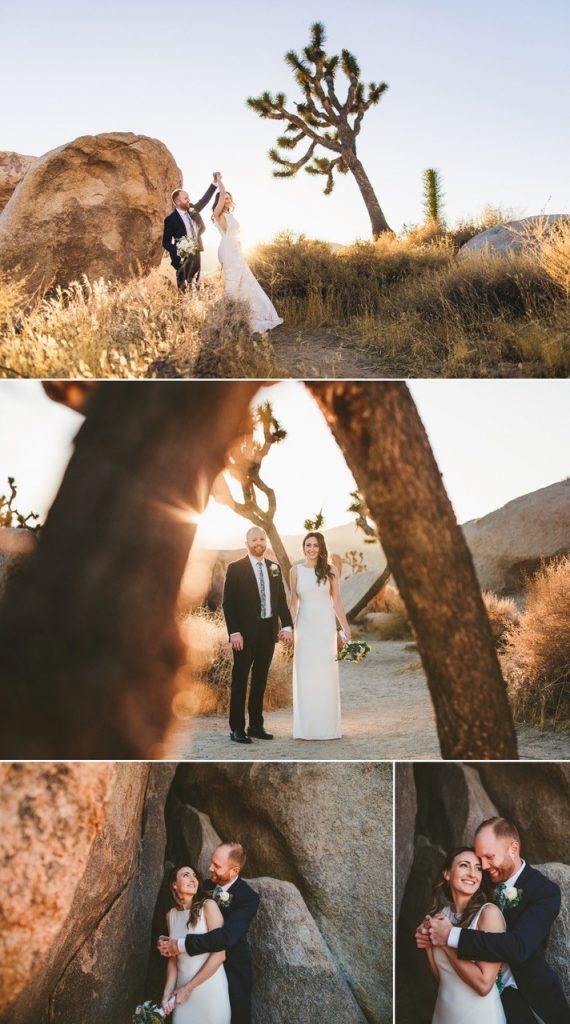 1.  Where To Stay In Joshua Tree
The first step when you make elopement plans is to figure out where you are going to stay. Now there is no right or wrong answer here and each couple really needs to choose the option that best suits their style. But the most popular option is to simply find a Joshua Tree Airbnb or one in the surrounding Yucca Valley area. Couples looking for seclusion and privacy before their big elopement day will find an assortment of Airbnbs in Joshua Tree that have that desert vibe and even include an outdoor shower for the couples…fun!
If you prefer city life over desert landscape then we recommend you stay in nearby Palm Springs which offers a wide array of 5-star restaurants, hotels, and awesome things to do!
2.  Elopement Photographer
Choosing your Joshua Tree elopement vendors before choosing a location is the best way to plan your Joshua Tree wedding. The reason? These industry experts know the area and can act as your elopement guides, and no vendor will have more experience in the park and can help you choose a ceremony location than a Joshua Tree elopement photographer. Wedding photographers not only know the best elopement locations for a ceremony inside the national park, but they also have information about hair and makeup artists, officiants, wedding planners, videographers, and everything you need to plan your destination wedding.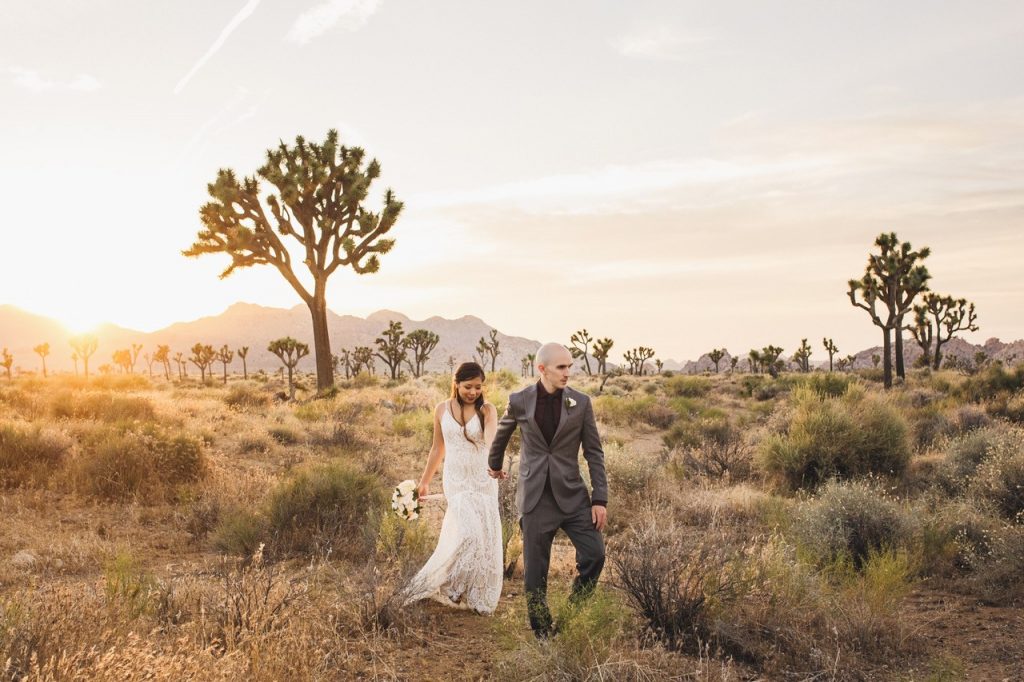 3.  Ceremony Location 
As we mentioned earlier, the best thing to do is to hire your elopement vendors before choosing a ceremony location because they can give you all the pros and cons of each spot. But if you have that take-control, A-type personality, here are some of the most popular spots for elopement ceremonies in Joshua Tree:
At Your Joshua Tree Airbnb
The Iconic Joshua Tree House
Cap Rock
Turkey Flats
Porcupine Wash
Split Rock
Hidden Valley Picnic Area
Indian Cove Amphitheater
Any of the above spots will make for a perfect elopement experience but always remember that this is your wedding day and you can choose any location you feel connects with your soul. There is open desert, stunning rock formations, and gorgeous desert landscape all throughout the park so if you want to avoid crowds and have a more intimate elopement you can simply find and choose a random spot and get married there.
Note: If you are planning a micro wedding (25 or less guests) it would still be advised to hire a wedding coordinator, even if it is for day-of coverage, to help with the logistics and planning.
4.  Joshua Tree Marriage License 
Before you plan your dream California elopement it is important to make sure all the paperwork is filled out properly. Joshua Tree is located in San Bernardino county so you will want to contact the county to get the latest permit information required before your adventure elopement.
Speaking of paperwork, you will also want to contact Joshua Tree National Park in regards to a special use permit for photography. Wedding photographers will expect you to have all the necessary paperwork before the wedding day, as any Joshua Tree wedding package does not include a permit fee or parks permit. Standard practice is that the couple is responsible for handling all paperwork.
5.  Time To Visit 
Before you get married in Joshua Tree you will want to make sure you choose a date and time that is optimal for an elopement. First of all, Joshua Tree is located in the Mojave desert which means the winter can be very cold and the summer can be very hot. Make sure you choose a month that avoids peak heat more than anything! Even popular wedding months such as May and September should be avoided if possible, as triple digit heat is common, unless you plan on getting married early in the morning or in the early evening. Also, consider that the weekends are when most people get married in Joshua Tree and when visitors come to the park.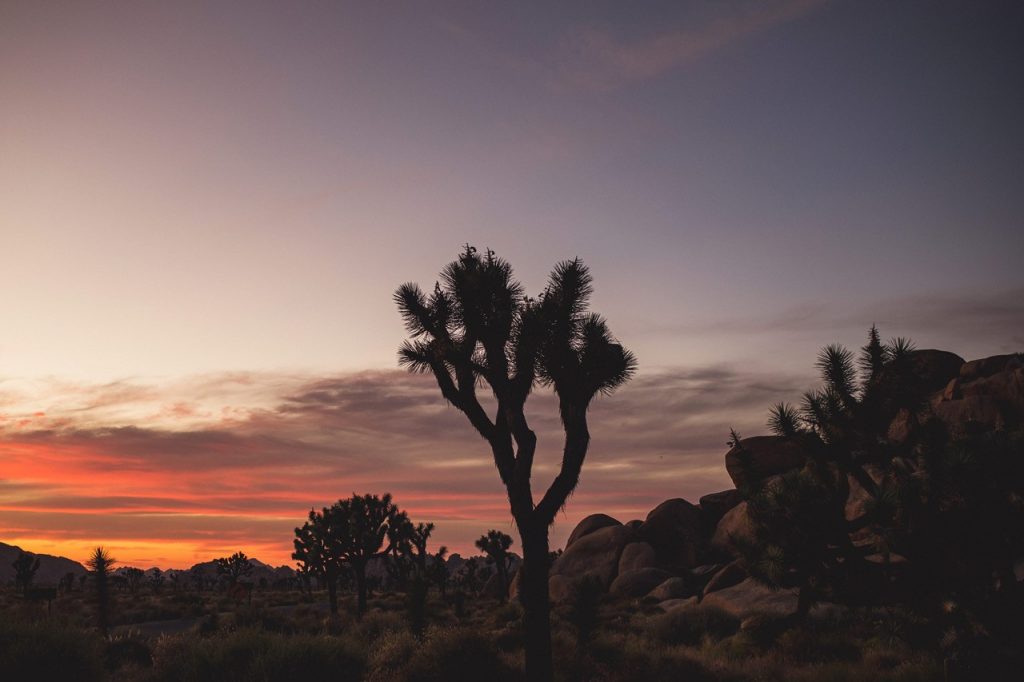 That means there will be crowds everywhere and parking can be a challenge. Therefore, it is best to rock the elopement on a weekday if you want maximum intimacy and privacy for your big day.
Conclusion
There is nothing quite like an adventure elopement in Southern California, and Joshua Tree is certainly a beautiful location for the boho-bride. Joshua Tree offers majestic views, stunning rock formations, and stunning natural landscapes that are all the wedding decor any stylish bride and groom need. The only remaining question left is when are you coming to Joshua Tree National Park?
About today's guest writer:
Ryan Horban is an award-winning destination wedding photographer based in Southern California. His work has been featured in The Knot, Green Wedding Shoes, JuneBug Weddings, People Magazine, and numerous other print and online publications. 
Today's interesting and fun guest post is sponsored.