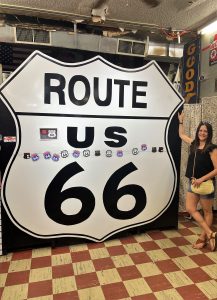 Road trippin' has become my jam in my empty nester chapter. I especially love sharing tips about great getaways in Arizona. With today's article, I invite you to go road trippin' with me, Rach to Williams, Arizona. You won't believe just how much there is to do, see, eat, sip and ride in this historic town that is also known as the gateway to the Grand Canyon.
Read on to…
*see fun action videos of ziplining along the downtown Williams Route 66 and riding the rails on the Grand Canyon Railway 
*discover Arizona's very first Canyon Coaster mountain roller coaster
*learn about the Mountain Hill Tubing Slide that operates year round for speedy summer and winter wonderland snow tubing
*see how to take a breathtaking day trip to the South Rim of the Grand Canyon via a relaxing train ride
*get tickets to take the kids to see Santa Claus on the annual Polar Express train
*know where to stay in Williams
*know where to dine and wine and drink brew, too
*and where to shop
It's all here in my article about the popular Route 66 stop, Williams, Arizona.
My travel buddy on this road trip tour was my daughter, Alexis who spent some on her summer break from college hitting the road with lucky me. I may have attempted to do a back flip of joy when she agreed to hit the road with her mama!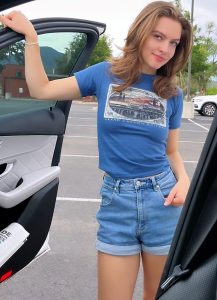 Here we are…not ready/ready…the mom & daughter road trippin' duo.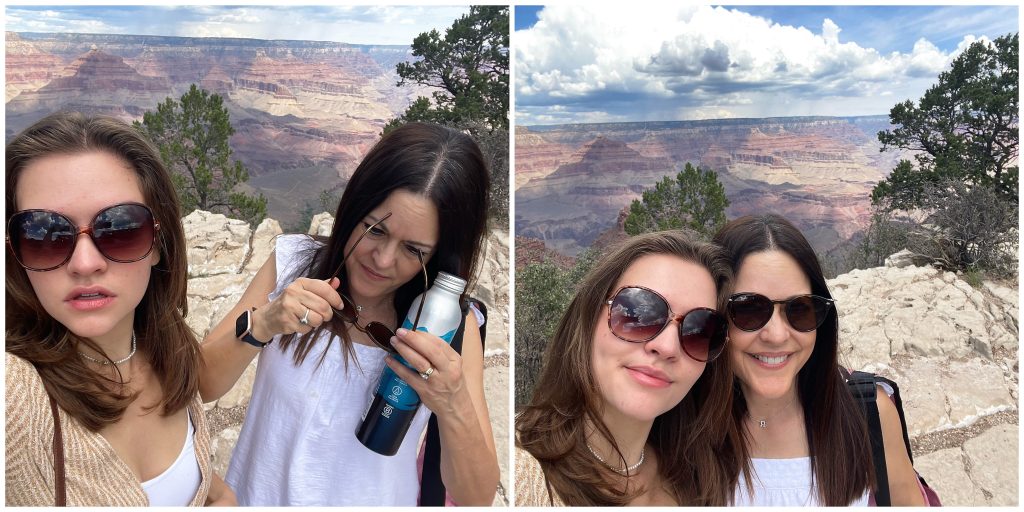 Williams led us to the gorgeous Grand Canyon. I made up for my longtime Mom fail since my 20-yr-old Arizona-born kid had not seen the majestic Grand Canyon. It did not disappoint and was even more breathtaking than she had imagined! You can check out a bit of our train ride and her reaction in the video below.
But let's get back to wonderful Williams. Here are our ten reasons (in no particular order) we recommend exploring this truly terrific township.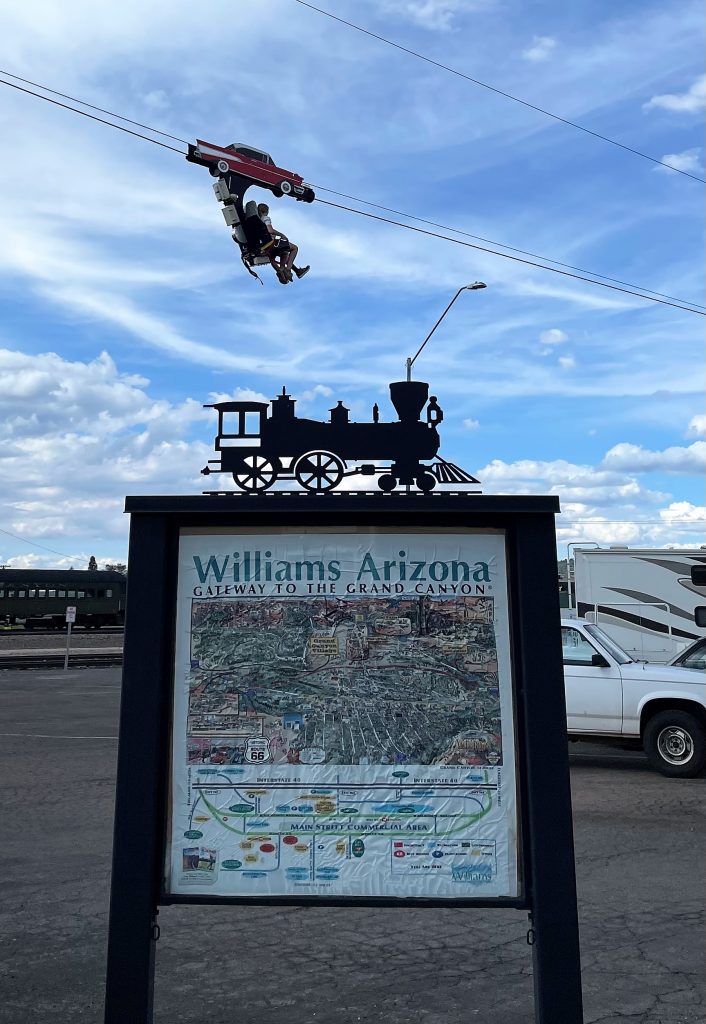 Just 174 miles north of Phoenix along the historic Route 66, the 3-hour car ride to Williams is an easy trip. Don't let the small size of this settlement fool you. There is plenty to do in this pine tree-covered area. Action-packed attractions for families, shops with memorabilia for the history buffs and the Grand Canyon Railway for train lovers. There is nothing not to love about visiting Williams!
1. The Route 66 Zipline
Williams is full of surprises like this zippy small zipline that runs right through downtown. We had to try it for ourselves! For those of you unsure about zipping, this one is short and sweet. Take a look…
The Williams Route 66 Zipline…Video of our enjoyable zippy ride…
That was a blast! All the details, ticket information and hours are here in the The Williams Route 66 Zipline.
I have NOT told my roller coaster loving daughter that I learned AFTER our trip that Arizona's very first mountain roller coaster is in Williams! Oops!
And just when I had redeemed myself about the Grand Canyon delay! I am going to owe her a repeat road trip after she reads this article! Who else loves roller coasters? Well, this one is truly unique…
2. The Canyon Coaster
Yep, we will return to Williams to strap in and give this scenic and unique coaster a try! I say unique because the rider controls the speed and the ride itself is beautifully scenic with twisty turns as riders progress down the 1-mile mountain track. How cool is that?! Get all the details here at the Canyon Coaster Adventure Park website.
3. Summer Mountain Tubing – Canyon Coaster Adventure Park
And…um…I also learned about the equally fun Mountain Hill Tubing slide AFTER our trip, too! It looks like I will be redeeming myself with a do-over trip to Williams next summer…but then again, I also win to get more time on the road with my college daughter. Although she may want to go sooner since the 400-foot mega slide doubles as a snow slide when Old Man Winter arrives. Get all the details about the tubing here. Get winter tubing information at this link.
4. Grand Canyon Day Trip To South Rim on Grand Canyon Railway
One thing I got very right on our road trip was to take my girl on a day trip to the South Rim of the Grand Canyon on the relaxing and scenic Grand Canyon Railway train.
I covered everything you need to know about the Grand Canyon Railway day trip to the South Rim experience in my recent morning show segment. See the details here and visit the Grand Canyon Railway site to get hours and prices. I highly recommend this experience.
5. Meet Santa on the Polar Express Experience
My daughter loved everything about the Grand Canyon Railway train day trip to the Grand Canyon, which makes me even sadder that I never took her as a child on the Polar Express. Learn from me and book now to take your kids on the truly unforgettable train ride to meet Santa Claus! The Grand Canyon Railway takes families round trip to the area's North Pole attraction to meet Mr. Claus himself. The festive ride lasts a little over an hour and happens twice at night with 5:30pm and 7:30pm departures. On board the train families clad in Christmas jammies enjoy hot cocoa and entertainment. The entire experience is a jolly holiday event that takes place November through January. Get more information and tickets here.
6. Staying At The Grand Canyon Railway Hotel 
The Grand Canyon Railway Hotel is the place to stay in Williams. I booked this historic property twice and had a pleasant experience both times. The rooms are remodeled and the lobby's back doors open to the Grand Canyon Railway train station for quick and easy boarding… a real plus when traveling with a family.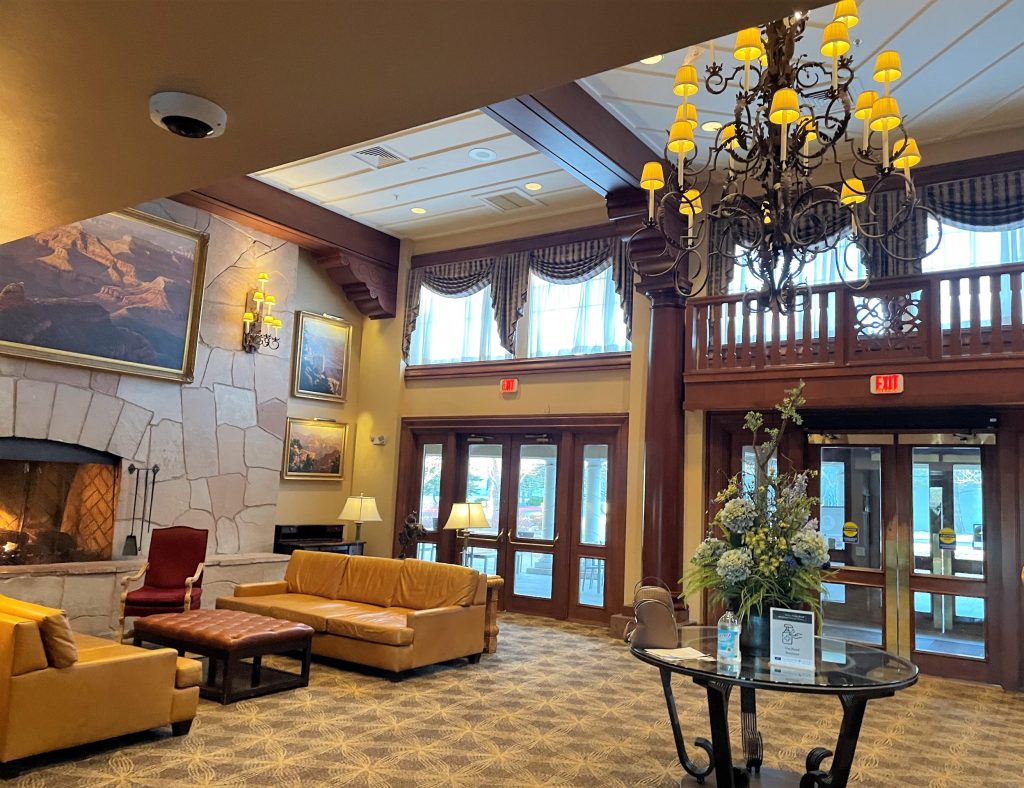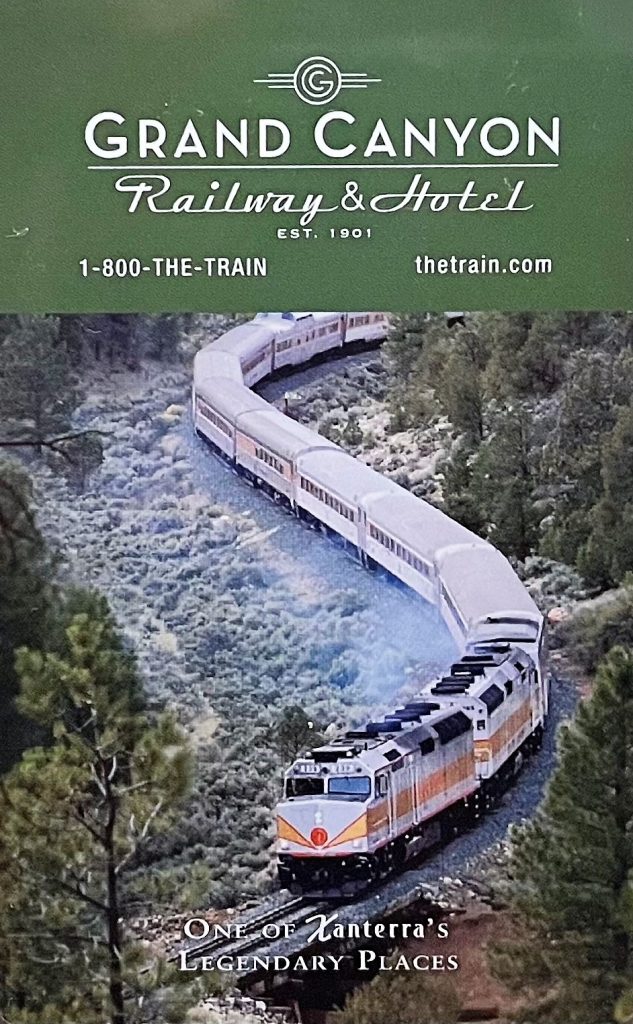 7. Delicious Dining & Wining…& Tasting Brew, Too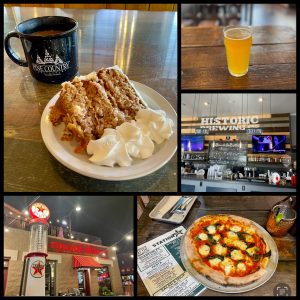 Downtown Williams is quaint with a Western flair but don't let the size fool you. Plenty of places exist to dine, wine, sip a brew and shop, too. Here are my recommended spots. When in Williams, eat and drink here…
*Station 66 Italian Bistro for incredible wood fired pizza and tasty pasta
*Barrell + Bottle House for a delicious assortment of all kinds of beer plus a full bar and grub, too
*Pine Country Restaurant for a giant selection of decadent pies and cakes
*The Red Raven Restaurant is the new kid in town. Ask to be seated by the front window to enjoy people watching while you wine and dine.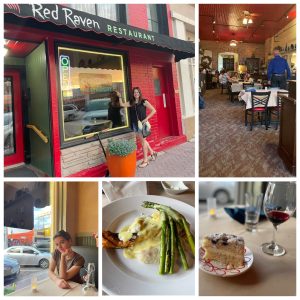 8. Souvenir Shopping in Williams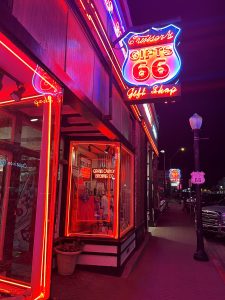 For such a small town, the shopping is ample with a great assortment of cool shops to browse. Chances are good that you won't leave empty handed. Here are a few of my favorite finds in the Williams shopping world.
*Colors of the West – Also known as the Old Glory Room, this place is packed with the good stuff. With over 12,000 feet of shopping in multiple rooms, there is something for everyone here. I went back twice to buy more souvenirs and holiday gifts. All the products are made in America. Very cool shop!
*Route 66 Museum and Gift Shop – Restored to the original 1958 appearance, the once gas station exists as it looked back in the day housing gasoline and oil memorabilia on the outside and inside. Tourists can also browse or buy gifts, keepsakes and Native American Art.
9. Checking Out The Uber Cool Cars of the Mother Road
This place is way more than just a gift shop! Vintage cars are displayed on the lot in front of the unique gift boutique AND the same cars are available to book for a mini guided tour through the town's historic Route 66. Take a ride in a 1929 Ford Model A Roadster or take photos in front of it…either way this shop is entertaining to visit.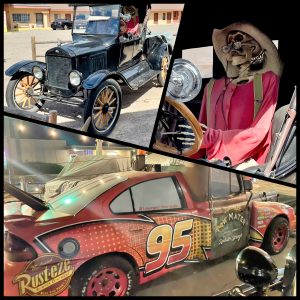 The eclectic gift shop behind the automobiles is filled to the brim with mementos and collectibles that let folks take a little of Williams home. Fun for the kids, the shop displays a combo character car from Disney's Cars movie with the visiting Lightening McQueen and Mater car smashed together into one very fun ride to see!
10. Walking and People Watching
Walking this town to people watch the residents and visitors who pepper the downtown streets is a delightful way to spend a day. Cheers to wonderful Williams and the historic Route 66!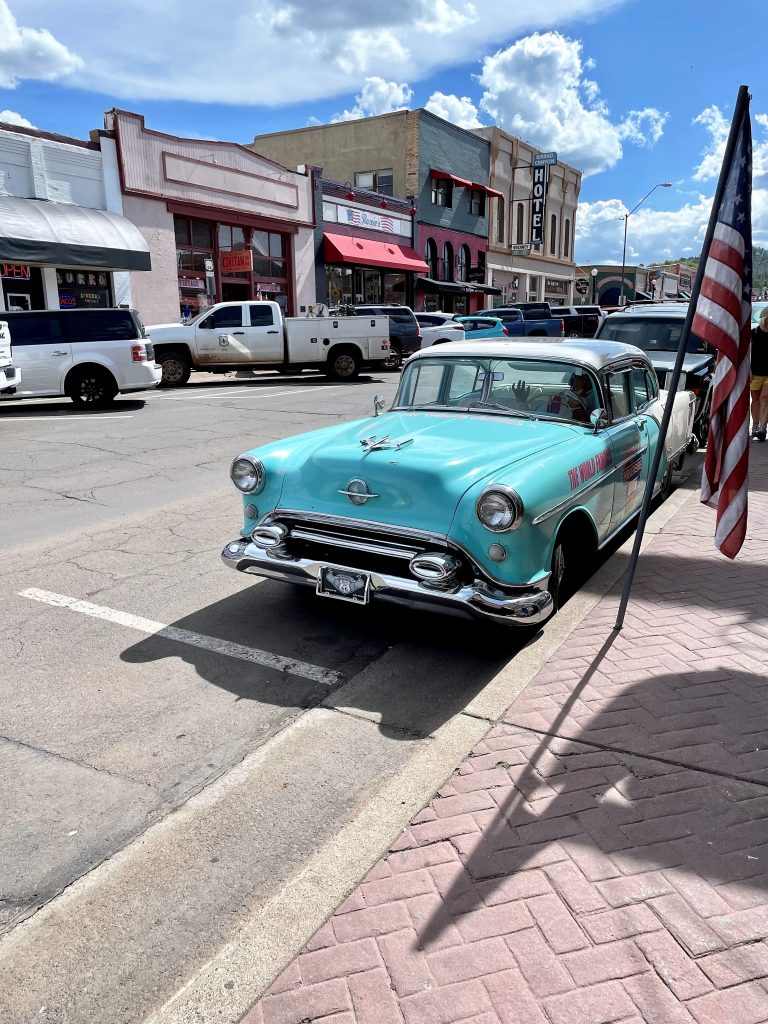 Have you been to this part of Arizona yet? If so, leave your recommendations about things to do in Williams in the comments section. Happy Travels!