Hop over to AZ Hops & Vines for an experience like no other vineyard I have visited. Two sisters, Megan Stranik and Shannon Zouzoulas own AZ Hops & Vines in Sonoita, Arizona. They will tell you that their vineyard is not your average winery. I can vouch for that. Their story is also not your average business creation tale.

With their six kids in tow, the sisters followed their big dream to move all the way across the country from Washington D.C. to the grassy rolling hills of Sonoita to create their victorious Vino vision.
Arizona Hops & Vines is located 50 miles south of Tucson in a good climate with agreeable soil that results in the perfect wine country. I spent the day there and I experienced several unexpected surprises as our vineyard day trip unfolded.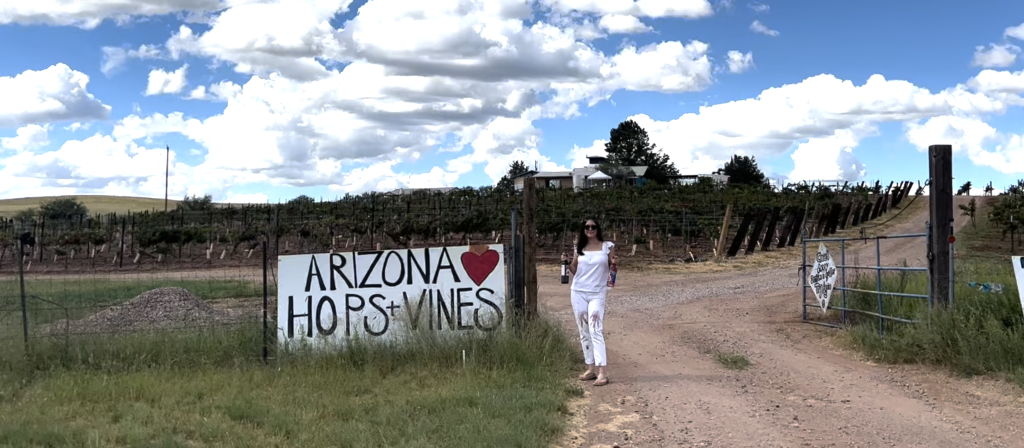 From the delicious wine tasting that is served with Cheetos and other interesting pairings in a muffin tin, to the entertaining grape stomping that left my white pants red, my day was action packed. Plus, placing the fun floral wreath on my head that I bought from the bar…yep, the experience at this place was like no other. The entire affair had me jumping for joy with plans to return in the future. I chose to visit Arizona Hops & Vines in September during the vineyard's Great Crush Festival. Check out my 21 second not-so-graceful grape stomping demo…
Wearing white is the way to go because it isn't the real deal unless you leave with grape stained clothes streaked in shades of Merlot.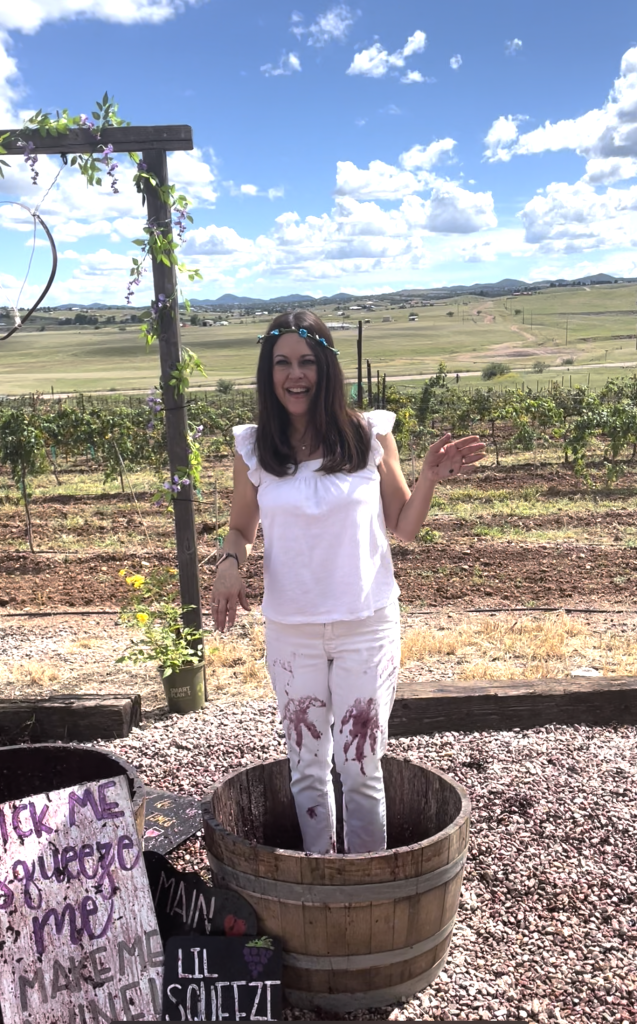 Live music, tasty food and eclectic on-site shopping with a lovely variety of local artisans add to the fun. One of the vendors had the best deal of the day with her $5 booth full of handmade jewelry and accessories. Every single item was priced at only five bucks a piece. I didn't come to the winery to shop, but I left with bags of lovely jewelry, gorgeous hand painted stemless wine glasses and, of course, plenty of wine.
The Vino, some affectionately named after the AZ Hops & Vines family members, is beautifully bottled.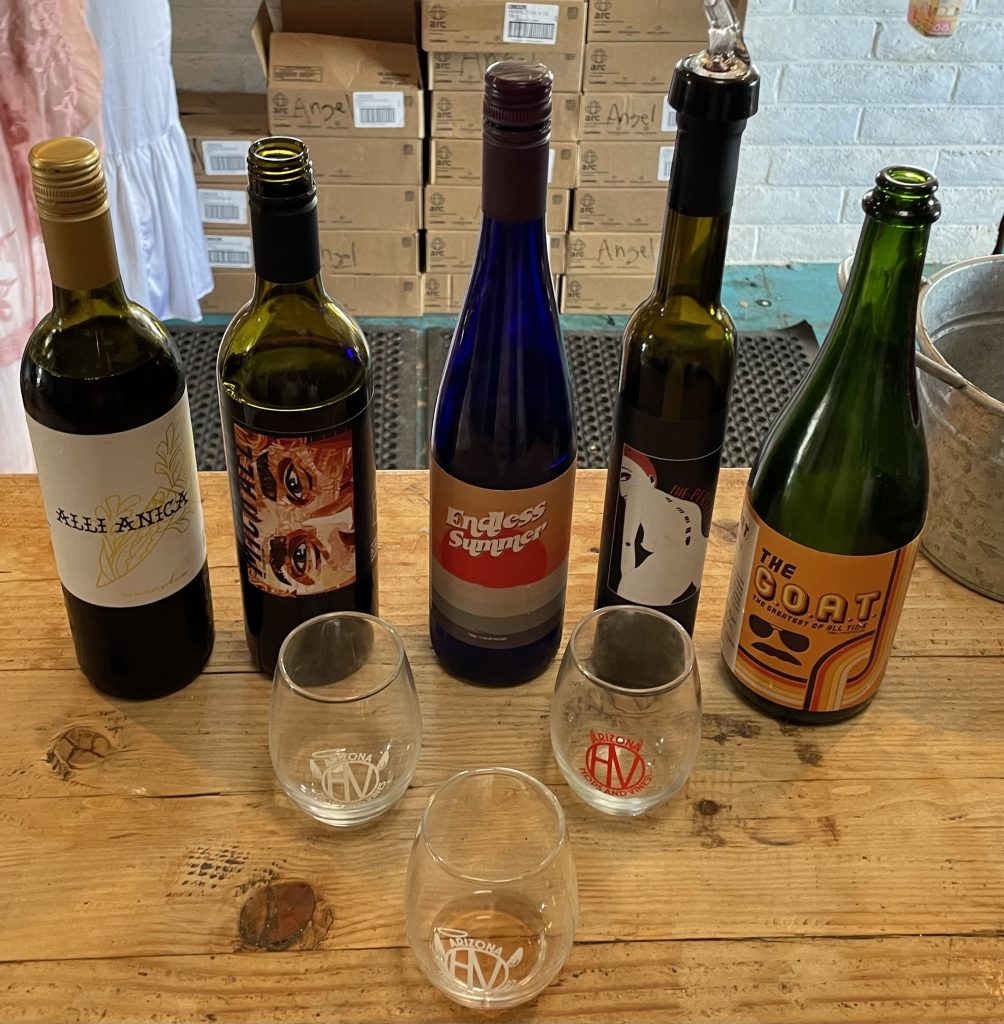 Tastings are $10 or pay $15 to receive a bonus souvenir wine glass in the "angel" or "devil" stemless style.  Like the rest of this distinctive place, the tasting room ritual is also different from anything I've experienced at a vineyard.
A favorite indoor attraction is The Wishing Barrel pole located smack in the middle of the tasting room.
Colorful walls with funky art is displayed that show life quotes that directly inspired the sisters to make the long distance move. A big brave move that turned a massive dream into a massively successful reality. Cheers to the dynamic daring duo! It's a woman-owned family affair and the joyful energy the bunch exude fills the air. It's contagious. That energy and spark pairs perfectly with the family's fine locally made wine.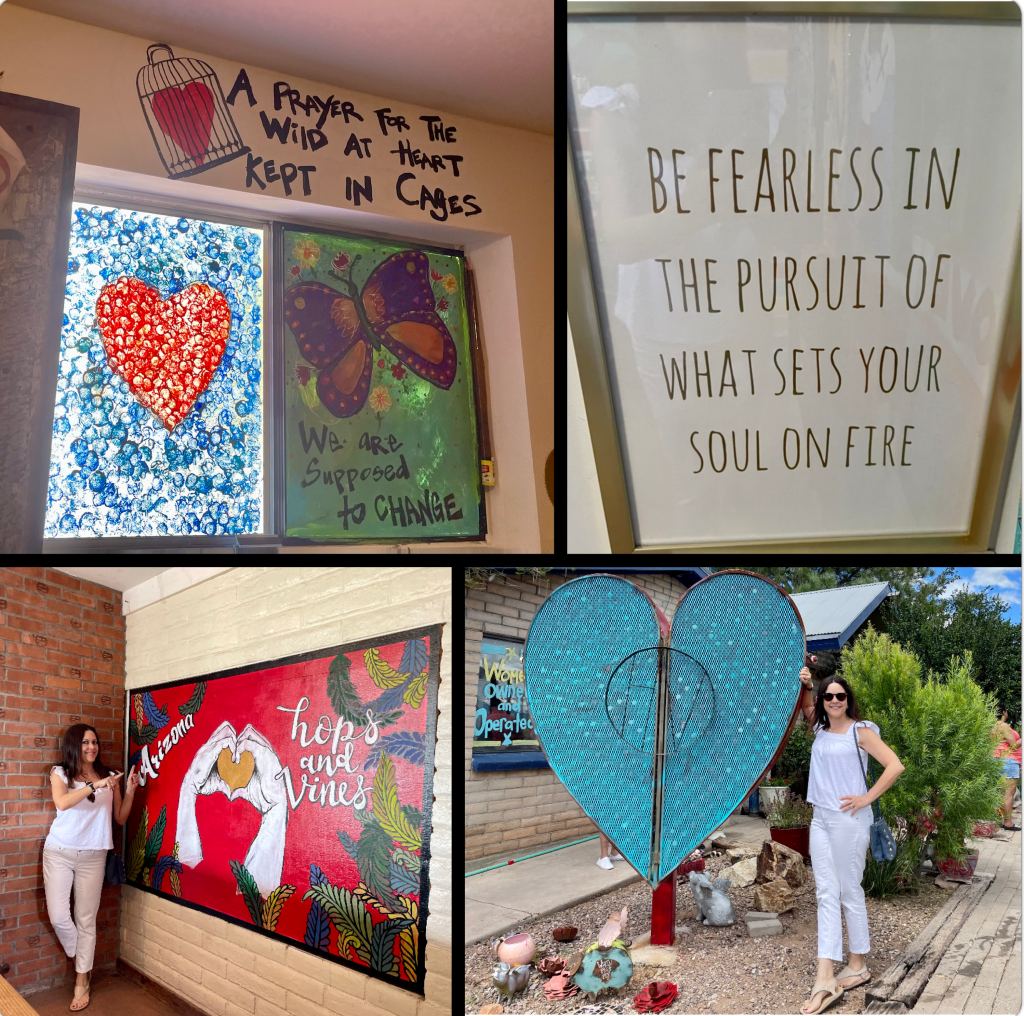 I was inspired as I sipped my samples and ate my Cheetos. I had the "sip chip sip" vibe down pat. I also tried the scrumptious Sangria but I didn't taste the popular wine slushes. I will have one of those delightful drinks next time.
Be sure to check the AZ Hops & Vines website to see the full calendar of thrilling special events. With an on-site petting zoo, kids are welcome, as are leashed pets. Like every other aspect of this place, the sisters offer creative gatherings like Hallowine and Punkin Chunkin. The business savvy sisters and their passionate family team have created a winning winery combo of flavor, fun, funky and fabulous.
Did I think the Vino was good? I will let my closing photo answer that…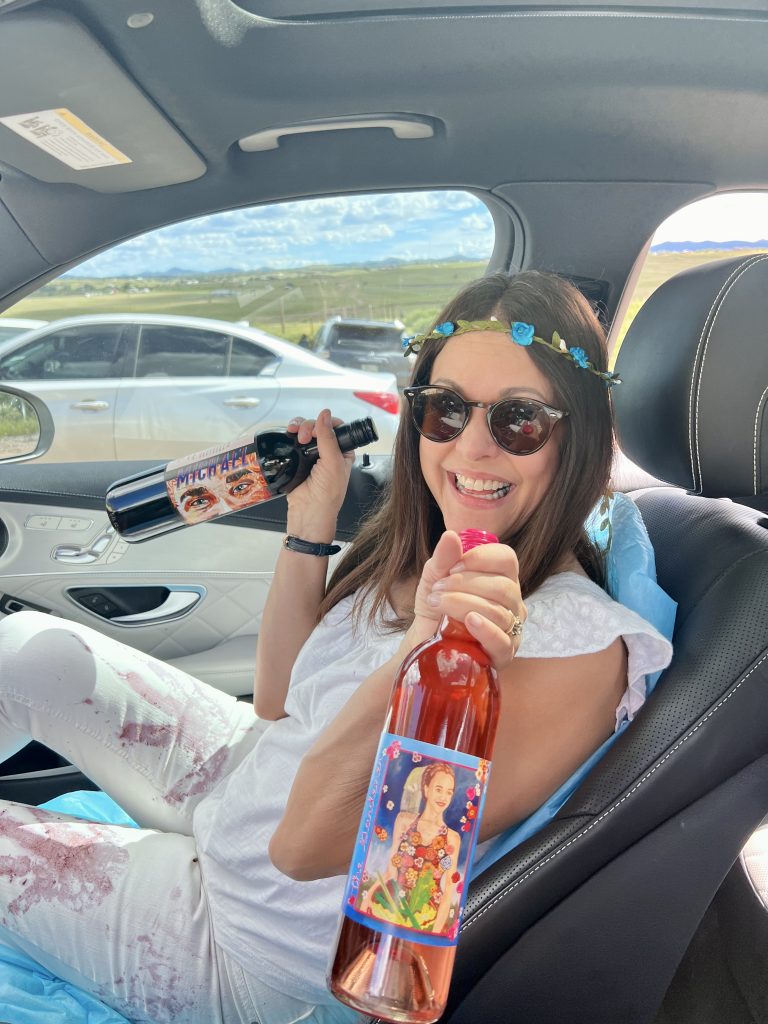 Cheers to chasing a dream all the way from our nation's capital to our desert State 48…we locals are glad your family came and created AZ Hops & Vines!
***And a big thanks to my wingwoman/designated driver/photographer/producer extraordinaire, Kim Rockley…two managed mamas on a Road Trip With Rach adventure!***
Venue Details:
AZ Hops & Vines
3450 Hwy 82
Sonoita, AZ 85637
Phone
(301) 237-6556
To visit vineyard website click here