Here is everything I covered in my Travel Savvy Stuff & Get Organized Travel Tips & Tools morning show segment on the Arizona Daily Mix today.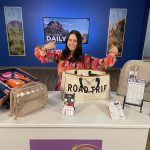 Before I go on my Road Trip With Rach adventures (that also include my flight travels), I have a 3-step travel tool organization kit that keeps me organized before I take off and on the road. I also check out the travel supply aisles every year to see what's new and what's tried and true in helpful travel gear. Here is what I found recently that makes traveling go smoother. I also share my 3-step travel tool organization set that I include in my packing and prep. Any time that I don't follow this ritual of mine, I always forget something. Take a look at my tips and tools below! More information and links for each product is under the video. Happy Travels!
Packing:  My 3-Step Travel Tools & Tips 
Start with the Pack This list or the Road Trip Pack This! List – This is my first tried and true packing step that I have done for years now. When I'm flying, I use the PACK THIS! printed checklist and when I'm hitting the road in a car, I swear by the ROAD TRIP PACK THIS! list. Any time that I don't go with this checklist, I forget something. Every time I use the list, I don't forget a thing. I buy both on Amazon and I have seen these lists in gift stores. Try it!
Packing Cube Organizers – This 6-piece packing set has been a game changer! Although expensive with a $64.99 price tag at The Container Store, I swear by this packing hack. All six pieces are labeled with the items that fit into each zipper bag. My favorite is the bag that says "chargers" because all of my chargers for my laptop, phone, smart watch and more are easily stored in one handy bag so I find the right cord quickly. There is also a handy sack marked "laundry" for the dirty laundry.
My Makeup organization packing kit. I use the Triforce Glamour Collection Travel Beauty Case. Not only is the case super pretty, but it's functional, too. It's lightweight, but durable. The back of the case sports a handy back strap that slides on a suitcase handle for easy mobility and a detachable strap is also included if you prefer to carry it on your arm. My favorite thing about this pack is that my beauty products can be packed in an organized manner with bottles and products I want to keep upright staying in place during the ride or flight. A helpful detachable mirror is also included and so is snap closure clear bag interior pocket that I keep my ear pods or contacts in for easy retrieval. I can't say enough good things about the Triforce, which is my newest addition to my travel tools and it fits right in and keeps me even more organized now when I'm traveling. I got mine at Dillard's Scottsdale.
Travel Savvy Stuff
*Stackers Weekend Totebag – I like this bag as an alternative to a backpack on a flight because of the smart zip bottom that can store an extra outfit and shoes, which is nice in case you get stuck somewhere due to a flight delay or cancellation. I also like that this bag has room for a laptop, cell phone, charging cord, umbrella pocket, water bottle pocket, pen holder, an area to store headphones, magazines and more. Plus, it comes with a bonus detachable wallet. I will say that the bag is a bit heavier than a back pack and I read a few mixed reviews about the product, but I still like it for my travels. Sells at The Container Store in taupe or black for $169.99 at this link.
*Poncho & Pouch – Headed to a rainy destination or want to be prepared for unexpected raindrops, then have this product on hand. The one size fits all emergency rain wear poncho comes in a small handy pack that can be attach to a bag or belt. Sells at The Container Store for $9.99 at this link.
*Travelon Self-Laminating Luggage Tags – This smart product comes with three clear self-laminating luggage tags, so no heated equipment is needed. The pack also includes the hanging loops. I love this product! $7.99 for a pack of three at the Container Store
*Pre-Charged Pop Charger Emergency Charger for iPhone – Keep one of these in your travel bag, but also in your home, car, purse, briefcase or any place so that if you are in a bind with no power or power cord, you can charge your iPhone on the spot. I always travel with one, but I also have a few at home in case of power outages or other unexpected situations. $6.49 at The Container Store. Do note that the package advertised up to 5 hours charge time, so this is truly a standby tool with not a long lasting full charged capability. However, some charge is better than no charge in a challenging situation.
*Full Circle Ziptuck Reusable Travel Set – Be earth friendly with these reusable bags instead of using plastic bags that are tossed after one use. Each bag from this brand can be used to replace up to 500 single-use plastic zipper bags. Each bag is leak-proof and free of BPA, BPS, BPF, PVC and phthalates. The bags are also food safe and have an air tight lock design. Get a pack of 2, one small and one medium sized for $7.99 at The Container Store.
*Pacsafe RFID-blocking Passport Protector – Unfortunately, you can't be too careful these days, especially when traveling and even more so when venturing out of the country. So, I bought one of these protective sleeves for my whole family. $6.99 at The Container Store.
*Sitting Pretty Flushable Toilet Seat Covers – For insured potty seat coverage since not all bathrooms provide paper toilet covers, pack a pack of these babies. The package proudly exclaims, "It's our duty to protect your Booty"…so funny! Get a pack of 5 for $5.49 at The Container Store.
*Potty Pack Travel Toilet Pack – As the package says, "Be Ready" with this single use 2-ply pack of toilet paper that also comes with a wet wipe, hand wipe, seat cover and hand sanitizer. Don't get caught off guard! Get this for $5.49 at The Container Store.
*Flint Retractable Lint Roller – If you own a pet, chances are you will arrive to your destination with unwanted pet hair on your garment so this handy refillable contraption packs easily and gets the fur, lint and more off of your stuff. This smart product sells for $11.99 a package with 30 sheets inside and refills cost $5.99 all at The Container Store.
*JetBag Bottle Protector – I'm loving this handy insulated packing bag for wine and other beverages! Airplane friendly so you can bring your favorite Vino along! The Jetbag sells for $7.99 at The Container Store.
*Cabeau Fold 'n Go Blanket – This 4-in-1 comfy cover is great for all ages because who says that an adult can't have a blankey for the trip?! This works as a blanket, set cushion or lumbar support, too. Get yours for $29.99 at The Container Store.
*Super Phone Fan for iPhone – Just when you thought your smart phone couldn't do anything more, the Super Phone Fan comes along. Simply plug the lightweight device into your iPhone and it automatically provides instant cooling relief for hot flashes and stuffy places. $6.49 at The Container Store.
What are your favorite travel tools and tips? Share in the comments section and happy travels to you!