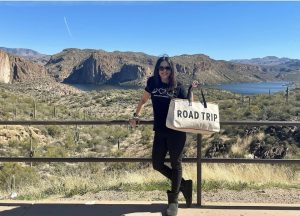 Headed on a cross country trip or even an overseas adventure? Bookmark this article and watch my Arizona Daily Mix morning show segment. Be sure to read the article below the segment to get all of the details as I only had time to cover a few in my fun show segment. I have recently learned a ton about the proper preparation to get out of town with less stress so take a look at my tips and remember to read the full article below the video.

Money Saving Advance Planning Travel Tips
*Think Ahead Helpful Tips – Check out the different credit card, hotel and airline frequent flyer membership plans to accumulate points for your dream trip. As an example, we use the American Express card Membership Rewards Program because the points don't expire. So, we saved up our points over the last five years to put towards our upcoming international trip. We also like AMEX because we pay our balance off each month avoiding longterm debt. We budget and then put most of our monthly expenses on our AMEX card so that the points accumulate but our debt doesn't. I have also heard that Capital One has a good rewards program. We are also Southwest Airlines Rapid Rewards members, Delta Sky Miles and American Airlines Advantage members, too. The Delta membership came in handy when we discovered that they partner with KLM Airlines, which will fly us to Amsterdam. Lastly, we belong to the Hilton Honors and Marriott Bonvoy. Our Marriott points are working for the London part of our trip. Bottom Line:  Dream it, research the different travel points programs, plan it, do it! 
*Research Flexible Travel Options To Save – For a big trip, research travel options to save money. For example, consider flying on an off slow day like on the actual holiday for a lower airfare or if you don't mind changing planes, check that option as nonstop long haul flights tend to be more since you are paying for the convenience. We were surprised to see that we could get a lower airfare to Amsterdam than we could get straight to Paris so we booked our flight to and from the Netherlands with travel by train within Europe. We also discovered that we could get a lower fare if we flew from Washington DC to Amsterdam instead of from Phoenix or LA to Europe, so we used our frequent flyer miles on Southwest Airlines and American to get from home to DC and then we will fly on to Amsterdam the next day. Bottom Line:  It pays to take the time to research a number of flight options with time and place flexibility. 
Crucial Stuff To Know Before You Go International
*Last Minute Passport Tip – Need a passport fast? Visit this link at the Travel State Gov site to see how get your passport expedited for emergency or urgent travel. I was so surprised to learn that a passport can be done same day (with all of the required documents and forms) at specific passport offices nationwide (here in Arizona, the office is in Tucson)…BUT…an appointment must be made by phone exactly two weeks before the travel date with proof of the purchased travel airfare ticket on hand. There are other companies that will expedite a passport, including FedEX offices, but the fee can be hundreds of dollars, so we went the two week in advance route when we discovered that my husband's passport had expired. Also note that a lot of countries require that the passport be good for at least six months after arrival, so be sure that your passport isn't about to expire after arrival. Bottom Line:  Check your passport expiration date and visit the Travel State Gov link I shared above to see the different time options to obtain your needed passport or Visa. 
*Health Insurance – Check it. It turns out that our Blue Cross Blue Shield policy does reimburse us for any overseas healthcare expenses BUT the policy doesn't cover emergency medical transport back to the states if that is ever needed. So I did research to see what international health plans we could purchase that would be provide that in case, God forbid, our family was ever in that situation. Bottom Line: Check your healthcare plan before you go. 
*Currency Exchange – I was pleasantly surprised that my Wells Fargo Bank doesn't charge a fee for a currency exchange. I visited my bank branch, did it in the quick teller line and then returned to the bank to get my euros and pounds two days later. It was easy. If I have foreign currency left over when I return home, the bank will exchange it back for me at the current exchange rate. Bottom Line:  Don't forget to have foreign currency for tips and other cash only situations. 
*Cell Phone Carrier International Plan – be sure to call your cell phone service provider to see what international plans are offered. We use Verizon and they had several plans available. Once I chose our plan, it was activated on my phone immediately. Bottom Line:  Don't forget this important step as most of us have our entire world contained in our cell phones plus travel tickets, apps and more!
*Carry On Requirements Beyond Airport – Don't forget to check overseas train luggage limits if you plan to add train travel to your trip. It may be different from the airline you fly in on and you don't want to get stuck over the limit when you are about to board a bullet train! I also recommend loading the train apps on your smart phone. Bottom Line:  Load the travel apps for all of the international transportation modes and know the luggage and other rules, too. 
*Check Mask/Vax Guidelines – Although the airlines and trains we plan to travel on no longer require masks, some of the tourist tours we booked listed that masks may be required. Bottom Line: Don't assume the rest of the world matches our current restrictions/lifted restrictions. 
*Language Translation Apps – Since my daughter is allergic to cashews and pistachios, I want to keep her safe in foreign lands, so I researched language barrier apps. My go to is the Google Translate as it easily enables me to translate that food allergy in a variety of different languages. Once I have that very important statement on my phone, I can make it full screen and save it to my phone for a quick and easy way to show restaurants when ordering. A potential lifesaver for sure! Bottom Line:  Consider all types of travel issues including food allergies/other ailments that could be exasperated by a language barrier. 
*Helpful book – I wish I would have discovered this book before I did all of the legwork! I just found the super helpful book called "Before You Go Abroad Handbook:  Over 127 Secret Tips & Tools" that is filled with travel savvy stuff to know before you go overseas! Bottom Line:  Do the research, ask friends who are world travelers for tips before you go! 
My Top Two Fave Free Travel Planning Apps 
*Viator – A free app that enables users to research, plan and book activities and more all around the world. I like how thorough Viator is with each activity listed by including exactly what to expect, why other travelers booked that specific adventure plus they list the fine print in big bold type so all aspects of the booking are well understood before arrival. Folks can pay up front or later and all events are easy to cancel free of charge up to 24 hours in advance. Access and load tickets to your digital wallet and no worries if your phone is offline as Viator offers offline access. I also like how each city lists attraction ideas under categories like "first time visitors", "day trips", "must dos" and more. Booking tours, museum visits, boat rides and other attractions were simple to do on the Viator app.
*Get Your Guide – Another app I found very helpful is the Get Your Guide app, which is similar to Viator. Since Viator partners with Trip Advisor, Get Your Guide may not have as much inventory, but I used both apps and found both to be totally similar. Get Your Guide also includes some unique experiences that are off the beaten path. I like both so far…I will update you on how it went with the apps when I return from Europe!
Bottom Line:  Let highly rated travel apps be your guide with easy at-a-glance research and booking that will also load the tickets to your electronic wallet and the dates and times to your calendar.
Crucial Carry Ons Travel Sized Approved 
I just recently discovered several new favorite carry-on items…
*Homeopathic travel aids that include Boiron's Nux Vomica 30C Meltaway Pellets that treat a hangover (I may have one of those on my upcoming travels!), upset tummy, nausea and heartburn, too. The meltaway pellets are easy to pack and simple to take since they melt under the tongue with no water needed. The medicine contains no artificial colors, flavors, sweeteners or preservatives, which I also like. I also pack MotionCalm by Boiron for motion sickness treatment on the go and Boiron Diaralia for traveler's diarrhea. All are travel friendly and require no water since all are meltaway tablets. I love that this homeopathic line has become mainstream and can be purchased at Sprouts and Whole Foods. Bottom Line:  Make sure you have meds on hand for all kinds of unexpected travel ailments. 
*Apple World Traveler Adapter Kit or any electrical outlet adapter kit is crucial to have on hand as some countries have electric sockets that differ from ours. If you can't charge your devices, you may find your travels to be especially difficult. I purchased the Apple World Traveler Adapter Kit at my local Apple Store for $29. I also bought a Universal Travel Adapter by Tessan from Amazon for $21.99 that came in the next day. Bottom Line:  Be prepared to be able to charge your must have devices around the world. 
*Pacsafe RFID-blocking Passport Protector will be holding my passport as I travel. In today's world with scary technology that can scan stuff through your pocket, one can't be too careful so I bought this security sleeve for my passport at The Container Store for $6.99. Bottom Line: Protect your belongings at all costs, especially when traveling internationally. Beware of pick pockets, too.
*Apple Mag Safe Battery Pack is also in my carry-on bag. I paid a pricy $99 for it at The Apple Store but it magnetically attaches to my phone charging as I go, so I decided it was the worth the sticker price since I don't want to get caught without cell service, especially overseas. I was disappointed when the store advisor let me know that it will only charge my phone to 50%, but that is better than nothing. I found the pretty pink charger holder called the CaseSack on Amazon for $14.68 at Amazon. I also purchased an Anker 633 MagGo portable charger on Amazon for $79.99 that also doubles as a handy phone stand.  Bottom Line:  Make sure you have portable chargers for your devices that can charge on the go. 
I could go on and on with more big trip travel tips. What did I miss? Please share here in the comments section. We love to hit the road with all of the helpful tips that we can get so all can have a fun, safe and memorable adventure. Happy Travels!