Every year on this day, January 4th, I am reminded that my little brother should be celebrating a birthday.  And although it has been eight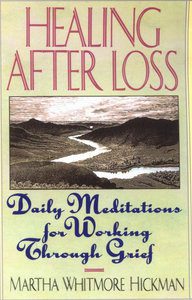 years since his passing, it stings just as much every January.  Losing him at 22 years old in an accident changed me to the core and it also put me in a club that I didn't want to be a member of. 
Now when a friend loses a family member or friend, I know what to say and how to say it.  I've been told that my words of comfort are quite helpful.  So to honor Shane and his memory, I share with you a very special little book that continues to give my family comfort, even years later.
Healing After Loss:  Daily Mediations For Working Through Grief by Martha W. Hickman is a little paper back full of daily words of comfort.  The author of the book lost her own daughter, so she truly understands the grieving process.  Each page is dated and contains messages that help with the healing.  One message that resonated with me discusses how the pain is so great, but hurts this much because I loved this much.  And for that I am grateful.  I did love and still love him THAT much.  Although he took a piece of my heart with him, he is still with me each and every day.
So today's post will be stored under my Rachel recommends section because I recommend this very special book.  I continue to purchase copies for friends and family who experience a loss at Barnes & Noble, where I find it every time for around $8 a copy.
And last but not least, in honor of Shane, I applaud all of those who choose to be organ donors.  Shane was an organ donor and he saved and improved a lot of lives.  I proudly display that I am an organ donor on my drivers license.   Happy Birthday little brother.  I miss you, but I feel you in my heart every day.