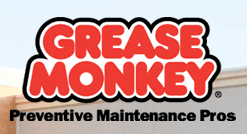 Manic: I rushed out of Grease Monkey, accidentally leaving my lap top behind to get my kids to the next stop on time!
Managed: Lucky for me, awesome Grease Monkey employees Kyle and Jess called me ASAP, so I could retrieve my expensive lap top.  Boy, was I grateful!  And when I arrived to pick it up, they had another outstanding customer service surprise for me!
Store manager Jess remembered that I had been in for an oil change several months earlier.  As he handed me my beloved lap top, he told me that he remembered that the last time I was in, I was disappointed that they didn't stock water in their free beverage fridge.  He told me to take a look in the fridge.  So, I did and there was water now!
I must say that I was very impressed that he remembered me, my last visit and my request.  And then to follow-up on my water wish and show me the next time I came in….well, that is impressive!
And I must mention that the Grease Monkey team did a great job on my car, too!
So, the next time you need an oil change, I recommend the great Grease Monkey shop.  Jess manages the location on Desert Foothills Parkway and Chandler Blvd.
Thanks Grease Monkey for not monkeying around with good customer service….I just had to use that pun!  Forgive me readers!